'Sufficiently battle-hardened': Westpac names new chair
John McFarlane, an international banker with more than 40 years experience, has been brought in by Westpac's board to steer the bank through immediate challenges and anoint a permanent chief executive, succeeding long-time incumbent Lindsay Maxsted in April.

After a global search, Westpac today revealed Mr McFarlane would join the board as a non-executive director next month, subject to regulatory approvals, before replacing Mr Maxsted as chairman on April 2, marking the 72-year old Scottish-born banker's return to the Australian industry after previously serving as ANZ Banking Group CEO from 1997 to 2007.

Mr Maxsted in November brought forward his plans to step down to the first half of this year in the wake of allegations by regulator AUSTRAC, which also resulted in the departure of CEO Brian Hartzer, replaced on an acting basis by then-chief financial officer, Peter King.

Mr Maxsted, who served on the board since March 2008 and chairman since December 2011, said Mr McFarlane was a respected industry leader globally, having worked across several aspects of banking and insurance, plus 27 years of board experience at some of the world's leading financial institutions. Mr McFarlane will be responsible for appointing a permanent CEO upon conclusion of the underway internal and external search, Mr Maxsted added.

"He has a proven track record in delivering results, along with cultural and organisational change," Mr Maxsted said, noting his most recent role as chairman of UK major bank Barclays in London, which has undergone significant change since the global financial crisis and returned to profitability.

"Prior to this, he delivered a successful turnaround program at UK insurer Aviva, a company similar in scale to Westpac.

"Mr McFarlane (also) brings a deep understanding of Australia's banking sector, including delivering significant value at ANZ…this experience, coupled with his strong customer and employee focus, will be invaluable to Westpac as the organisation executes its strategy and implements its Response Plan for the AUSTRAC Statement of Claim."

Mr McFarlane said it was an honour to take on the role and he was excited about the opportunity given the challenges ahead, which "to some extent…are not dissimilar to those in my last five financial institutions".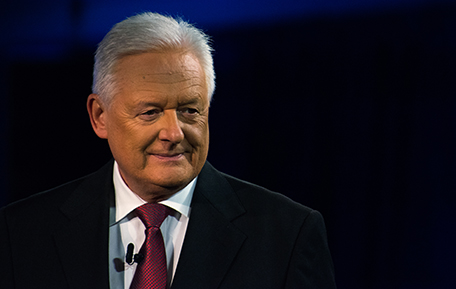 He said his initial focus would be on resolving current issues but "equally important" was positioning the bank "as quickly as possible for long-term success", a task that would be assisted by Westpac's "wonderful core customer franchises". He added that while appointing a CEO can "take time", momentum in the interim was important and he would work closely with Mr King and the board to make "any changes necessary".

"People close to me know that on my return to Australia, I hadn't intended to take another major leadership role. However, I'm passionate about the Australian banking sector, and I'm excited by the challenge of returning Westpac to its place as a leading global bank, following recent events," he said.

"Nevertheless, I'm sufficiently battle-hardened to realise things can be tougher than you think and that in banking, nothing is ever certain."

Mr McFarlane, who has returned from London to live in Melbourne, also thanked Mr Maxsted, a long-time company director on several major company boards, noting that "success isn't only as a result of the efforts of current incumbents, but to the foundations laid over time".

"We will work closely over the next two months to ensure an orderly transition. However, we both wanted to move quickly with this announcement to provide certainty to the market and to assure it of our joint commitment to the success of the company."