Medals, sweat, sponsorship…Westpac's century-long Olympics links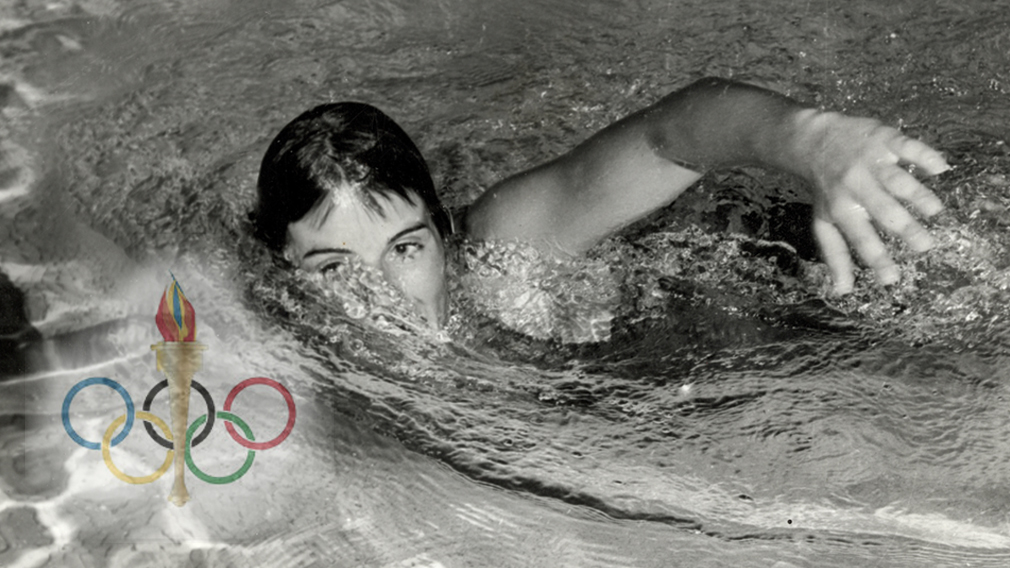 As Matthew Levy – one of the most successful swimmers in Australian Paralympic history with seven medals – heads off to this year's Games in Tokyo, he carries on a century-long tradition of Westpac employees competing on the world stage.

A dig in the bank's archives shows the first of a steady stream of Olympian employees was Claude Angelo, who competed in wrestling at the 1924 Paris Games, the first Australian Olympian wrestler.

Despite an interruption from World War I – in which Angelo enlisted in December 1914 and was wounded at Gallipoli – the Victorian featherweight wrestler resumed training in 1919, winning the 1920 Victorian and Australian titles before selection for the 1924 Olympics, where he reached the quarter finals of his event.

Since then, a plethora of employees have competed across Summer, Winter and Paralympics Games.

There's Lynette Bell, who swam alongside Dawn Fraser in the 1964 medal winning freestyle relay team; Garry Sutton, who competed in men's track cycling in 1976 and 1980; rower Kate Allen, who won gold in 1996; wheelchair basketball medallist Jane Webb, who competed in three Paralympics from 1996 to 2004; and one of the world's greatest distance swimmers, Grant Hackett.

The bank has other deep Olympic links – most notably with the two Games held in Australia since the modern quadrennial Olympics began in 1896.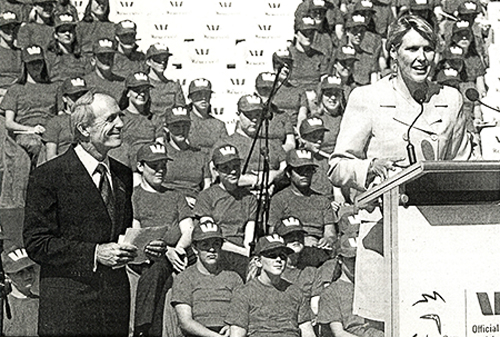 Perhaps freshest in most Australians' memory is the iconic Sydney 2000 Games, dubbed the "best ever" by then International Olympic Committee President, Juan Antonio Samaranch, and which was as pivotal a moment for Australian athletes as it was for Westpac.

Shortly after "Syd-en-ny" (who can ever forget that moment?) was announced as the host winner seven years earlier, Westpac's then chief executive, Bob Joss set the task of assessing Olympic and Paralympic sponsorship opportunities, with a clear directive to engage the community, customers and employees. A few years later, in January 1997, Westpac was announced as the official bank of the Sydney 2000 Olympic Games and a Team Millennium partner – and Joss' directive was brought alive in a big way.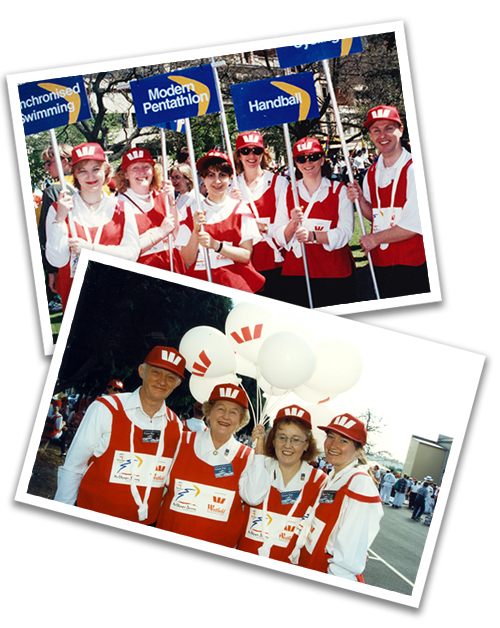 Indeed, the bank was entrusted to look after the prized gold, silver and bronze medals, as well as the Olympic flag, in the vault beneath its elegant former headquarters at 341 George Street!

Ask any employee of the bank in 2000, I have no doubt – like many other Australians – they will say it was one of the best few weeks of their lives.

More than 400 employees volunteered to help across the various Olympic venues, 250 crewing special Westpac Olympic branches. Ten top-performers were also chosen to take part in the impressive 27,000 km Torch Relay around Australia, each running 500m. One of those was Ross Lau, from Roma in Queensland, who affectionately recalls the streets "were thick with people waving flags and home-made torches, cheering and clapping", making him feel like he was "floating" rather than running.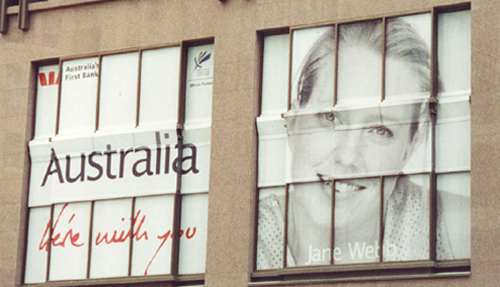 Every day from April to December 1997, a lucky customer was chosen to win tickets to premium events including the opening ceremony. 2000 tickets were also presented to 80 community partners such as Daruk Aboriginal Medical Service, Can Teen, the Smith Family and the Royal Blind Society.

More than 3 million school children across the country took part in Westpac's Olympic Youth program working on team projects focused on learning Olympic ideals, five teams winning the trip of a lifetime to the Games.

Almost 50 athletes took employment with Westpac under the Olympic Job Opportunity Program and the Paralympic Employment Program in the lead up to the Games, and a further 11 were sponsored by the bank, including Susie O'Neill, Ian Thorpe and the members of the "Oarsome Foursome" men's rowing team. Some of the athletes continued their Westpac association, such as beach volleyball medallist Kerri Pottharst, acting as ambassadors or mentors to subsequent Olympics teams.

And who can forget the Olympic pins, some featuring iconic mascots – Millie the echidna (in honour of the millennium games), Olly the kookaburra (Olympics) and Syd the platypus (Sydney) – that were keenly gathered and hotly traded throughout the Games from a site at The Rocks in Sydney.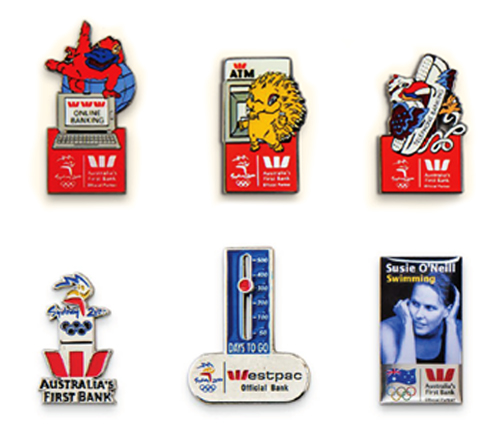 The bank's Olympic fever was not quite so blistering during the Melbourne Olympics in 1956, but some of the memorabilia, which form a treasured special collection within Westpac's archives, shows the bank's enthusiastic support for the first Games ever to be held in the southern hemisphere.

The Melbourne branch of the Bank of New South Wales (as it was then known) was specially decorated with Australian wildflowers, and a small booklet was produced as a guide to the city and the games.

One staff member lucky enough to attend various events retained all of their memorabilia, ranging from official programs and tickets, chocolate boxes and silk scarves to special seat cushions designed to make the (very bare) MCG seats more comfortable for spectators.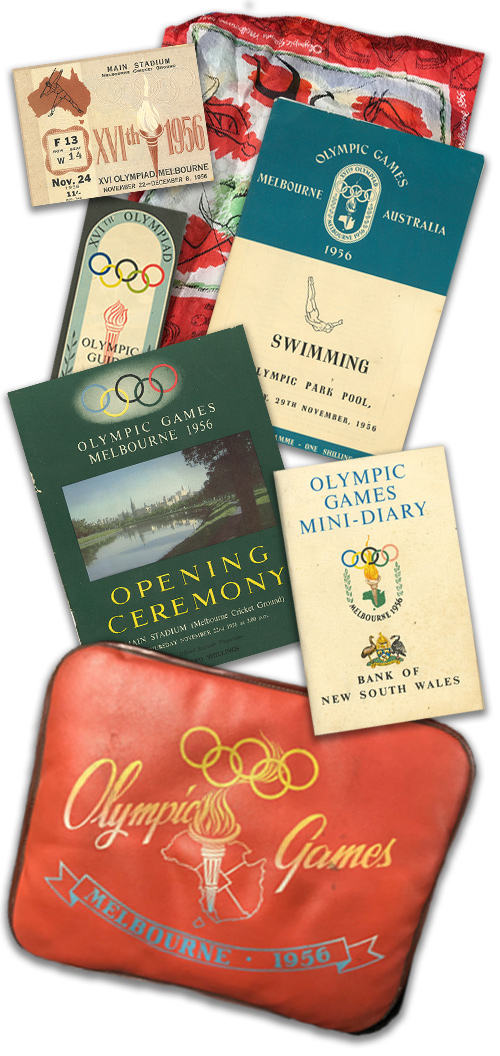 The Melbourne branch's Australian wild flower display:

While the upcoming Games in Tokyo, like almost all other aspects of our lives, have been turned upside down by the pandemic – including being postponed by a year and needing to adopt all kinds of restrictions – the bank's connection continues, albeit in a relatively muted way.

Along with cheering (in isolation!) for its champion athletic employee, the bank's support includes providing a financial literacy program through the Australian Olympic Committee's Olympian Opportunities Program, to help Olympians build financial knowledge and skills for life after sport.

Beyond Tokyo, no doubt the bank's connection will continue, contributing to the Olympic Movement ideals of "building a peaceful and better world by educating youth through sport practiced without discrimination".

And who knows what's in store for the next antipodean Games, expected in Brisbane 2032?