A little over six months ago, Australians woke to some life-changing news.

It was the morning of November 10, 2020 and the first results from Pfizer and BioNTech's phase three study for their COVID-19 vaccine candidate hit the headlines with a stunning outcome: more than 90 per cent effectiveness.

It marked "a great day for science and humanity" that took the world closer to "a much-needed breakthrough to help bring an end to this global health crisis", Pfizer's CEO said on November 9 US time.

For investors, the news was music to their ears just days after Joe Biden claimed the White House, ramping up enthusiasm for the "reopening" and "reflation" trade as economic activity bounced back. Australian Treasurer Josh Frydenberg joined in the cheering, a few days later saying Pfizer's vaccine results added to "positive signs" across the economy and should give Australians hope "as they can see the light at the end of the tunnel".

But six months on, debate is intensifying around a key plank in Australia's reopening: the international border.

Matthew Bunny, an economist at St.George, says aside from Australians wanting to travel overseas, the reopening of the border after more than a year of being closed was critical for the economy, noting a "material recovery" in major sectors such as tourism and education was unlikely until restrictions were eased.

"Granted, Australia is in a very fortunate position," he says, citing the success in containing the virus and roaring economic recovery that has exceeded almost all expectations.

"Business conditions actually hit a record high in April… (and) the ongoing economic recovery, low interest rates and tax initiatives will continue to bolster businesses. However, it will be necessary for international borders to reopen before everyone can come along for the ride."

After a year of domestic border policies dominating the spotlight, the international border has come into focus after the federal budget assumed that it won't gradually reopen until mid-2022 – six months later than previously implied – and the government temporarily barred citizens from returning from India amid the country's devastating COVID-19 crisis.

It's a vexed issue.

On the one hand, most politicians remain cautious and committed to following the "health advice" after mostly keeping the virus out and voters rewarding state leaders for prioritising safety. A new survey in Nine newspapers this week showing almost a third of adults were either "not at all likely" or "not very likely" to be vaccinated further highlighted the challenges ahead amid a vaccine rollout that is already running behind schedule after several hiccups and hurdles.

But on the flip side, with nations such as the US and UK rapidly vaccinating their populations, business groups and travel companies have called for a firmer plan on reopening to the world beyond travel "bubbles", such as the one with New Zealand.

"Once the national vaccine rollout is effectively complete, Australia can and should open up," Qantas chief Alan Joyce said today, noting the airline's revenue losses since the start of COVID were tipped to reach $16 billion this financial year.

"No one wants to lose the tremendous success we've had at managing COVID but rolling out the vaccine totally changes the equation. The risk then flips to Australia being left behind when countries like the US and UK are getting back to normal.

"Australia has to put the same intensity into the vaccine rollout as we've put on lockdowns and restrictions, because only then will we have the confidence to open up."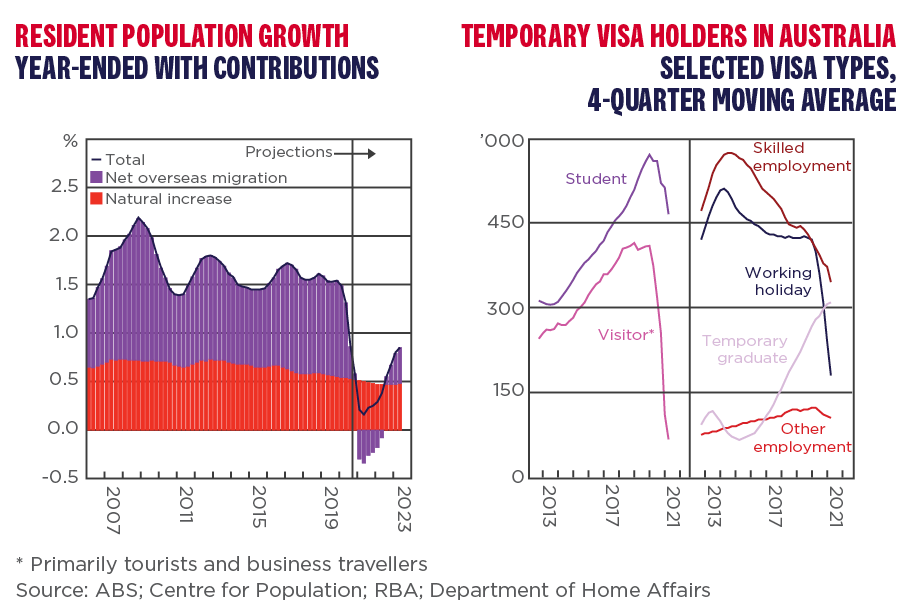 Facing an election in the next 12 months, Prime Minister Scott Morrison this week signalled a cautious approach was likely to remain with borders, calling out the potential for vaccination passports to be used domestically, but giving little away on plans for overseas travel. It comes as several countries, including the UK and several in Europe, unveil their approach to vaccine passports, which typically allow fully vaccinated people to travel to certain countries without having to quarantine upon their return.

"It's not safe and won't be for some time for Australia's international borders to open fully," Mr Morrison told reporters. "It's been critical to Australians living the way we are. But we are working on the next steps. We've got to plan for when we reopen, but… it will be a gradual process."

The Australian Medical Association president Dr Omar Khorshid today said people getting vaccinated was ultimately the key to getting back to normal life, arguing the benefits far outweighed the risks, emphasised by the drop in serious illness, hospitalisation and spread of COVID-19 in countries where the hundreds of millions of doses of the AstraZeneca and Pfizer vaccines have been delivered.

"It is not sustainable for Australia to rely on international border closures, restrictions, and potential lockdowns to protect the community from COVID-19," he said.

For all the debate around the vaccine rollout, quarantine policies and "snap" lockdowns, it's hard to dispute Australia's economic outperformance during COVID so far.

And after contracting less than almost all major economies last year, momentum remains.

As the eurozone confirmed it had suffered a double dip recession, the Reserve Bank this month lifted its 2021 GDP forecast to a booming 4.75 per cent – up from 3.5 per cent previously – and tipped the unemployment rate would slide from 5.5 per cent to 5 per cent be year's end. While predicated on the vaccine rollout speeding up, no long lockdowns and the international border gradually reopening from "early 2022", these forecasts are just the RBA's "baseline" scenario.
The "upside" – if cashed up households splurge more than expected – is GDP rocketing 6 per cent this year, driving the unemployment down to 4.5 per cent by the end of the year and 3.75 per cent by the middle of 2023.

For context, the unemployment rate has never fallen below 4 per cent in the ABS's series dating back to 1978, and the last time it regularly had a "4" in front of it was leading up the global financial crisis when the government was running budget surpluses on the back of the China-fuelled mining boom.

Today, the government is running the biggest deficits since World War II as it pumps cash into the economy alongside support from the RBA like never before (a 0.1 per cent cash rate, so-called "quantitative easing", the list goes on…). In turn, economic and financial markets records are tumbling everywhere you look, such is the power of this "V shaped" economic recovery from the worst downturn since the 1930s.

It began in the second half of last year, GDP growing by more than 3 per cent in two consecutive quarters for the first time in the ABS's more than 60 years of data.

The housing market has been a key driver and beneficiary, prices jumping the most since 1988 in March, up 2.8 per cent, or a staggering 40 per cent annualised. Several commodities this month hit record highs, iron ore prices surpassing $US230 a tonne, while business confidence has never been higher. Likewise, Westpac's monthly consumer sentiment survey eased slightly this month but remains near 10-year highs.

"Ahead of any major advanced economy, Australia has seen employment go above its pre‑pandemic levels," the Treasurer trumpeted in his budget speech. "Australia's fate could have been so much worse. The United Kingdom, France and Italy all contracted by more than 8 per cent, Japan and Canada by around 5 per cent. Australia, just 2.5 per cent."

But looking ahead, for a country that has relied on strong net overseas migration to drive population growth for many years, the international border remains a key swing factor in both how the next phase of the COVID recovery plays out and the longer-term dynamics of the economy. A key risk is that an "extended closure" reduces "demand and trend growth in the economy's productive capacity", the RBA says.

"Overall, Australian households and businesses appear to be adjusting well to the tapering of fiscal and other temporary support measures," the RBA said alongside its new forecasts this month.

"But the nature and speed of the next phase of growth is still characterised by uncertainty, particularly around household consumption … the outlook is also likely to be uneven across industries for some time yet, reflecting the closed international border, restrictions in parts of the services sector, large shifts in consumer preferences, ongoing supply disruptions and slower population growth."

Australia isn't alone facing "reopening" challenges.

For countries further ahead such as the US, Morgan Stanley equities strategist Chris Nicol says companies are already noticing "reopening pressures" such as material and labour shortages – issues which will likely emerge in Australia when vaccinations ramp up and border restrictions ease.

"Most markets will start to grapple with transitioning from embracing the hope of reopening to the reality of such," he says.

To be sure, given the dire economic predictions floating around a year ago, or even six months ago prior to the vaccine breakthroughs, grappling with reopening challenges this soon is an amazing outcome. Several countries remain in lockdown, while others battle crippling outbreaks.

But with the focus mostly shifting from cases to vaccinations, the issue of borders is unlikely to fade into the background.

"The vaccination program is critical for our economic recovery – a faster rollout means a faster recovery," St. George's Mr Bunny says.

It's hard not to want that.

The views expressed are those of the author and do not necessarily reflect those of the Westpac Group.