A year on from the emergence of COVID-19, arguably some of the most powerful images of the pandemic remain those ones involving healthcare professionals.

Nurses and specialists in hospitals caring for seriously ill patients. Their colleagues at testing sites with queues as far as the eye could see. Our chief medical officers giving endless updates at press conferences.

The list goes on.

The global public health emergency clearly placed immense strain on healthcare systems, but in turn shined a light on the critical and downright amazing work healthcare professionals do every day. This is what's struck me from my customers – just how resilient and steadfast the industry is.

It's not always widely discussed, but even before COVID-19, healthcare was one of Australia's fastest growing industries, supercharged by massive growth in demand for services from our aging population, an increasing incidence of chronic disease and growing expectations for more personalised, digital, integrated care experiences.

By 2040, the sector is predicted to be the biggest contributor to the Australian economy.

Like all industries, the emergence of an array of new technologies and shift to digital is one of the biggest forces at play, a trend only accelerated by COVID. In October 2020 alone, 4.1 million telehealth consultations were conducted across the country, 8 per cent by video and the remainder by phone.

Meanwhile, attitudes toward data-sharing are evolving as digital health records become more ubiquitous, more than 90 per cent of Australian public hospitals and 53 per cent of private hospitals with inpatient facilities using the My Health Record system at 30 June 2020. By 2025, the global digital health market is estimated to increase to more than $US500 billion from around $US86bn in 2018.

But as our recent healthcare sector report highlights, another powerful trend is reshaping the industry: the growth of aggregated practices.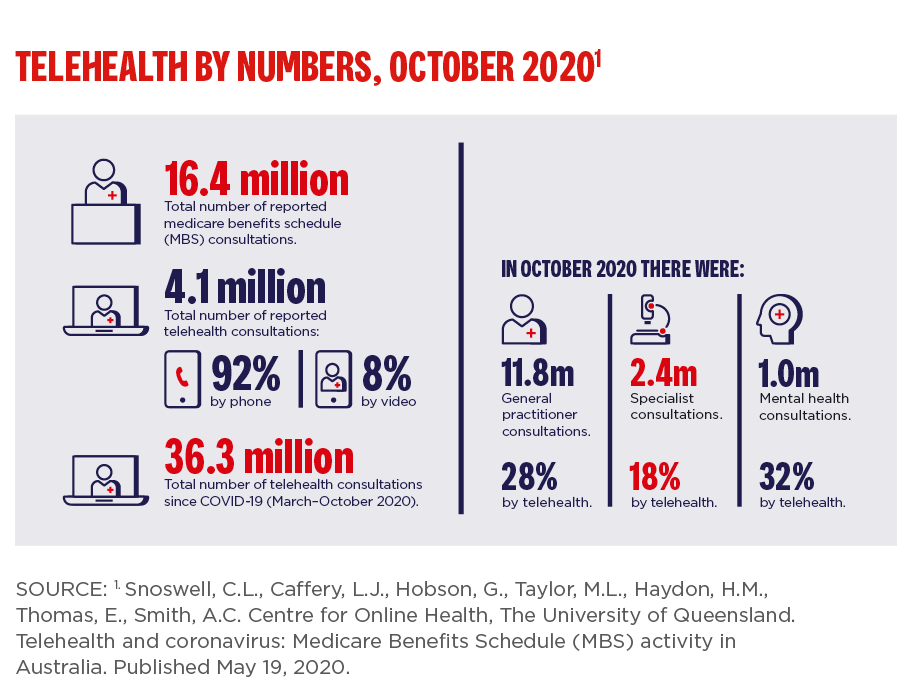 Formerly the province of GPs and allied health groups, these are now being embraced by a growing numbers of specialist practitioners across the country seeking to offset a perfect storm of rising costs, growing demands and more competition. The emergence of smaller, specialist-led, private short-stay hospitals, in particular, is redefining how specialist modalities can work together to deliver better patient outcomes and make more efficient use of healthcare resources.

I'm seeing more and more specialists actively exploring these new opportunities, including in regional areas which are in many cases are experiencing strong population growth and where it makes sense to have a range of services located together.

In regional Queensland, Richard Lavack and his wife, Dr Andrea Boros-Lavack, were running private practices in Toowoomba and Caloundra and struggled to get patients into local hospitals due to a shortage of beds. They saw a gap in the market and opened the Toowoomba Clinic last year – a 27 bed mental health facility with a team of specialists and consulting rooms which can be leased to other practitioners.

In many ways, COVID exposed weaknesses in traditional models in the healthcare industry and many other specialists are reassessing their business.

The consolidation of private medical practices, via group investment, acquisition of smaller practices or acquisition by corporates, presents an attractive model for some. Aggregation provides economies of scale and may alleviate high costs for sole practitioners, while facilitating the provision of high-tech equipment, services and systems to deliver better health outcomes and more efficient practice management.

Aggregation is already a well-established model in countries like the US.

But in Australia, funding these capital-intensive projects is complex as individual investors, private equity groups, banks and doctors themselves seek greater certainty around returns as models continue to evolve. And, of course, aggregation isn't without risks and challenges, such as practitioners' different approaches to surgery and that they may be competing in some ways with each other.

Advice is critical, for example accountants, banks, lawyers, specialist advisers and practice management consultants, because approaches do vary. Particularly important is getting the balance of debt and equity right, especially in the current uncertain economic environment.

East Sydney Private Hospital is a good example of the opportunities at hand.

It was started by Peter Kalish, an ear, nose and throat (ENT) surgeon, in 2014 with a group of private investors. Mid last year, Medibank Private came in and took a 49 per cent minority shareholding, providing an initial investment of $8.8 million to fund the capital investment and operational costs required for the hospital to scale its new short-stay model of care. It now has five theatres, 32 beds and a close observation unit, specialising in orthopaedics, spinal surgery, plastic surgery, ophthalmology, eye surgery and ENT.

Healthcare has been the defining theme of 2020 globally and the pandemic has highlighted weaknesses in public and professional practice business models.

Despite the challenges, extraordinary times provide extraordinary opportunities – and backing Australia's aspiring medical professionals is crucial for the nation's economic recovery and long-term future beyond the pandemic.

Don't miss
By Ben Young
Head of Fraud and Financial Crime Insights