It's hard to put into words the devastation caused by the bushfires across our country.

The sheer scale of the crisis is overwhelming: at least 1800 homes have already been lost and millions of hectares of land destroyed across several months, impacting wildlife and countless Australians, many of whom are our customers and employees.

The stories I hear and read from our people every day are both incredibly sad, yet also inspiring. Like in other crises, the trauma of one of our worst bushfire seasons on record has brought out the best in people, from volunteers and reservists fighting the fires on the frontline to the many others providing support and donating time, money and aid.

But with fires continuing across several states, it's clear we need to support affected communities both now, and in ways that help the recovery over time. That the horrible Black Saturday fires in Victoria in 2009 destroyed more than 450,000 hectares of land – compared to the current bushfire's more than 6.5 million hectares – and had an estimated multi-billion dollar cost, suggests the recovery this time will be a long one.

Our economics team estimates total losses from the current bushfires have already risen to around $5bn and will impact GDP growth by a not insignificant 0.2-0.5 per cent.

That's why today we're rolling out a Bushfire Recovery Support Package, which builds on several initiatives in the past few months and will be overseen by a new role, CEO, Bushfire Recovery.

While there's several components in the package, at its core is additional support now for customers and communities impacted by the ongoing bushfires through our Bushfire Fund, but also measures to help retail customers and businesses recover and get back on their feet over the longer term.

For retail customers, we're providing interest-free home loans to cover the gap between their insurance payout and rebuilding costs, and covering mortgage repayments for one year for those who have tragically lost their principal place of residence due to the bushfires, up to $1200 per month. As for immediate relief, customers whose principal place of residence has been destroyed or damaged can access up to $2000 in emergency cash grants.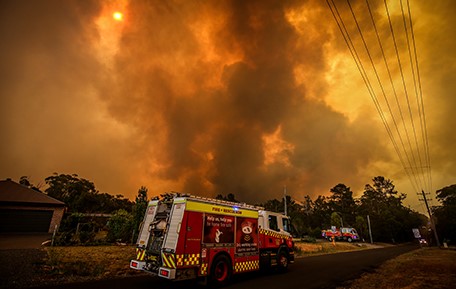 Speaking to our employees on the frontline, I'm alert to the pain also being felt by business customers, particularly small businesses, as transport routes are interrupted, agricultural land lost and consumers spend less. At a time of patchy overall economic growth, it's critical we assist Australia's businesses so they can in time invest, employ and grow with confidence.

For our business banking customers, we are making a grant of up to $15,000 available to assist small businesses with the cost of refurbishing premises that have been destroyed during the bushfires. We're also setting aside $1bn for new three-year, low-interest rebuilding loans up to $1 million at a variable interest rate of 2.83 per cent. With the bushfires following – and compounding – one of our nation's worst droughts on record, our package today also includes no foreclosures for three years on any farming businesses in affected areas.

In the here and now, our teams stand ready to deliver fast track credit approvals for short-term assistance and our business customers can also access the $2000 cash emergency payments if their business premises has been destroyed or damaged by the bushfires.

It never ceases to amaze me the lengths our teams on the ground will go to.

Back in November, I remember a relatively minor but meaningful story where an employee arranged cash vouchers for a customer who'd lost some work tools and farm equipment in bushfires to help replace them, apparently leaving him amazed at the unnecessary but very much appreciated gesture. More recently, one of our employees volunteered to help an Adelaide Hills winery that was wiped out in the bushfires and utilised our "Empower Me" fund to provide some funding towards a much-needed irrigation pipe.

We understand the impact financial stress and difficulty can have on people's lives, immediately and for many years. Hence, as part of today's package we're donating $500,000 to Financial Counselling Australia to provide financial counselling services to people in affected towns and regions.

Australians are renowned for stepping up and helping out in times of need and the terrible bushfires have brought that home. While the devastation may be far from over, we stand with our customers, employees and communities for whatever comes our way – now and in the recovery to come.