Turning up Indigenous voices
The remote, one-street town of Elliott, which lies in the desert on the Stuart Highway halfway between Alice Springs and Darwin, recently played host to a seemingly small yet historically remarkable project.

With many traditional Aboriginal languages under threat of disappearing as Elders pass away, Karl Hampton explains three residents of the sparsely populated town are the last remaining speakers of the local language, and his media organisation is playing a powerful role in keeping it alive.

"Through our music label CAAMA Music, one of the three language speakers has recorded an album of contemporary music in this local language," says Hampton, the chief executive of the Central Australia Aboriginal Media Association (CAAMA), at its Alice Springs headquarters.

"That's the importance of CAAMA: being able to preserve our stories, our history, our language in different ways, whether it's music, radio, film, television. That's what we can do."

Founded in 1980, initially as a public radio station to broadcast Aboriginal music and news, CAAMA has grown into a multi-media organisation spanning radio, television, film and music production.

The not-for-profit has a radio footprint second only in size to the ABC, broadcasts programs in around 12 Aboriginal languages, and was the first Aboriginal-controlled organisation to be granted a music label and a television broadcasting licence. Its star-studded alumni of former trainees include the likes of renowned film directors Rachel Perkins and Warwick Thornton, and the National Library of Australia has deemed its 40 years' worth of audio and film archives as "internationally significant".

"The absolute reason CAAMA exists is to give Aboriginal people a voice," says Hampton, who recently hosted two Westpac employees on short-term job placements with CAAMA as part of the Jawun Indigenous community secondment program.

The importance of the role played by Indigenous media organisations like CAAMA in maintaining language and self-representation, and in "truth-telling" – a key aspect of the Uluru Statement from the Heart, the centrepiece of the movement towards Indigenous constitutional recognition – has been strongly advocated by the industry's national peak body, First Nation's Media.

"We offer a unique opportunity to contribute … a First Nations perspective in truth-telling about our shared history, its impacts on Indigenous history and the contribution First Nations peoples have made to protecting and building Australia," it says in a submission to the Joint Select Committee on Constitutional Recognition.

CAAMA paved the way for many other Indigenous-controlled players to enter the Australian media landscape, including National Indigenous Radio Service and Koori Radio, newspapers such as Koori Mail and National Indigenous Times, a regional satellite TV service, online platform indigiTUBE, and the national free-to-air dedicated Indigenous channel of SBS, NITV.

John Paul Janke, co-host of NITV's flagship current affairs program The Point, says there's been a distinct evolution in the representation of Indigenous people in Australian media in that time.

"It's only been the last 30 or 40 years that Indigenous people have had their stories told their way," says Janke, speaking at a forum last month hosted by Westpac's internal Indigenous "employee action group".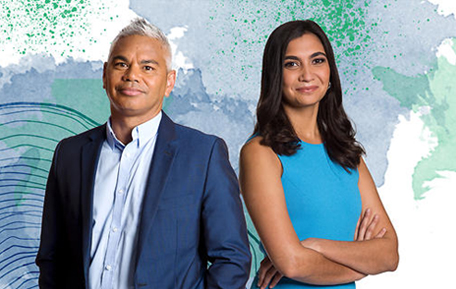 "Up until the 1960s and 70s, a lot of the stories and history of Aboriginal and Torres Strait Islander people were told by non-Indigenous academics, anthropologists and researchers. Now I can see stronger Indigenous voices coming through."

His co-host Rachael Hocking says she's encouraged by the growing willingness for mainstream media to engage with Indigenous points of view, noting recent front-page campaigns run by the likes of The Sydney Morning Herald explicitly supporting Constitutional Recognition, and the inclusion of Indigenous points of view on programs such as Channel Ten's The Project on the debate around changing the date of Australia Day from January 26.

But she says challenges remain including the need to constantly counter media stories that are "simply false", recalling a front-page news story that Aboriginal people were making alcohol out of Vegemite that led to calls to ban the iconic spread from remote communities.

"The only media organisation to fact check that claim was NITV," says Hocking, who has been with NITV since 2015 after cutting her journalistic teeth with the ABC and Koori Mail.

"The amount of Vegemite you'd need and the process ... is just not something that people living in poverty in isolated places in the country are going to spend their time doing. Yet it was across the front pages of newspapers until Media Watch picked up on it."

Janke says he is enthused by more coverage giving voice to people starting to ask the question, "why haven't we been taught the 65,000-year history of this country?"

"When I went to school the only thing we learnt about Indigenous culture was reading The Chant of Jimmie Blacksmith. I learnt more about Egyptians, Aztecs and Sumerians, and could name more Native American tribes and nations than Australian tribes," Janke says.

"But I think that's changing now.

"If we can reframe the narrative of this country to talk about the excellence and achievements of Indigenous Australians as part of our history and start talking about Aboriginal people as astronomers, bakers, chemists, botanists and explorers as opposed to being thought of as Noble Savages, hunters and gatherers… we can change the way this country looks at its own history."

He says the media can play a role in this but acknowledges it may challenge relationships between outlets and their audiences because "not everyone is going to agree with those truths". Hocking added that challenges often arise as there is a need to "sacrifice power" for it to be handed to Indigenous peoples.

Both Hocking and Janke are confident progress towards this reframing will continue given the numbers of Indigenous people they are seeing entering the media industry, not only as faces on screens, but as decision makers such as editors and producers, and across both Indigenous and mainstream media outlets.

Some of those future Indigenous media personalities may even come from one of the many recruitment drives by CAAMA's Karl Hampton as he finds and trains talent to perform in his remote broadcast studios dotted around some of the most far-flung communities in Australia.

"We recruit local people, language speakers, to get them on the radio to run a two-hour program," Hampton says. "It could be music, it could be collecting stories. What I'm doing is getting out there to recruit Aboriginal people to become broadcasters. They will be the ones to meet the challenge of recording the new stories."

Of more than 250 Indigenous languages, including 800 dialects, spoken across Australia at the time of European settlement in 1788, only 13 are still acquired by children, according to the Australian Institute of Aboriginal and Torres Strait Islander Studies. Around 100 are still spoken by older generations but are at risk.

"We can keep Aboriginal stories and language strong, promote those languages and make people proud, because language is our identity," Hampton says. "That's who we are."

Don't miss
By Ben Young
Head of Fraud and Financial Crime Insights