The 14-year old banker and her boss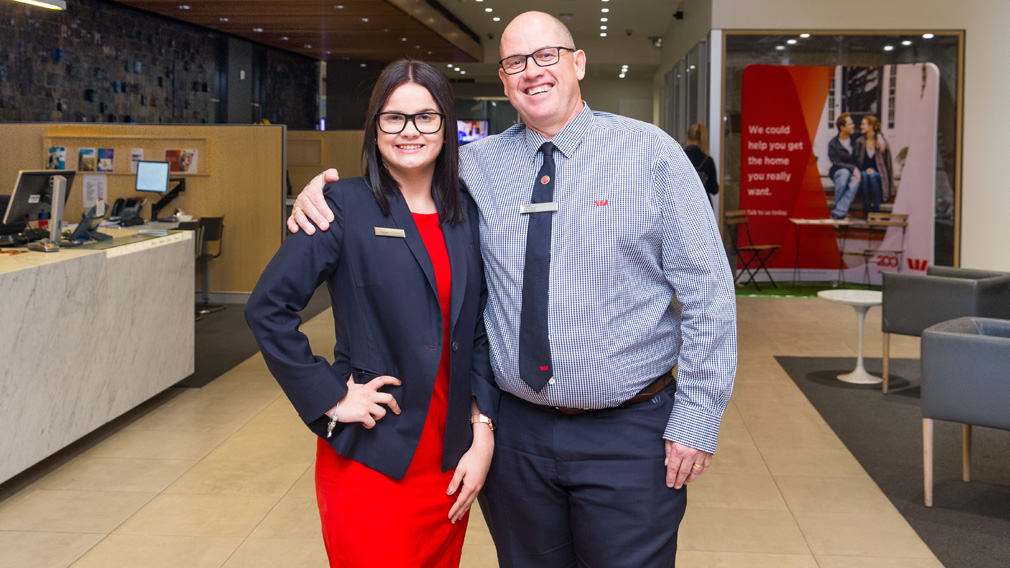 Tegan Burke became Westpac's youngest ever personal banker after starting her career four years ago as a 14 year old through the bank's Indigenous school-based trainee program. Her first bank manager, John Veal, is her mentor and biggest fan.

Tegan

I was 14, still at school and had never been for a formal interview before. I was pretty shy and really nervous walking into the bank. I had this expectation of John being this high-up fella, being strict. But as soon as I walked in he had this big smile on his face, he was really down to earth – the complete opposite of what I was expecting.

From day one, he always told me I was going places and has never doubted me. He has always been so supportive and patient, really open-minded. He never judged me.

Having that backing made me fully motivated. I really put my head down so I could smash through my certificates to get my qualifications and finish my traineeship as quickly as I could.

When I won my first traineeship award, my own parents didn't go to the ceremony, but John, his wife Sylvia and my trainer Cherie, were all there. That meant a lot to me.

After graduating from school and going full time, it was a big thing for me when John told me there was a personal banking role in Cloncurry and that I should go for it. No bank manager would have put someone forward for a personal banker role at the age of just 17 if they didn't believe they could do it. I remember he said, "you'll go out there, you'll be lost, but remember we're just a phone call away". He also said "you'll smash it out there". And I have.

John wasn't surprised when I told him that in a speech I gave, Brian (Hartzer, CEO of Westpac Group) was there, and I told Brian I wanted to take his job, to be the first Indigenous CEO of Westpac. That's probably the memory that will be with me forever. That's what I aspire to.

Not everyone knows John has a tattoo of Westpac on his arm. It goes to show that Westpac isn't just a job for him. It's what he loves. It's why he's been here 37 years. He is so passionate about it. Not just about banking – but about the people.

I've grown up without the support of my parents, but it's never felt like I haven't had a family, because John and his team have filled that spot. He's always been guiding me along the right path, towards the right goals to get me to where I am today.

Now I have a career. I love talking to customers, getting to know them and helping them. By doing that, I've gained so much knowledge myself. I don't even think of it as work, because I like it so much. It's also meant I've been able to be independent, buy my own car and have my own house.

I talk to John – or Sylvia or Cherie – whenever I need a hand, not just with work, but if I'm having some family problems and need someone's ear to chew off. He listens and gives me advice, no matter how busy he is.

I really believe everything happens for a reason and I think John was supposed to be my bank manager. He is dead-set my mentor.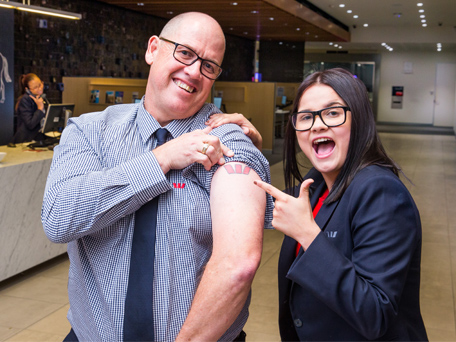 John

Tegan is one of those rare individuals. She has not let negativity or challenges distract her from being successful.

When she came in as a candidate for a school based traineeship, her aunty came in with her. I remember her aunty broke down in tears simply because Tegan was getting the chance to have an interview.

She was this little, nervous, 14 year old kid, who was impressive from the start. You could see something – there was a spark there, a keenness to be something better. She's been driven from the day she got here and that became more embedded as she got older.

The whole team encouraged her and when she started to see herself achieve things, she started to really believe and excel. She finished her business certificate in just three months when she was in Year 11, something that would usually take more than two years. Her hard work has been recognised along the way – she's been named trainee of the year in a couple of awards and she recently went to Canberra for the Indigenous Youth Parliament.

A highlight for me was when she went full time and took the move to the Cloncurry branch. Here's this 17 year old kid, and the shackles are now off. For her to take that step when she was such a little kid, by herself, was just remarkable. I was proud of her for doing that. Not many people are willing to take a step like that and go bush, but she knew she needed to do it if she was to become who she wanted to become. Now she's in the Brisbane office – you don't get much different than that.

It shows that she's not afraid to have a go. If she gets knocked down, she'll get back up. She's tough. She knows how to handle difficult situations. She's not afraid to ask tough questions of customers in the right way – she's got that skill. She's a level headed person, a very mature young person.

What makes Tegan's story so special is that she's been wholly self-motivated, all without the support of parents and without a stable home while she was growing up – things that many of us take for granted.

We've been able to provide her a caring environment that she knows she can be comfortable in, to ask questions or try things, but it's been her own determination that's carried her. She has a drive to be someone better, and to pull other Indigenous people along with her. We've learnt as much from her culturally as she's learnt from us.

Tegan has set herself some pretty lofty goals. I would love to see her one day become a manager, but it will mean more to me to see her happy in life.

I'll always be there as a mentor. If, God forbid, she ever left the bank, we'd still be here for her.

Read more about Westpac's school based traineeships.