How to send money overseas
Make your international money transfer safe and seamless with Westpac Online Banking or the Westpac App.
Before you send money overseas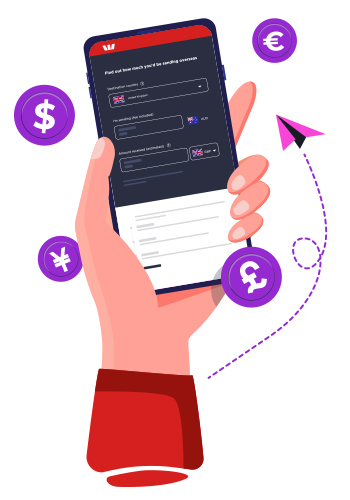 Check our foreign exchange rates and fees
Foreign exchange rates
Use our currency converter for an indicative foreign exchange rate on your international money transfer.
How much does it cost to send money overseas?
There are two transfer fees you need to know about:

1. Westpac's transfer fees

| Transfer using | Fee (AUD) |
| --- | --- |
| Westpac Online Banking or the Westpac App (sent in a foreign currency) | $0 |
| Westpac Online Banking or the Westpac App (sent in Australian dollars) | $20 |
| Transfer made in a branch (sent in either Australian dollars or foreign currency) | $32 |
2. Transfer fees deducted by any other banks involved in the money transfer in any currency.
To get an indicative foreign exchange rate and estimate the fees, use our currency converter.
Sign into Westpac Online Banking or the Westpac App


Choose who to pay or set up a new payee


Depending on where you're sending, you may also be asked to confirm the reason for the payment


Select the payment currency. If sending in a foreign currency, accept the conversion rate.

Double check that you have entered the details correctly, then submit the payment.
Still need help?
Use the step by step guide  to transferring funds using the Westpac App or Online Banking.
For detailed support try our frequently asked questions.
How long will it take for the money to arrive?
Once the transfer has been submitted, funds are transferred electronically from your Westpac account into the designated overseas account usually within 1-3 business days.
Frequently asked questions
Popular currencies


British Pounds - GBP


South African Rand - ZAR


New Zealand Dollars - NZD


US Dollars - USD
All currencies
Australian Dollars - AUD
Pakistani Rupees* - PKR
Brunei Darussalem - BND

Papua New Guinean Kina - PGK


Canadian Dollars - CAD
Polish Zloty - PLN (Online only)


Chinese Yuan - CNY
Samoan Tala - WST
Czech Koruna - CZK (Online only)
Singaporean Dollars - SGD
Euros - EUR
Solomon Island Dollars - SBD
Fijian Dollars - FJD
Swedish Kroner - SEK
Filipino Peso* - PHP
Swiss Francs - CHF
Hong Kong Dollars - HKD
Thai Baht* - THB
Hungarian Forint - HUF (Online only)
Tongan Pa'anga - TOP
Indian Rupees - INR
Turkish lira - TRY (Online only)
Israeli New Shekel - ILS (Online only)
Vanuatu Vatu - VUV
Japanese Yen - JPY
United Arab Emirates Dirham - AED (In-branch only)
Norwegian Krone - NOK
Things you should know
Westpac Online Banking Terms and Conditions
This information has been prepared by Westpac Banking Corporation ABN 33 007 457 141 AFSL 233714 ("Westpac"). The exchange rates provided are applicable to foreign exchange products described on this website. The exchange rates are indicative only as at the time and date shown, are subject to market movements and therefore change continuously. They may also vary depending on the type of the transaction involved, and may be different for transactions over a certain amount. They should not be relied upon as an accurate representation of any final pricing. You should contact Westpac for up-to-date pricing prior to dealing.

International money transfers
Transfers to selected countries are only available for amounts AUD $1,000 and above, or the foreign currency equivalent value. The countries currently subject to this restriction are Cambodia, Ghana, Indonesia, Laos, Mexico, Pakistan, Philippines, Thailand, and Vietnam. This condition is subject to change at any time at Westpac's discretion.

*International transfers made in Thai Baht (THB), Filipino Peso (PHP) and Pakistani Rupee (PKR) to any eligible country are only available for amounts of AUD $1,000 in value and above.

*This is subject to change at any time at Westpac's discretion.


Correspondent bank fees and notes on the currency conversion
If you transact with Westpac, you will not be charged a Correspondent Bank Fee for your international transfers in over 10 currencies. These include USD, NZD, EUR, GBP and INR.

Based on the currency of the transfer and the country/region the transfer is being sent to, additional fees may be deducted by another overseas bank or the transfer recipient's bank. Overseas banks may impose fees and charges or convert the currency of the payment. Westpac might not have any control over the fees, charges or foreign currency conversions imposed by these institutions. Any overseas financial institution handling charges will by default be borne by the recipient of the international money transfer and deducted from the payment amount, unless otherwise organised. It is possible that the overseas bank could convert the currency of the payment at an unfavourable exchange rate. You should inform the beneficiary that, if this occurs, they should consider rejecting the payment immediately so the payment can be unwound at the prevailing exchange rate.

If you do not want the currency to be converted, please insert the words "Do Not Convert" in the description details free text box when you are making an international money transfer and we will on-forward this instruction.