Getting Paid as a Supplier
Westpac Group is transitioning to the Coupa platform.
Invoicing process
Providing a valid invoice facilitates prompt processing and payment. Please note that for invoices paid via our WEAPS and eBuy payment channels, you are contracting with Westpac Banking Corporation.

The below provides guidance on how to ensure you submit a valid invoice. Additional guidance is available from the Australian Taxation Office (ATO) and from Business.gov.au


1. A valid invoice is required.
An invoice does not need to be issued in paper form, electronic invoices in PDF format can be provided via e-mail.
a. Tax invoice: If your business is registered for GST, your invoices should clearly display the words 'Tax invoice'.
b. Regular invoice: If your business is not registered for GST, the word 'Invoice' should be clearly displayed on the invoice.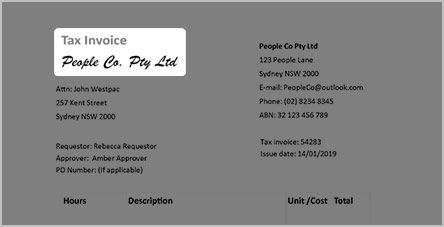 Invoice statements (a statement collating amounts owed) and quotes (a statement with an estimated cost for goods/services) will not be accepted.
2. Provide an invoice number and invoice issue date;
A unique invoice number should be assigned to each invoice for payment tracking purposes, along with the date you are issuing the invoice.

3. Your contact details.
This includes:
a. Your business name (must match with ABR records);
b. Business address- include your postal address if different from your business address;
c. Business contact details- contact number and e-mail address; and
d. Australian business number (ABN).

4. Payment details
This includes the account name, BSB and account number;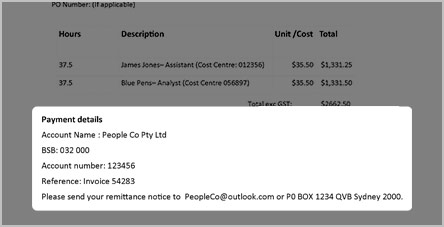 5. A brief description of the goods or services you have provided.
This includes the quantity, unit price, GST amount (if GST has not been charged this must be clearly stated), and the total (inc/exc GST). Also include the Westpac cost centre for each item (this will help us direct your invoice to the correct business unit for payment).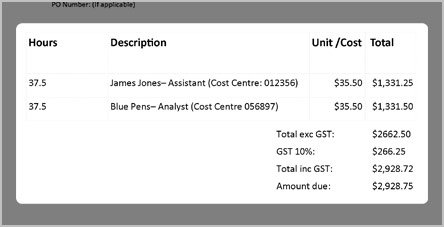 6. Depending on the payment platform assigned to your business, you will need to supply the following information:
WEAPS: Please request the following details from your Westpac contact and clearly mark this on your invoice or body of the e-mail you send to invoice-central@westpac.com.au.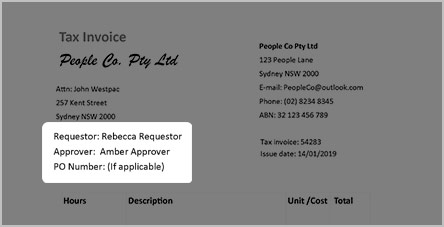 Requestor:*
Cost Centre:
Approver:

* Please note that requestor details are mandatory. If the above information is not provided, this may result in delays to your payment as we will need to make enquiries on your behalf to find the correct Westpac Group contact.


eBuy: Please ensure the PO (Payment Number) number is clearly marked on the invoice (If applicable). Where eBuy is chosen as the preferred payment platform for your business, your Westpac Contact will give you further instructions on how to send/upload your invoice.

Other: Please contact Supplier Advocacy for more information.