Getting Paid as a Supplier
We understand the importance of a reliable cash flow for Australian businesses and the part we play in your businesses ability to grow, create new jobs and plan for the future. Providing a valid invoice to us will enable us to process and pay your invoice promptly.
Valid invoice
The Australian Taxation Office (ATO) website provides specific definitions of a valid tax invoice. Please ensure your invoice clearly displays the following pieces of information:
1. A valid tax invoice is required.
We will accept proforma invoices where appropriate.
a. Tax invoice: A bill of sale for goods/services provided.
b. Proforma invoice: A preliminary bill of sale in advance of the goods/services to be provided.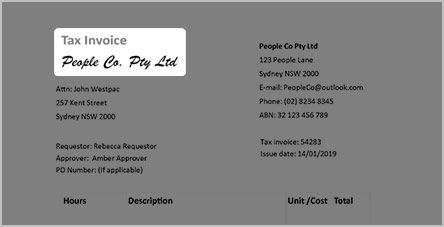 Invoice statements (a statement collating amounts owed) and quotes (a statement with an estimated cost for goods/services) will not be accepted.
2. Provide an invoice number and invoice date;
3. Your contact details.
This includes:
a. Your business name;
b. Business address- include your postal address if different from your business address;
c. Business contact details- contact number and E-mail address; and
d. ABN.

4. Payment details
This includes the account name, BSB and account number;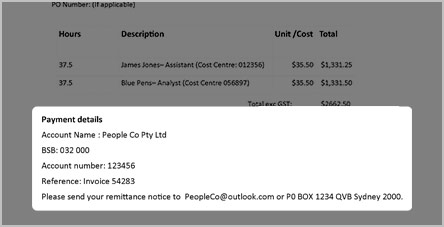 5. A description of the goods or services you have provided.
This includes the quantity, unit price, GST amount, and the total (inc/exc GST). Also include the Westpac cost centre for each item (this will help us direct your invoice to the correct business unit for payment); and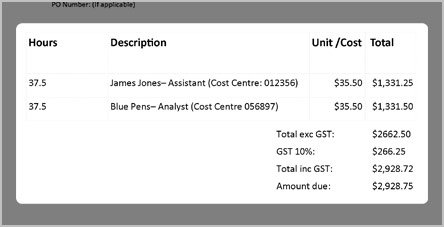 6. Depending on the payment platform you will be using, you will need to supply the following information:
WEAPS: Please request the following details from your Westpac contact and clearly mark this on your invoice or body of the e-mail you send to invoice-central@westpac.com.au.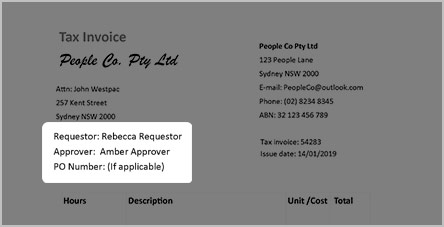 If you are unable to supply all of this information, only the requestor is absolutely necessary:
Requestor:*
Cost Centre:
Approver:
Ebuy: Please ensure the PO (Payment Number) number is clearly marked on the invoice (If applicable).
Other: Please contact Supplier Advocacy supplier-advocacy@westpac.com.au for more information.