Westpac Protect™
At Westpac, safeguarding your financial and personal information is one of our top priorities. We're here to help protect you, your family and your business against fraudulent transactions.

Westpac's Fraud Money Back Guarantee
We can assist in getting back any missing funds from your card lost to fraudulent transactions

Westpac's Online Banking Security Guarantee
Helping to protect your transactions from online fraud

Digital Card
Security
A digital version of your card, with a dynamic security number that changes every 24 hours.
Find out more

Keep your details
up-to-date
If we detect suspicious activity on your account, its important your contact details are up to date.
Find out more
Westpac's Fraud Money Back Guarantee
Our Westpac Fraud Money Back Guarantee ensures that you will be reimbursed for any unauthorised card transactions provided that you have not contributed to the loss and contacted Westpac promptly. Refer to your card's
conditions of use (PDF 305KB)
for full details, including when you will be liable.New simplified Credit Card Terms and Conditions will take effect from 2nd November 2020. See
notice of changes (PDF 23KB)
for more details.
Online Transaction Security Guarantee
Means you will not be liable for the amount of any online transaction made without your knowledge or consent providing we're notified of that transaction before the due date shown on the card account statement.
24/7 Fraud Protection
Monitoring every transaction for irregular or suspicious activity. If a suspicious transaction is detected, our fraud specialists will call you to verify the transaction.
CHIP technology
Uses a microchip embedded in your credit card to securely store personal data (e.g. your name, card number and expiry date) rather than storing it on the magnetic stripe on the back of the card. CHIP is a more effective counter-measure against counterfeit and skimming fraud
Safer online shopping with Visa and Mastercard®
When you shop at participating online retailers registered with Visa Secure and Mastercard® Identity Check
Secure Payments
This unique mark is your assurance that the merchant is processing your credit card details securely over the Internet using a Westpac-accredited Internet payment security system.
Pin
Using a Pin for your purchases will help ensure that no one is able to make transactions over $100 if your card is lost or stolen
Westpac's Online Banking Security Guarantee
If your Westpac account is compromised as a result of Internet fraud, we guarantee to repay any missing funds, providing you comply with our Westpac Live Online Banking Terms and Conditions.

This includes keeping your sign-in details (including passwords, Westpac Protect™ SMS codes and SecurID® Token codes) private.

The Terms and Conditions (PDF 1MB) explain the features, benefits, risks, fees and charges for Online Banking and BPAY®.

You must inform us immediately if you suspect the security of your access details has been compromised, or you suspect an unauthorised transaction or potential fraud on your accounts.

Please note our security guarantee is not applicable to Corporate Online Banking.


Westpac Protect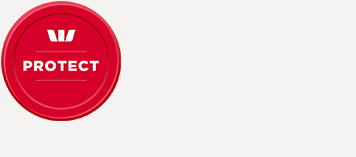 A SecurID® token is a small, portable device that generates a digital security code, which you use to securely authorise certain online transactions and features. Tokens are ideal if you are travelling or in a low mobile service/reception area.
It also offers:
Increased security (free of charge)
The ability to instantly reset your Westpac Live password online
Access to a higher daily payment limit
Same day 'Pay Anyone' payments to other Westpac accounts
The ability to update your personal details online
Access to additional payment types
Access to User administration functions for Administrators.
Security tips for using your token
Keep your token secure - it fits easily into a key ring or neck chain
Treat your token with care - don't expose it to extreme temperatures.
If you lose your token, contact us immediately to replace it
How to register?

Administrators of Business networks can register their users for SecurID® Code by selecting 'User administration', from the 'Services and preferences' tab once signed in, then click the arrow button next to the user's name and select the SecurID® token option. Then follow the simple step-by-step instructions. If the user is already registered for a device, click more features link then 'security device'.

Will I be charged for my SecurID® token?
No, Westpac Live Online Banking does not charge a fee for either Personal or Business customers.
Westpac Online Banking is protected by our market-leading technology Westpac Protect™ Adaptive Authentication – a comprehensive, real-time, authentication and fraud detection platform that monitors your banking behaviour.

SecurID Tokens and Westpac Protect SMS are part of our Adaptive Authentication technology, allowing us to request that you enter a code to authenticate a transaction or access a feature. This verifies that a genuine action is being performed by you, the authorised person.

Adaptive Authentication allows us to get to know your digital identity, making it easier for us to detect unusual activity and alert you to it. It also makes your online banking experience easier by minimising the need for security codes to be entered when we are confident you are performing the activity.


There are many different types of credit card fraud, but at its simplest, is when someone obtains your card details and make transactions on your card without you knowing

You may not be aware that your card has been used fraudulently until:

You receive your statement and find there are transactions that you didn't make
Our Fraud Detection Team advises you on unusual activity on your card and asks if the charges are yours
We send you an SMS (text) to confirm a transaction, and ask you to text back with your confirmation.

What does Westpac do when there is suspected fraud on your card?

We'll stop your card and companion cards (and the card of any additional cardholders) and issue new cards
We will provide you with a case number and send you a 'Transaction Investigation Request' form which outlines the list of transactions you believe are fraudulent
You'll need to confirm the details and sign the form then return it to us within 14 days of receipt
We'll complete the investigation and if the decision is in your favour, refund the fraudulent transactions. Cases can take up to 21 working days to be resolved.
Secure Online Shopping
When you're shopping with participating online retailers, Mastercard Identity Check™ and Visa Secure services work with Westpac to authenticate your transaction using a One Time Password to ensure that it is really you making the purchase. This additional layer of security is provided to you free of charge through Westpac's Secure Online Shopping service.
Your One Time Password will be sent to your nominated mobile number or email address that you have provided to Westpac. Once received, you will need to enter that password into the One Time Password field to complete your transaction.

Corporate Cards: Please contact your account administrator to update your mobile and email details. Alternatively, please call the Commercial Cards Line on 1300 650 107.
More information?
Report
Please report any suspicious activity immediately by calling 132 032 or +61 2 9155 7700 if overseas (available 24 hours a day, 7 days a week)