Manage your Term Deposit online
Renew & manage your Term Deposit in Westpac Online Banking from 8:00 am to 9:30 pm on Business Days and 8:00am to 4:00pm Saturdays (Sydney time)
Rate parity with branch
When you manage your Term Deposit online, you'll get access to the same rates as you would in branch
Easily compare rates
Easily access all available rates and terms. You may even be eligible for a bonus rate on top of our standard rates at maturity1.
Sign into Online Banking to find out.
Update your maturity or renewal instructions at any point (you don't need to wait for your Term Deposit to mature)
At maturity you will also have 6 business days (called the Variation Period 2) beginning on the maturity date where you can change or provide maturity instructions once, this includes adding funds, withdrawing funds or closing.
Provide renewal instructions at any point during your term. If you choose to renew we will confirm your rate at maturity.
1. Select your Term Deposit in your Online Banking.
2. Update your Term Deposit instructions.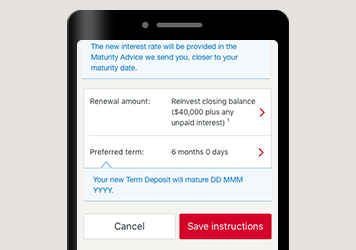 3. Save your instructions (you can update them again at any stage during your term).
Things you should know
You must provide a minimum of 31 days' notice to access funds prior to maturity (except in cases of hardship). If the deposit or any part of it is withdrawn early, an interest rate adjustment will normally apply.
If you choose not to give instructions, your account will automatically roll over on the same term and interest payment frequency at the standard interest rate applicable at maturity
1. Special or bonus rates apply for a single term. Higher or lower rates may apply for subsequent terms.
2. 'Variation period' means 6 Business Days from the date the Term Deposit matures.