Unknown transactions? Here's how to figure it out
With more information like the business name, location and contact details, you can now easily identify unknown transactions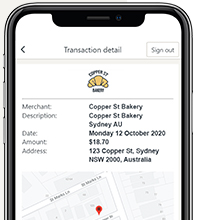 Putting a name to a place
Businesses, like your local cafe, sometimes trade under a different name to the one they registered. So, you might not always recognise the name on your statement.
To help you identify these purchases, you can use the Look Who's Charging feature. You'll see more details like:
The trading name and logo
A map of the transaction location
An address, phone number, and website if available
You can report any suspicious behaviour on your account. Please refer to credit card fraud for more information on how to do this.
Sometimes a merchant might make a mistake when charging your card. For example, they could have charged you twice, the wrong amount or placed an order after you cancelled it. If this has happened, you can let us know by following these steps:
Sign in to Online Banking or the Westpac App.
Click the account where the transaction occurred.
Click on the transaction.
Click 'Dispute Transaction'.