Customise your home screen on the Westpac App
Everyone banks differently. Customise your home screen by showing, hiding and reordering the features below. Better control and visibility of your money in the palm of your hands.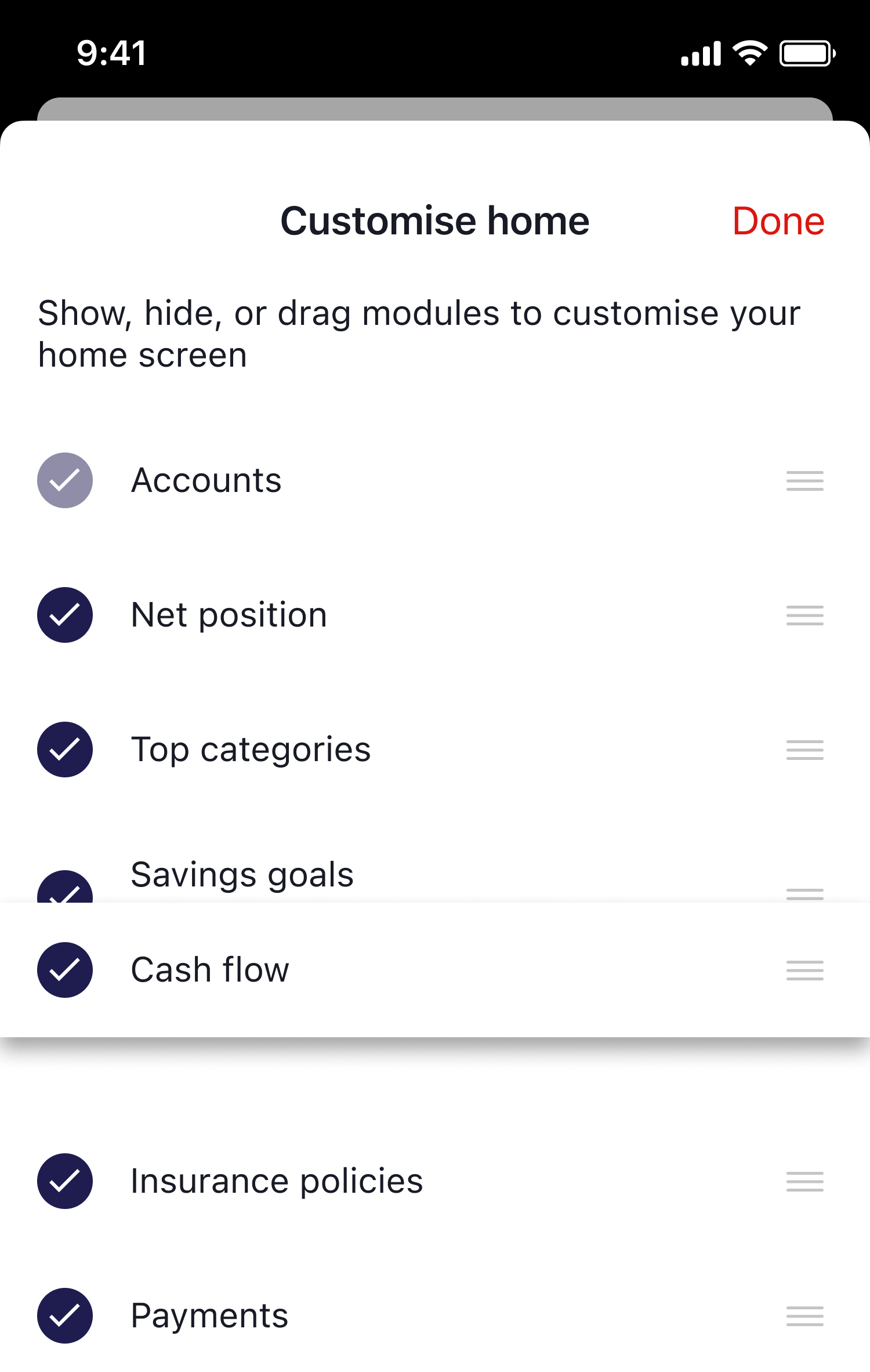 What can I customise?
Track trends in your cash flow

Compare and track your income vs expenses to help you budget from month to month

Compare spend across categories

Tag expenses to better understand your spending and help spot where you could save

Payments

Surprised by the number left in your bank account? Tracking your income vs expenses can help you plan for costlier months or those with extra cash ripe for saving

Savings goals (for Westpac Life accounts)

Track your progress on things that matter. Whether you're saving for a home deposit or holiday, you're in control

Insurance policies

View your policies, make claims and more

Approvals

Check business payments waiting approval

Net position

View the balance of all your accounts
How can I hide my accounts?
You can't remove your accounts section completely, but you can choose to hide certain accounts.
How to customise your home screen?
Scroll to the bottom of the home tab
Tap Customise home
Choose modules you want to see (indicated by a tick)
Drag and drop modules to reorder​
Download the Westpac App
Bank while life's happening with the Westpac App. With security features like fingerprint ID and Westpac Protect™ Online Banking Security Guarantee, you can bank with confidence.
You may find these useful
Things you should know
Savings Goals: Both an account holder and an authorised user can use the Savings Goals feature, including to view, add, edit and delete the savings goals on a Westpac Life account.
Westpac's Online Banking Security Guarantee - If your Westpac account is compromised as a result of Internet fraud, we guarantee to repay any missing funds, providing you comply with our Online Banking Terms and Conditions. This includes keeping your sign-in details (including passwords, Westpac Protect™ SMS codes and SecurID® Token codes) private. You must inform us immediately if you suspect the security of your access details has been compromised, or you suspect an unauthorised transaction or potential fraud on your accounts.
QR Code is a registered trademark of Denso Wave Incorporated.
®Registered to BPAY Pty Ltd ABN 69 079 137 518
Apple, the Apple logo and iPhone and iPad are trademarks of Apple Inc., registered in the U.S. and other countries. App Store is a service mark of Apple Inc.
Android, Google Play and the Google Play logo are trademarks of Google LLC.
© Westpac Banking Corporation ABN 33 007 457 141 AFSL and Australian Credit Licence 233714.