The strength of Australia's housing market in 2023 has surpassed expectations, with the sustained recovery causing us to lift our forecast for prices, although affordability will keep gains in check over the longer term.

Westpac economists now expect prices nationally to rise 7 per cent this year, up from flat previously, while the Sydney market is now seen up by 10 per cent.

Strong migration inflows, tightening rental markets and low on-market supply continue to be important drivers. It's probably no coincidence that the cities which have seen the biggest swing in net migration flows, such as Sydney and Melbourne, are also seeing the strongest price growth.

The waning threat of more RBA interest rate increases is another positive for the market. The central bank has indicated that it's now more confident about inflation returning to the 2 to 3 per cent target band by early 2025 and as a result we think policy rates have reached their peak.

Even so, affordability for buyers is challenging, and likely to become more so as the year progresses. Sydney and Melbourne prices may still be about 5 per cent below their previous peaks by year-end, but that will be with interest rates 4 percentage points above the level when those peaks were hit, and that's clearly going to test the depth of demand.

We expect those affordability constraints to limit price growth to 4 per cent in both 2024 and 2025.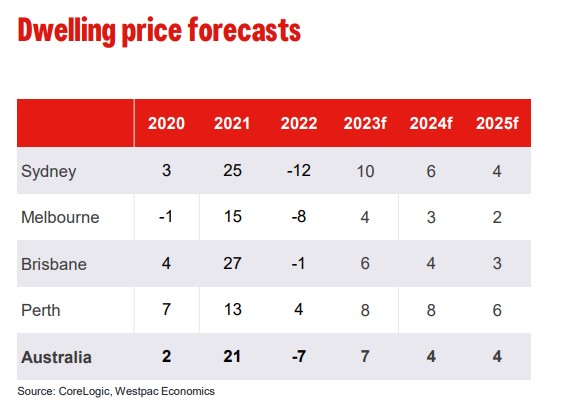 There are some wildcards to consider in this outlook. Near term, we are starting to see a pick-up in seller activity, with more supply coming into the Sydney and Melbourne markets. That will be a further test of the strength of demand over the next few months.

The behaviour of investors is another key factor. The tight rental market and improving rental yields will be a drawcard, along with renewed price growth, but at this stage we're seeing pretty low appetite from investors generally.

And the other thing we're keeping an eye on is the high level of savings built up by households over the pandemic, with around $260 billion accumulated during the forced savings of the COVID lockdown period.

It may be that some of those funds are now finding their way directly and indirectly into housing markets, particularly the high income households that have the bulk of those reserves.

Overall, the housing market recovery is looking more assured, and that will be a positive for some, but it will add to the challenges we're seeing on the affordability front.

For the full report, visit WestpacIQ.


Don't miss
By Ben Young
Head of Fraud and Financial Crime Insights