Australian wholesale businesses have built up record high inventory levels and may soon need to start clearing stock at discount prices, as squeezed households cut back their spending.

That could help the Reserve Bank in its battle to contain inflationary pressures, but likely not before we see two further interest rate increases.

An easing in the supply chain disruptions that hit during the pandemic has allowed wholesalers to rebuild stock. Strong consumer demand also enabled them to lift sales prices by more than their inventory cost, providing a big incentive to quickly grow inventories.

It's a somewhat different story among retailers, whose inventories have only been rebuilt to pre-pandemic levels. Since last year, the rise in wholesale prices has outstripped growth in their own sales prices, offering retailers less incentive to re-stock.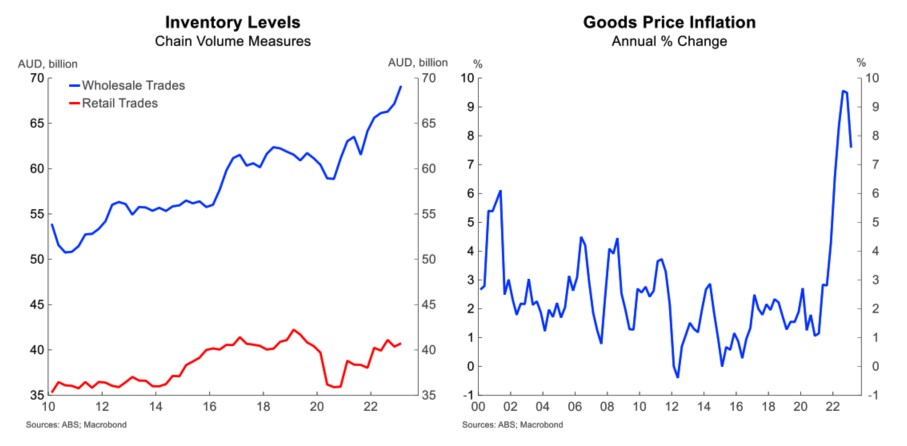 Consumer demand and economic activity are now slowing, as the impact of the RBA's series of rate hikes becomes more widespread.

As such, the risk of discounting among wholesalers is increasing. The difference between wholesalers' sales price growth and inventory cost is narrowing, reducing their incentive to run large inventories.

And the sheer volume of stockpiles that have been built up suggests that more discounting than usual during a downturn is likely to be necessary.

This chimes with what Shane Howell, managing director, business lending at Westpac, is seeing on the ground among small and medium-sized businesses.

"Wholesalers, especially those supplying the retail and grocery sectors, have ramped up their inventories since COVID-related disruptions eased," Howell says. "That's partly to insulate themselves from the supply chain issues we saw during the pandemic, but they've also been racing to keep up with strong consumer demand.

"As the economy cools, it's natural that there will be less need for them to keep so much stock on hand," he added.

The high cost of industrial property rents – largely a result of high demand from wholesalers needing floor space for their inventory – is another factor that could incentivise them to clear stock.

There are likely to be some offsetting factors. For one, retailers are not sitting on a huge amount of stock, which should help to smooth out the impact on wholesalers as consumer demand eases.

Secondly, as Howell notes, the pandemic has prompted a shift away from a "just in time" approach to inventory management, with some wholesalers more willing to hold higher stock levels, even if that comes at a cost.

If, as we expect, businesses do run down their inventories in the months ahead, it will free up a large amount of working capital. That will give them options to invest in future growth, or keep the extra capital in reserve for an eventual upswing in the economy once the RBA starts to cut interest rates.

Overall, the risk of discounting is significant, and has potential to accelerate the disinflationary cycle already underway in goods prices. However, the RBA is concerned that this progress could be wiped out by more persistent price pressures in the services sectors.

For this reason Westpac economists expect consumers to be hit with two more quarter percentage point rate hikes, at the RBA's July and August board meetings.