Australia's housing market correction still has some way to run, but the pace of price declines should start to slow from next year.

Two factors are going to determine the course of the downturn. First is how the inflation outlook evolves, and secondly how the economy, especially the labour market, absorbs the impact of higher interest rates.

Heading into 2023, the near-term outlook remains bleak. The downturn has become more firmly entrenched in most markets, while price-driven improvements in affordability are being negated by rising interest rates and deteriorating expectations for prices and labour markets.

With more RBA rate rises expected between now and mid-2023, there's little prospect of a price recovery anytime soon.

Nationally, we've seen prices drop by 7.5 per cent since the correction began in April - that's about half of the peak-to-trough move we're expecting for capital cities through this correction. It's run further in Sydney, where the correction started earlier, with prices there down about 11 per cent.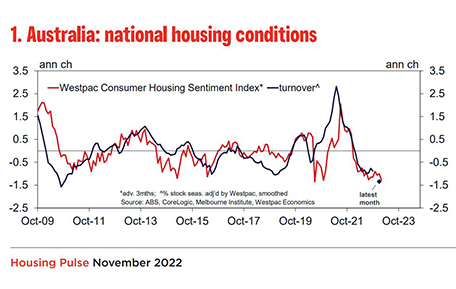 We have seen some tentative signs of a slowing in price declines month to month. In auction markets clearance rates have lifted, but it looks to be mainly in thin trading: we've seen sellers pull back sharply over the last couple of months.

We're seeing about 20,000 new listings across the capital cities per month and 25,000 sales. So stock on the market is still reasonably low, but that's probably more due to sellers shelving their plans, rather than a sign of an imminent stabilisation in the market.

While the difficult economic conditions are dominating across markets, there are still variations between states. New South Wales and Victoria have already seen deep corrections, while Queensland, Tasmania, the ACT and most regional parts of the major eastern states are now experiencing material price declines as well.

Western Australia and South Australia continue to hold up much better but are seeing momentum stall and sentiment turn down sharply.

Overall, it looks to us like we've got another 12 months of price declines ahead, but they're likely to be at a milder pace than we've seen through 2022. Conditions for a recovery could then emerge in 2024.

If we take previous recessions as a guide, property downturns have tended to come in two distinct phases, In the first phase, interest rates are going up and price declines tend to be sharp. In the second phase, rates are high, but not necessarily rising, broad economic weakness starts to feed through, and the declines begin to moderate.

What that tells us is that for the cycle to bottom out, it's not enough just for interest rates to go on hold, they need to start coming down.

As such, the property market is only likely to stabilise once it becomes clear that the RBA's next move is going to be to lower rates, and the impact of its policy tightening has passed through the rest of the economy.

For the full report, visit WestpacIQ.