Pre-loved to luxe: curating a waste-free home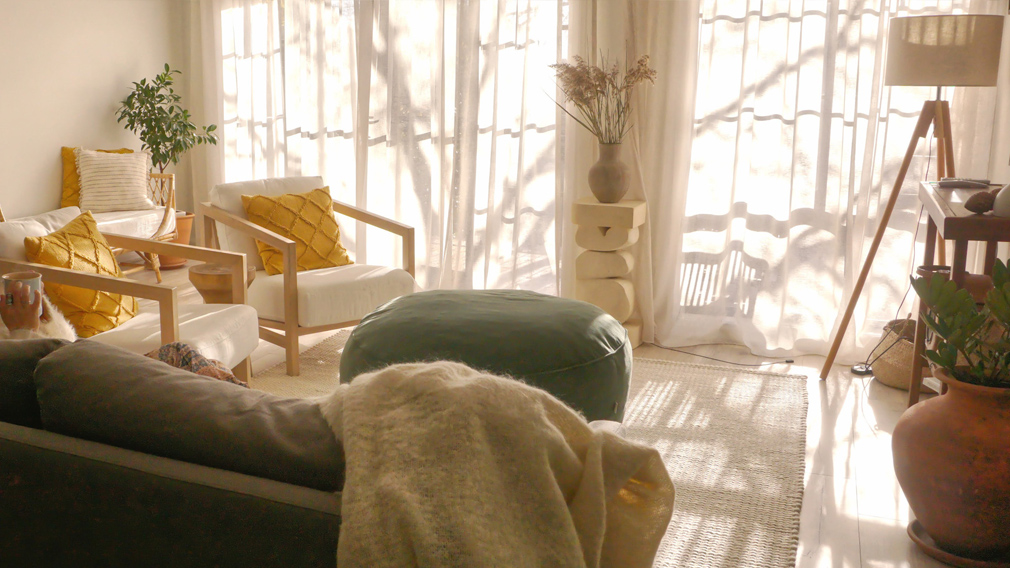 Every year, in Sydney alone, as much as 48,000 tonnes of used furniture is chucked out by households, according to a recent survey on rubbish.

At the same time, global supply chain issues and inflation have seen a surge in the cost – and wait times – of buying new furniture. It's also often covered in wasteful packaging, adding to the stress on the planet.

It was these types of factors that recently set me on an unexpected quest.

I needed to furnish a home from scratch and, in doing so, had a goal to create a luxurious, beautiful and cohesive feel.

I'd already made a deliberate decision to source previously used – or pre-loved, as I like to call it – furniture, to avoid adding to our nation's waste pile.

But I decided to up the ante, setting myself a challenge to ensure everything I put into the home was pre-loved or hand-made, and nothing was brand new (although I made a hygiene-based exception for the bedding and towels).

That meant choosing pre-loved for all furnishings, homewares, artworks, cutlery, rugs, shelves, hangers, appliances – the lot.

I was determined to prove this could be done in a way that minimised waste while keeping a well-curated designer feel (as distinct from a mismatched shared students' den!).

There is no denying it took more effort than buying new.

But it worked! The goal was met and the result gave me an incredible sense of joy – a superbly furnished home, with classic pieces which came together with a lovely, storied feel.

Through the process, I learnt a few tips, which I'm keen to share to encourage others who want to live more sustainably and minimise waste:

1. Decide on a style and colour palette and stick to it. You'll be tempted by pre-loved bargains that don't match your style. Let them go: a cohesive look will elevate your space.

2. When looking for items in the real world (rather than online), as well as visiting vintage, antique, second-hand and op shops, swing past council clean-ups – for luxury items, it often helps to concentrate your searches in affluent suburbs.

3. When searching online, I've found the best results using Gumtree, Facebook Marketplace, online vintage sellers and local buy/swap/sell groups. Online auction houses are also brilliant for original art and quality kitchenware, often sourced from deceased estates of wealthy collectors, where you can find some incredible pieces for a song.

4. Create online alerts for the things you need and be specific: for example, "outdoor timber daybed" – that way, you'll be the first to know when the right thing pops up and can move fast.

5. If something you want has been listed online for a while, offer a lower price. Generally, items like bed frames and sofas are great for a bargain as people need to clear them out before they receive a new one. And if something has been listed as "pending pickup," you can still offer a bit more or to pay a deposit and pick it up that day: most vendors want things off their hands quickly.

6. Don't discount something that's beautiful but broken – and fixable. YouTube is great for fix-it tutorials, but if you're not that way inclined, take it to your local Men's Shed.

7. You can 'follow' some vendors you love to be alerted of new items. For example, I follow some stylists who sell homewares they use in photo shoots, and others at designer furniture stores that list floor stock no longer needed. They often won't divulge the brand to keep people buying in-store. In this case it helps to know what you're looking at to recognise the brand and understand the value, but if you don't, you can try a reverse Google image search.

8. For hard-to-find items, broaden your search: you could enlist the help of family and friends who live in different cities. Alternatively, if an item is small, most vendors will be happy to post it if you cover the cost, just ask first. I also have a quick look what's around if I'm on holiday somewhere new.