Parental leave during a pandemic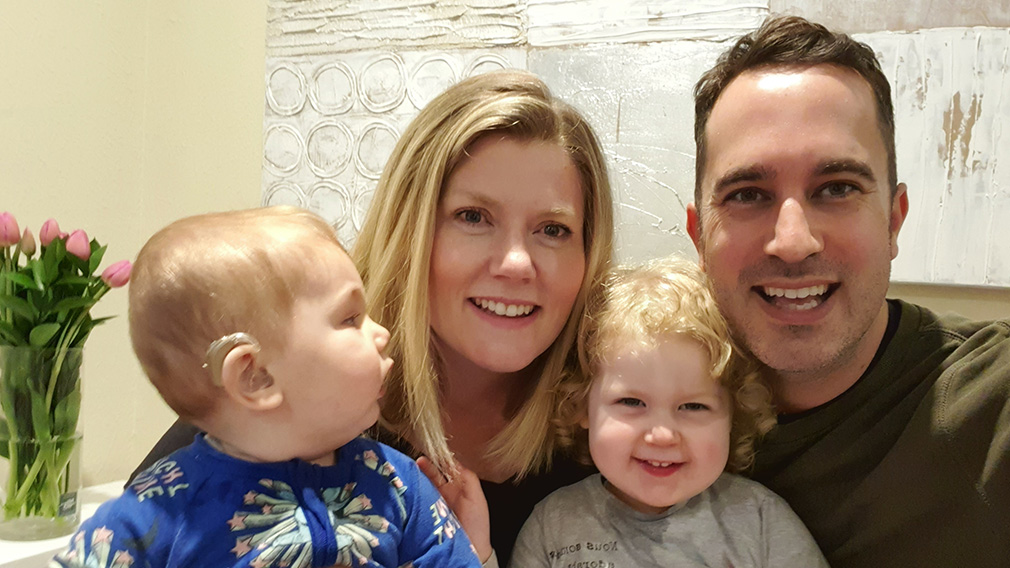 A few days before starting parental leave, I'll be honest, I had some doubts.

Perhaps it was just a bit of apprehension. A few people asked me if I was coming back. And yes, even that phrase – "career suicide" – was uttered.

Yep, believe it or not, there are people out there who still think that men taking time off somehow is a metaphorical sledgehammer to your employability.

A father taking time off to, well, be a father? No way.

But it was something I wanted to do – and something that made sense for our family with my wife Helen returning to work full-time. So, I set the wheels in motion late last year.

Then COVID-19 hit.

The apprehension quickly shot up a notch.

Reflecting back on the experience, the looming threat of COVID-19 and the inability to support my team when I knew that I had already committed to supporting my own little team at home was far from ideal timing.

But Thomas, our eight-month old, has a hearing impairment and needs a bit of extra love, attention and support. And I'll admit, I've failed him, to some extent, in the past by not prioritising his health needs. Fortunately, Helen more than truly picks up the slack. I mean, I juggle things around to be more available and help out. But she totally gets the gold star.

So, there I was, a few days out from eight weeks with Thomas and my other little one.

Selfishly, I thought I could learn a new language, take a short course or catch up on some reading. After all, kids nap during the day, don't they?

Unsurprisingly in hindsight, four weeks in, my personal "to-do" list was the last thing on my mind. So, I tried to 'reset'. But still, despite the best laid grand plans, it wasn't meant to be.

The days were packed, even with the COVID-19 restrictions.

What I didn't realise at the time, was that I accomplished more by spending time and being present, and across the challenges facing my kids. I learnt far more than anything on my list would've taught me.

I got a chance to take him to see his ear, nose, and throat doctor, do his hearing aid fittings, his hearing tests, his physio appointments, and his virtual playgroup. I thought I had some experience with dealing with challenges, having previously been part of a work volunteer group who supports employees experiencing challenges. Yet, when it came to my own son, I was a little absent prior to taking parental leave. Now, spending time with Thomas has also made me reassess my own health, spurring me to tackle some of those health niggles that far too many men neglect. If I'm not in great health, then I'm not being the best role model for my son.

Sure, there was a bit of cabin-fever, but it wasn't all that bad.

I made lunch for Helen who was working from home (yes, a few close calls when she was video conferencing). She even started texting me her lunch orders from the back bedroom, clearly getting a little too used to having me 'on call'.

The backyard became our make-shift park, as my oldest Stella would often remind me: "Daddy, park's broken"). I experimented with a few new dishes. And our garden has never looked better (don't worry, I know it probably won't last). Strangely, there was a bit of a 'chicken soup for the soul' thing going on – and something zen-like about being fortressed-in, at home with the family.

And there was something kind of cool about being a part of a club of one in 20 dads who take primary parental leave (according to the ABS), despite feeling firmly in the minority.

More should aspire to join. In fact, scrap the 'club' aspect of it – it shouldn't be just an aspiration.

Of course, employers have a role to play too and make things like this possible.

Yes, flexible working and generous leave policies are part of it. But it's the stuff that isn't in policies, delivered with a human touch – they're the ones that count. For me, it was the close consultation prior to setting off on leave (we even advertised for the eight week secondment opportunity to cover my leave), regular check-ins with my boss, a text message from my general manager wishing me all the best, feeling connected by being a part of the leadership team group chat, colleagues calling to say "hi", and direct reports wanting to call to share news and milestones.

Staying connected, on my terms, was a saviour. I now have an incredible bond with Thomas. And I'm a better (and healthier) father for it.

Eight weeks. What was I nervous about? The time flew by.