How this business embraced disability hiring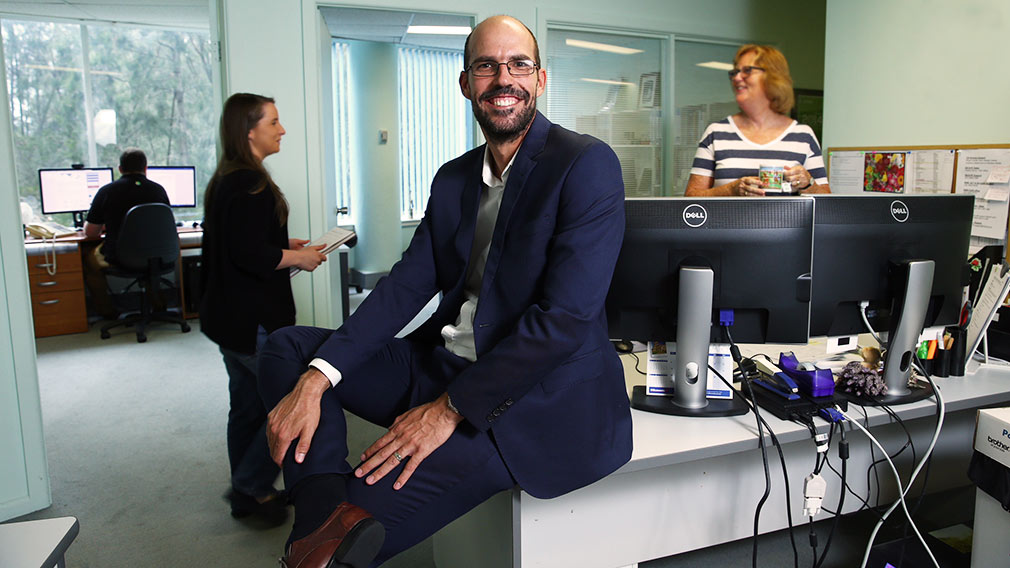 Five years ago, 12d Solutions, a family-run civil engineering software company based on Sydney's Northern Beaches, decided to take a leap into the unknown and hire an employee with a disability.

"It was something we'd discussed a fair bit at home, our belief in equal opportunity," says 12d's General Manager Joel Gregory. "And we wanted to do something about it."

Five years on, he's still with them.

"He is very motivated and very diligent," says Gregory of the employee, who has high-functioning autism and manages the company's database.

While 12d Solutions is reaping the rewards of its decision, the latest Disability Confidence Survey from the Australian Network on Disability (AND) shows not all small and medium enterprises – or SMEs – are seeing these benefits.

Suzanne Colbert, the CEO of AND, says the survey of more than 500 SMEs shows little change in accessibility and inclusivity of people with disability over the past two years, about one in three employing someone with a disability.

"Without a doubt, I think SMEs have a positive attitude. But it just doesn't translate into action," she says.

According to Colbert, the primary obstacle is that many SMEs think people with a disability are "not relevant for their workplace" – an assumption that is a major misunderstanding of the diversity of disability.

"For example, only 5 per cent of Australians with disability use a wheelchair, 95 per cent don't. So, if you have an accountancy firm up a flight of stairs, that's ok, that doesn't mean you can't hire an accountant who has a vision or hearing impairment," says Colbert.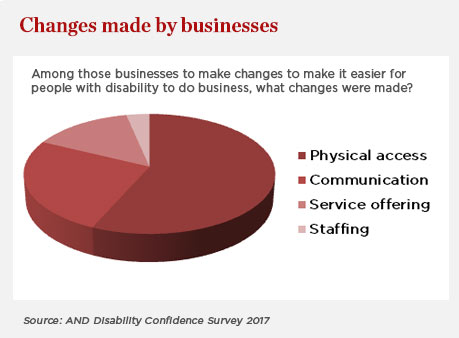 Experts who work in the disability employment sector say it's important to understand that a person's disability may have no impact on the way they perform a given job.

Paul Brown, the general manager of Jigsaw, a social enterprise that trains, transitions and employs people with disabilities, says the key to successful employment outcomes is to focus not on the disability, but on matching skill-sets to jobs.

"If you talk to the person and understand what their skills are, what their abilities are and what kind of environment they like to work in, you'll find there is a huge pool of people out there who want to work and who are suitable for work and will be very productive," he says.

While 12d made some "relatively minor" changes in the workplace, including adjusting communication styles and converting a text based training manual into a flow chart to better suit someone with dyslexia, Gregory says the benefits have far outweighed any costs.

"From the small amount of support we have provided, we have had an employee stay for five years in a job. I'm sure if it was someone else, without his loyalty and motivation, that job might have turned over one or two times, which would have cost us in terms of recruitment and training."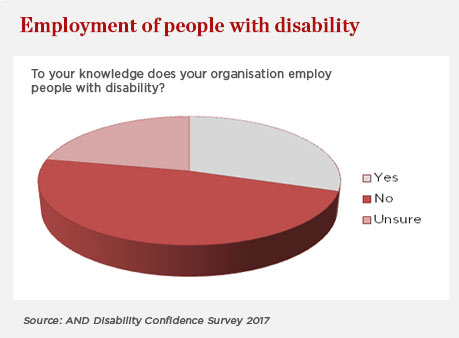 The AND's survey also shows that over the past 12 months, the majority of SMEs have done nothing to make it easier for customers with disabilities to do business with them. With one in three Australian families having a member with a disability, Ms Colbert says this is a "big issue" for SMEs because "customers walk away from organisations where they don't have a good customer experience".

The survey shows many SMEs don't act because they have received "no specific requests" to do so. However, Colbert says most people with disabilities simply get sick of asking, and just take their business elsewhere.

It's a warning that's already been issued by the NSW Business Chamber, which has noted that the personal income of Australians living with a disability is collectively worth around $100 billion annually.

Ms Colbert says that even relatively small changes – like providing a seat in a retail outlet, or making a website more accessible for the visually impaired – can help.

Mr Gregory, from 12d Solutions, echoes the point that becoming more inclusive doesn't have to be onerous for a SME. "I think in a tight labour market it's really worthwhile," he says, echoing other businesses who similarly view neurodiversity as a plus.

What's more, 12d has discovered that employing a person with a disability has actually benefited all 45 of their employees. "One of our major learnings has been that these slight adjustments, like raising awareness of how we communicate in the workplace, they actually have value for everyone and make the whole workplace better."

Small businesses interested in becoming more inclusive of people with disability can access further information in the NSW Business Chamber's Guide for Small Business in AND's resources centre.

Westpac is a founding member of the Australian Network on Disability and receives consultancy services in relation to accessibility improvements. Jigsaw was the recipient of a 2016 Westpac Foundation Social Scale-up Grant (watch this video). Small businesses may be interested in applying for the 2018 Westpac's Businesses of Tomorrow program, until 8 April 2018.