On the spectrum: neurodiversity brings edge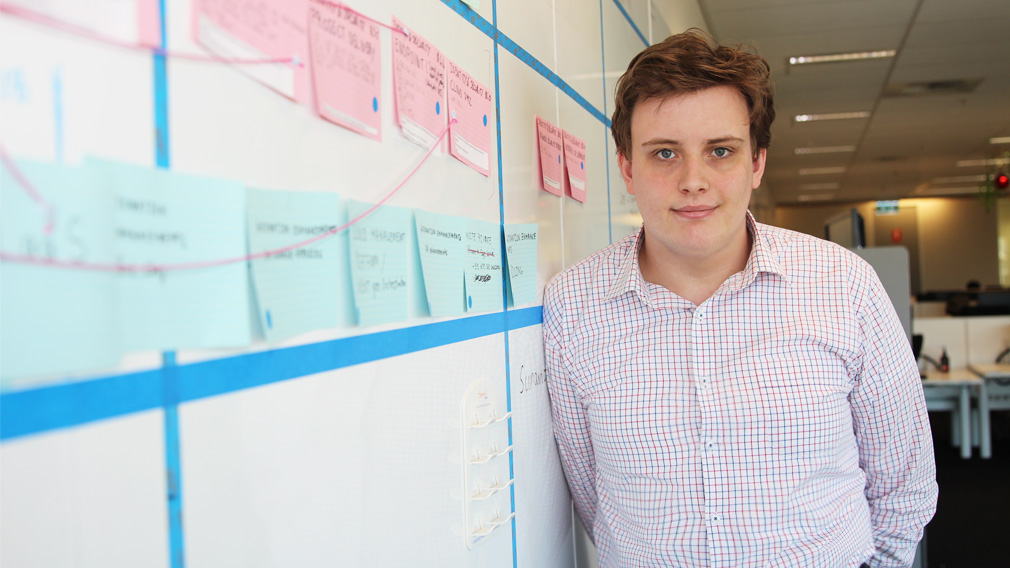 One of Westpac's newest recruits, Todd Cefai, has lost count of the number of job interviews he's been to since leaving university.

The 24 year-old studied biology and genetics at the University of NSW, is a self-taught data analyst and adjudicates debating competitions in his spare time. But like many people on the autism spectrum, he'd been unable to land a full time job.

"I've had up to 50 interviews, even got to second stage with some, but in none of them got all the way. Getting the foot in the door is the difficult part," Mr Cefai says.


It's a common stumbling block for those on the spectrum, according to Vicky Little, employment services manager with Specialisterne, a not-for-profit agency that offers recruitment services to people with autism.

"The traditional recruitment process typically measures people on their communication skills and ability to sell themselves," she says. "For people on the autism spectrum, that immediately creates a barrier. Those skills are often challenging, particularly in a highly anxious situation like an interview."

Autism is a lifelong developmental condition, affecting around one in 100 people. It's often characterised by difficulty in social communication and interaction, and restricted or repetitive behaviours and interests. An estimated 164,000 Australians are on the autism spectrum, according to the Australian Bureau of Statistics, and the unemployment rate among those who are working age is 32 per cent, more than three times the rate among people with disability (10 per cent) and six times those without disability (5 per cent).

But, according to Ms Little, people with autism commonly have sought-after workplace skills that other people may not. "People on the spectrum are often highly analytical, have very strong problem solving and technical skills, and amazing attention to detail, often above the average employee," she says.

The benefits are being increasingly noticed by major companies seeking the untapped potential of people who are "neurodiverse", a term first coined by Australian sociologist Judy Singer more than two decades ago.

The likes of DXC Technology (formerly Hewlett Packard), Microsoft, JPMorgan, Salesforce and Google have customised hiring programs, while software multinational SAP has even set a corporate goal to employ 650 people with autism by 2020, adding to the 120 people already employed.

Westpac is the latest to introduce a customised recruitment program, "Tailored Talent", developed in partnership with Specialisterne. Program manager, Rachel Ranton, explains that candidates are assessed over three weeks through a series of on-site workshops and practical work experiences.

"We've adapted the existing hiring process for people on the spectrum, to create an opportunity for them to demonstrate and showcase their skills and what they're really great at," Ms Ranton says.

"It allows hiring managers to observe the candidates' skills on the job, see how they work as part of a team, their job-readiness, motivation and participation. Our aim is to make the pathway to work easier for people on the autism spectrum because we're simply looking for great people to join Westpac."

Ms Little says while the technology and financial services sectors are leading the charge, they aren't the only industries in which people with autism can excel.

"Everyone on the spectrum has different skills and different challenges, like anyone else. The roles where people with autism tend to excel are those that tap into STEM – science, technology, engineering, maths – using the part of the brain that's highly analytical, problem solving, and where things are factual, unambiguous, black and white; as opposed to industries or roles where there is a lot of room for ambiguity, like psychology or front line roles."

Ms Little says Specialisterne hopes to see more hiring momentum across all industries, not just tech. This has seen the consultancy introduce programs like "Autism and Agriculture", an employment scheme to develop career paths in specialist animal care roles.

She also wants to bust the misconception that having employees with autism is resource intensive, noting feedback that there was no extra time needed above normal employee on-boarding processes.

Ms Ranton says in addition to directly benefiting "Tailored Talent" participants, the program was having the flow-on advantage that "neuro-typical" employees within Westpac were becoming more inclusive of people with autism.

For Mr Cefai, who starts his new role in February, he says he's looking forward to the opportunity to develop more skills, get more experience and work in an organisation where there is "constant go, go, go".

"The program has been valuable because it allows you to get more information on the job and you can demonstrate your skills and adaptability. There were achievable goals that kept me highly engaged," he says.