Blending beauty with banking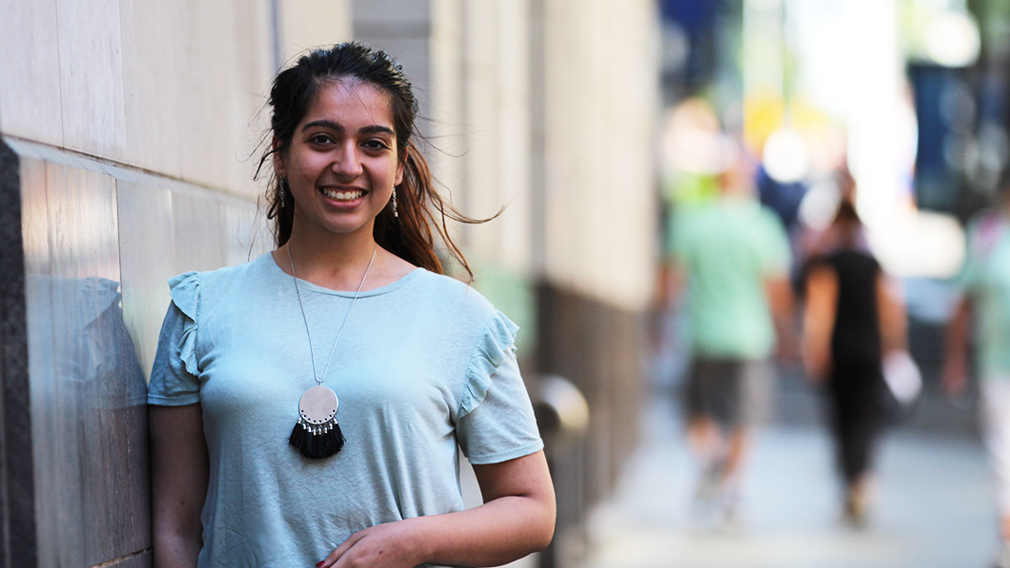 When Ishaa Sandhu visited New Delhi for a month-long university internship just over a year ago, she couldn't have predicted the financial chaos she was stepping into.

Just two weeks before, the Indian government made a surprise announcement that, overnight, it would scrap 500 and 1000 rupee banknotes – which accounted for more than 85 per cent of cash by value circulating in India, and worth the equivalent of a staggering US$260 billion. The Prime Minister billed the stunning demonetisation move as a strike against counterfeiters and a step towards a cashless economy.

Endless queues ensued outside banks and ATMs as people rushed to exchange banknotes for new currency. Businesses in the heavy cash-based economy ground to a halt. Local stock prices slid. India, tipped to become the third-largest economy globally in the next decade behind China and the US, quickly hit the headlines around the world.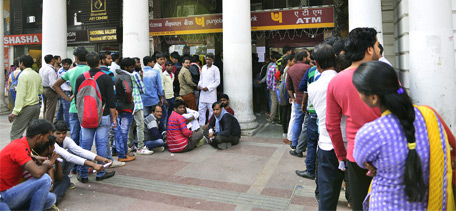 "It was just crazy, a huge image to take in," says Sandhu, a Perth-born economics, finance and law student at University of Sydney.

"There were people protesting in the streets, and the bank had so many security guards who weren't letting people in because they were over-capacity. With so many more people in the city at such a peak time of year, it felt suffocating.

"As an Australian citizen, I was lucky enough to find a foreign-service queue to get into the bank, but even then I had a solid two hour wait. It took me up to seven visits, each about two hours long, just to open a bank account."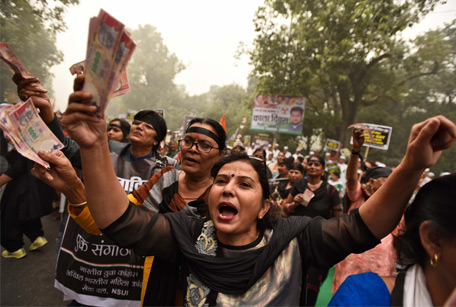 While many 21-year-old travellers would have switched into self-preservation mode, Sandhu – who spent some of her early school years in India but is now Sydney-based – says her thoughts quickly turned to the millions whose livelihoods had been completely upturned.

"Sadly, in a society where so many – particularly women – are financially and digitally illiterate, it's really hard to implement that change," says Sandhu, who describes herself as passionate about international development and emerging marketplaces. "Masses of people were all of a sudden struggling to learn the banking system – even at the most basic level of opening a bank account – simply to attain basic goods and services."

Among India's 1.3 billion people, only 24 per cent of adults are thought to be financially literate, according to Standard & Poor's, and bank account penetration is relatively low at an estimated 53 per cent in 2014. For perspective, in similarly-sized, nearby China, financial literacy rates are higher at 33 per cent while almost 80 per cent have accounts with banks.

Sandhu was in the most unlikely of places – a New Delhi beauty salon – when she was struck by an idea to help tackle this challenge, "Beauty & Banking", after observing first-hand the difficulties of demonetisation for the industry and popular vocation for millions of girls. It's a program of mobile education workshops to equip girls in the industry with banking skills, becoming a reality with the help of a Davis Projects for Peace grant.

"Small salons had always paid wages in cash and only took cash transactions from customers. Most girls who worked in the salons handed over their cash to family patriarchs, because they had such limited financial literacy. But as soon as demonetisation happened, this all just came to a complete stop," she says.

"The concept of Beauty & Banking was to take financial education workshops to beauty training centres, and teach it like any other lesson. In other words, the girls would learn about makeup in the morning, skin care before lunch and banking in the afternoon."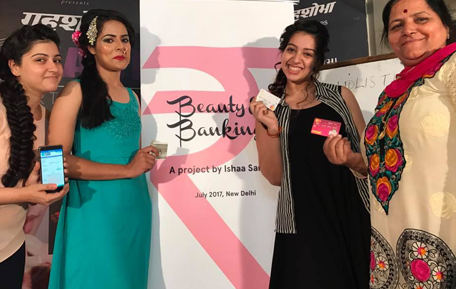 Sandhu – who speaks five languages including Hindi, Punjabi and some Urdu after being taught by her Indian-born parents who migrated to Australia in the early 1990s – jumped several hurdles to get the pilot up in July.

She enlisted senior managers from government-owned State Bank of India to deliver six interactive banking workshops to 280 women covering topics as varied as the risks of cash, how to calculate interest, setting up mobile wallets and applying for loans. She also invited popular beauty industry leaders to talk about the importance of financial awareness to become a successful entrepreneur. The economic spokesperson for India's ruling party, Mr Gopal Krishna Agarwal, appeared as a guest of honour.

"We wanted to give the participants a sense that understanding banking was simply a part of who they would need to be as professionals in their industry," Sandhu says.

A pre-workshop survey, conducted with the support of professors from the University of Delhi, revealed only 2 per cent of participants had ever used an electronic banking service, such as viewing an account balance, writing a cheque or electronically transferring a payment. This was despite all participants owning a smartphone, albeit unsurprising given India has as many as 500 million smartphone and mobile internet users.

"The learning for all participants was huge," Sandhu says. "A lot of them commented on how they felt far more self-reliant to make transactions …(and) confident about their children's future, and helping their elderly parents."

Next up, Sandhu is aiming to get the principles of the pilot program financial education modules embedded into vocational courses across the country, starting with beauty and extending to other similarly popular subjects such as fashion and interior design.

It won't be without challenges and there's plenty to do. Alongside preparing proposals for government and private sector vocational training centres, Sandhu is on the look-out for qualified local trainers and considering how to encourage the teaching of new recruits to the industry. Ongoing demand for advice from the program's initial participants has also spurred further discussions with banks to establish more accessible financial advice channels.

Back at home in Sydney, Sandhu's got plenty of other important pursuits – completing her university studies, working through internships and continuing her role as a youth mentor.

It's a seemingly exhausting workload, but Sandhu responds with realism and optimism.

"There's only so much I can do from Australia. (But) next year I'd like to go back to India and make it happen."

Ishaa Sandhu was awarded a 2016 Westpac Future Leaders Scholarship.