As a bank with more than nine million customers, it's sadly inevitable some will fall victim to scams and I've seen some terrible cases in my role. One included an older couple who lost money to a scammer and then were double scammed as the "people" they engaged to recover the money were also scammers as well.

They are far from alone.

In 2016 alone, people lost between $300 million and $3 billion to scammers, according to estimates from The Australian Competition and Consumer Commission, Australian Cybercrime Online Reporting Network and Australian Bureau of Statistics. The ACCC – which this week issued a public warning to be wary of scammers during the Christmas holidays – alone claimed scam reports jumped 47 per cent to 155,035 in 2016.

Sadly, people need to be particularly alert to the age-old saying that "if it sounds too good to be true, it probably is" as scams emerge as one of the fastest growing crimes facing our community, increasingly around the spruiking of things like investments and discounts.

While the elderly are often preyed upon, it can happen to anyone.

The core element in many scams is the compromise of an individual's important personal information and financial data to gain their "identity data", allowing scammers to commit a fraud.

We are seeing more customers impacted by official sounding phone calls from the "ATO" or "Centrelink" requiring them to pay money immediately. It's dubbed "phishing", when fraudsters send emails, texts or make phone calls designed to mimic or impersonate a trusted businesses or government agency in the hope someone takes a bite. These are those emails you get that look like the real thing requesting you to "confirm your details" or "pay outstanding money immediately".

As a general rule, never click on these links or provide your details, including through a Facebook link. Always log onto websites directly and don't click on links within email and SMS messages.

In some cases, we have seen scammers convince our customers to transfer money "offshore" to a safe bank account to protect their money. In one case, a customer was convinced the "bank" was part of a conspiracy by a number of calls from scammers masquerading as the police. To "protect their money" they transferred it to a bank account outside Australia. It was very sad to hear of the customer going into the local police station and learning that the policemen they had been "speaking" with didn't actually exist. While it's hard to imagine situations where people would need to transfer money to a stranger overseas, these tricksters can be pretty convincing and use sophisticated bullying and coercion techniques to scare customers into cooperating.

If ever you receive a call that is unpleasant or intimidating, just hang up – get a family or friend to assist in assessing whether the call was real or not.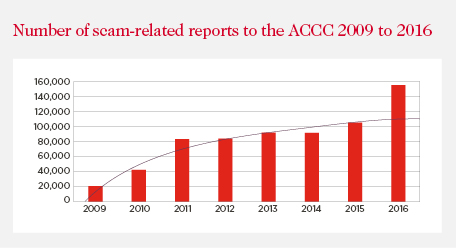 Another common one is the technology scam, where you'll receive a "helpful" phone call to let you know your computer has a virus or malware issue and that they – masquerading as reputable businesses such as Telstra or Microsoft – can help you remove it by remotely accessing your computer. Never agree to this. We've had customers who did and we helped them quickly reset their password. Others may not be so lucky. Getting in touch with your bank quickly is important.

But remember, companies and banks do call or text customers, such as in relation to potential fraud on credit cards. So if you're unsure if it's really the bank, take down the reference number and caller/contact details. Then go into a branch or call the help number on the back of your credit card.

"A continuing challenge that the ACCC and other regulators face in scam prevention is the ability to keep up with new and devious methods scammers use to contact victims," noted the ACCC's eighth annual report on scam activity, released in May, pointing to more blackmail through "sextortion" on social media platforms and requests for payment via iTunes or gift cards. Dating and romance scams topped the ACCC's list of those delivering the biggest financial losses at $25.5 million in 2016, just edging out the $23.6m lost to investment scams.

Also, on a regular basis have a quick look at your recent transactions via internet banking to verify there are no suspicious transactions. It's often the small transactions that should raise suspicion on things like credit cards. A common technique used by scammers is to make a very small transaction first, perhaps as little as a few cents before making a larger fraudulent transaction.

Another separate concerning trend we are seeing is around people thinking they are investing in share and options trading, but really they are trading in high risk, unpredictable investment options such as "binary trading".

As the old saying goes about it sounding too good to be true, consider the downside risks to your money. Those risks are sadly not going away.

If you believe your personal or financial information has been compromised, or if you believe you may have been scammed, you should contact your bank as soon as possible to seek their assistance.

Additional support can be found through not for profit IDCARE, a Westpac group partner. IDCARE support people who have been scammed, and can assist with addressing many flow-on impacts for a fraud and can assist with strategies to better protect important personal information after a scam has occurred. They can be reached on 1300 432 273 or via their website www.IDcare.org.

For more information, you can register yourself and loved ones for the government's free Stay Smart Online Alert Service, www.staysmartonline.gov.au/alert-service. It lets you know about new digital scams as they emerge, as well as regularly offering helpful tips for staying safe online. There is another government website that covers the latest info on scams and guides on what to look for https://www.scamwatch.gov.au/