Reno experts reveal home buying lessons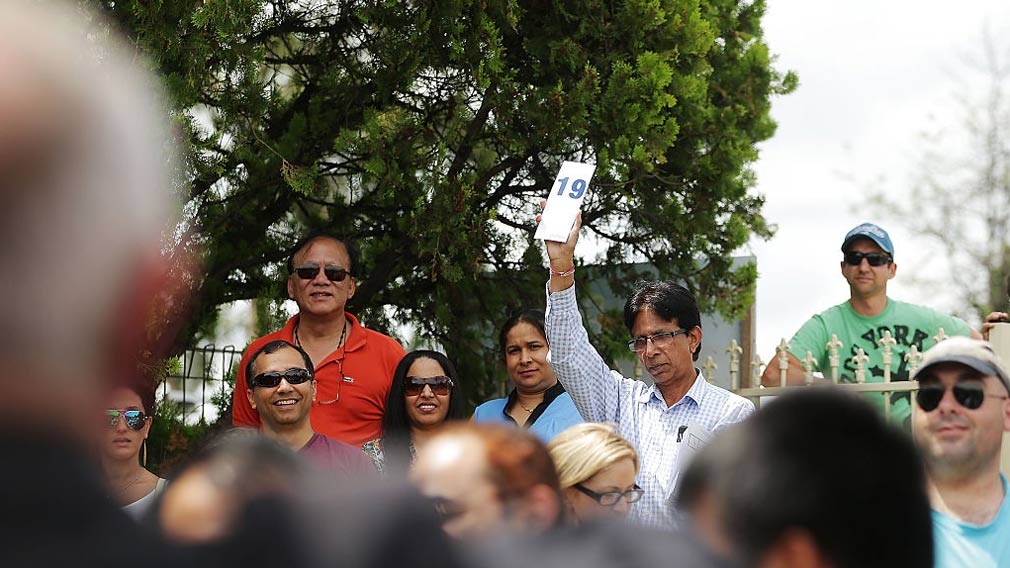 Buying your first home is a time of excitement and, quite often, life lessons. TV renovation experts Barry Du Bois, Cherie Barber and Leah McLeod talk about buying their first home and offer some words of wisdom.

Everyone is entitled to rookie mistakes, even Australia's favourite home renovation experts. We take a look at what happened when Barry, Cherie and Leah bought their first homes and what they learnt from the process.

Barry Du Bois

The Living Room's Barry 'Baz' Du Bois' first property purchase occurred at the tender age of 19, when he was living with his mum and dad while working as a carpenter and studying to be a builder.

"I had been mentored by an architect as an apprentice and was very passionate about design," he recalls. "I designed the home myself and built it on weekends with salvaged material I bought as I could afford it. The block was two hours from my home in Sydney's Western suburbs and I would stay there for the weekend in my panel van. "

The house ended up being the largest property in the area, meaning that when it was time to for Barry to sell up, it was also the most expensive. Great, right? No. Unfortunately buyers in that area weren't interested in paying what Barry was asking. "I had the view that because I loved it and the area was better for it, it should be worth more," Barry explains.

"I have a saying that I've never made a mistake - there are just a lot of things I won't do again. And two things I don't do any more: I don't fall in love with property, the romance can send you broke. The second is, if you are rushed to make a decision, don't make it," he advises.

Other advice Barry has for first home buyers is not to settle on a property – it needs to align with your life plan, and if it doesn't, wait for that property to come along that does. He also doesn't believe in extending yourself unrealistically.

"Remember that when you buy property you must have a good deposit otherwise you're just buying money" he says.

Cherie Barber

Much like Barry, Cherie Barber, creator of the Renovating for Profit course and also from TV's The Living Room, learnt some important lessons from her first home purchase - located on a six lane highway.

"At the time it was the only thing we could afford, so we thought it would be better to get into a property than not at all. So we bought that one on a main road. Probably two months into living in it I just couldn't stand it. Every night you would just hear freight trucks going past – we were constantly living with noise," she recalls.

"Having just purchased it two months prior, and with stamp duty and all of those costs, we knew that if we sold it we wouldn't get our money back. At that time, neither my partner nor I were very renovation-oriented, but we just went in anyway and did a cosmetic spruce up," she says.

After overhauling everything in the house that "I couldn't stuff up", such as painting and the garden, the young couple put it back on the market and made a profit, which they rolled into another property and so on. Suffice to say, after the record-breaking sale of her third property, Cherie quit her two jobs to become a professional renovator.

After years of experience in the game as both an educator and renovator, Cherie's advice is to save as much as you can. Cherie herself worked two jobs – a full-time marketing job during the day and a bar job at a league's club at night – to save a deposit and pay the mortgage.

"Your first objective should be to get as much money together as you can. Save that deposit in any way possible," she says. "I would highly encourage people to completely review where their money is going."

Experience has also shown Cherie that knowledge is key to successfully buying your first home.

"Be knowledgeable enough to buy a diamond but not a dud. A lot of people buy dud properties, like I did. I didn't know what I was doing, through lack of education. If you can't afford to attend property seminars, jump on the internet or buy a $30 property book. Educate yourself as much as you can to obtain whatever you can afford," she advises.

Leah McLeod

The up-cycling expert from The Home Team, Leah McLeod, bought her first home 15 years ago in Sydney's inner west and locked it in, then and there.

"I remember everything like it was yesterday," Leah recalls. "I was heavily pregnant with my daughter Scarlett Rose and was frantic to buy a home and lock down a mortgage before she was born and before I knew my TV presenting income capacity would become a thing of the past. I found the house online, viewed it and committed to it on the spot."

As with many first home buyers, Leah had leapt into the market guns blazing, but wasn't quite ready for what lay ahead in terms of paperwork and her own expectations.

"So many things went wrong, not because they were truly problematic but because I was so inexperienced with the entire process. Such as the time settlement takes and the protocol that accompanies it," she explains.

Aside from taking the time to research the processes involved and what you need to have in order, Leah also stresses that making sure you're on the savings bandwagon is key.

"My top tip for people looking to purchase their own first home would be to save, save, save and save some more. I wish I had done this earlier. Then research what you need for above the line documentation, giving you the best chance at a competitive mortgage.

"Remember you are the one in the position of power when it comes to the purchase. Agents count on your naivety when it comes to this – no offence to agents, they're just doing their job. But take your time. The idea of your dream home is flexible. Try not to get too stuck on something that has too much interest in it. It will cost you a lot more than you think if you become emotionally attached," she says.
This article was originally published on BT Financial Group on 18 November 2016.