We've seen enough to think that the Reserve Bank will increase the cash rate by a quarter percentage point to 4.35 per cent at its Board meeting in November.

It will be a finely balanced decision, and if inflation had stayed on the track that they were previously expecting they might have been able to stay on hold.

However, the September quarter consumer price index showed that inflation is running quite a bit higher than where they want it to be, coming in at 1.2 per cent in the quarter. They are trying to bring it down and the current pace of decline is too slow for their comfort levels.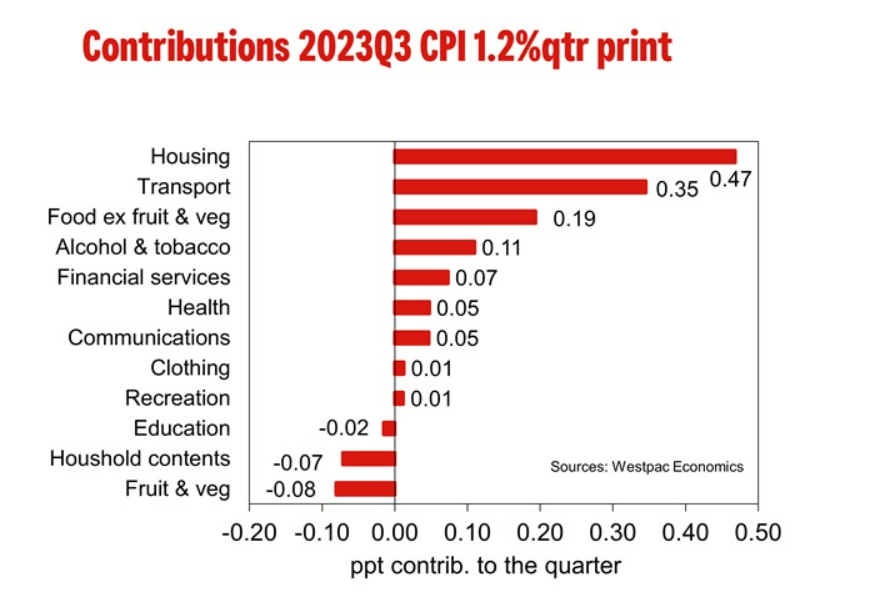 As well as the inflation data, the RBA will also be looking at the outlook for the labour market and economic activity more generally. The level of unemployment has risen from the trough we saw earlier in the year, underemployment is rising and job vacancies are falling, albeit from high levels.

Employment growth is now just tracking in line with population growth, rather than outpacing it. So although the labour market is still robust, it has clearly turned.

We're also seeing a very weak consumer. Households are being squeezed by high inflation, a higher tax take, and, for some, higher interest payments on their mortgages and other loans.

People are having to adjust. Some of them are changing their spending plans, some are trying to seek extra hours of work and some are dipping into savings. But in all cases, households are very gloomy and that's translating to weak growth in consumer spending overall, even with fast population growth.

Overall economic growth is relatively slow, even though other parts of the economy are showing more resilience.

Housing prices have been increasing lately right across the country, which is not what you'd expect given what's been happening with interest rates and household income.

It remains to be seen whether another rate increase would do much to dampen the market. But if we see an ongoing increase in housing prices, as well as higher listings and sales, that will support household spending by more than the Reserve Bank is currently expecting. And that means they may have more work to do in future to get inflation back to where they want it to be.

To read Luci's full report, visit WestpacIQ.
Don't miss
By Ben Young
Head of Fraud and Financial Crime Insights