The Westpac-Melbourne Institute index of consumer sentiment rose 2.9 per cent to 82 in October, up from 79.7 in September.

Despite the headline improvement, the index is still tracking at deeply pessimistic levels 20 points below its long-run average.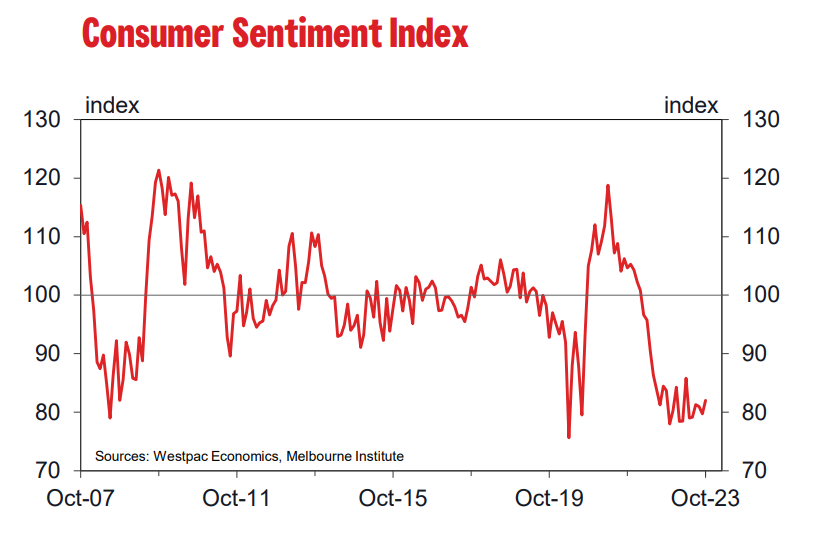 Consumers are becoming more wary about the potential for further interest rises. Over 60 per cent of those surveyed after the RBA's October rate decision expect rates to move higher over the next 12 months, compared to under 50 per cent after the September meeting.

That's undoubtedly being driven by inflation concerns, with August CPI nudging back above 5 per cent on an annual basis.

On a more positive note, the outlook for family finances over the next twelve months showed a solid improvement, while there was a strong pick up in the survey sub-index which asks whether now is a good time to buy a major household item.

People are also feeling more confident about the labour market, with the unemployment expectations sub-index falling nearly 3 per cent on the month.

Meanwhile, the survey once again showed the tension in the housing market, with price expectations becoming increasingly bullish as affordability assessments remain very weak. It looks as though we'll continue to see a pattern of sustained price increases, but relatively low sales volumes.

All up, it's a fairly sombre report given that we're now moving into the pre-Christmas sales season and suggests that consumers will be watching their cash pretty carefully.

The prospects for an improvement in sentiment in the months ahead are somewhat clouded and will largely depend on how cost-of-living pressures evolve from here.

In terms of the RBA, the rate outlook looks finely balanced. The September quarter CPI update, which gives a better rundown on inflation than the monthly numbers, will be important ahead of the November meeting. We expect the cash rate to remain on hold, but it will be an interesting couple of board meetings ahead.