A battery energy storage system just completed in New South Wales offers a glimpse into the state's clean energy future.

The 150 megawatt Riverina and Darlington Point project, developed by Edify Energy, comprises three Tesla Megapack battery systems co-located at a site near Griffith in the state's southwest. It will be able to power around 240,000 homes for a couple of hours via the National Electricity Market.

But crucially, the project is the first to be registered with the national energy market operator as a "grid-forming" battery. That means it can replicate the role of a fossil fuel generator's spinning turbines in supporting the strength and stability of the network.

"Grid-forming batteries give you a lot of impact," says Edify CEO John Cole, in an interview with Wire. He describes how the battery's smart electronics enable it to mimic a coal or gas-fired power plant in providing inertia to the grid, helping to smooth out peaks and troughs in demand.

Westpac has co-financed the project – the bank's first deal for a big battery and part of its target to deliver $15 billion in new lending to climate solutions by 2030.

"If we're going to safely transition away from the use of coal for power generation, a critical building block is having sufficient firming capacity provided by solutions such as battery power," says Anthony Miller, head of Westpac Institutional Bank.

"We're delighted to be involved in this project, it's the first of many. A large program of investment is going to be needed over the next 10, 15 years to ensure that not only New South Wales, but Australia gets to where it needs to be on the path to net zero."

Australia has been a pioneer when it comes to giant batteries. In 2017, Tesla founder Elon Musk won a bet that he could get a 100 megawatt system up and running in 100 days to help ease a power supply crunch in South Australia. The Hornsdale facility that resulted was the world's biggest battery up until 2020.

A growing number of big batteries are now in development across the nation. The government-funded Australian Renewable Energy Agency (ARENA) is helping to fund eight projects, with a focus on batteries that offer "grid forming" capability. They include energy utility AGL's plan to install a 250 megawatt system on the site of the Liddell coal plant in NSW, which closed in April.

As the nation's aging coal plants retire, the need for energy storage to back up the influx of wind and solar generation becomes ever more pressing. The Australian Energy Market Operator said in a February report that there was an "urgent need" for more investment across renewable power generation, storage and transmission lines.

The New South Wales government has provided $6.5 million in funding for the project under its $75 million Emerging Energy Program to support next generation, dispatchable large-scale energy and storage projects, as well as by ARENA.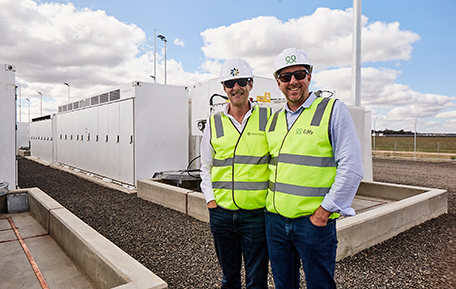 Edify was attracted to the location by its close proximity to an existing TransGrid sub-station, as well as a new transmission line being built between New South Wales and South Australia. It's also adjacent to Edify's existing Darlington Point solar farm.

"This location will enable us to get power to market very quickly," Cole says.

"One of the things that excites us most about energy storage is that we're harnessing and maximising the utility of the existing network. So, this system will delay, at least in the short term, and possibly over the longer term, the need for new electricity lines to be built, the cost of which ultimately is borne by consumers."

Federation Asset Management is majority owner of the battery system, which will be the cornerstone asset in the group's Sustainable Australian Real Asset fund.

"Projects like this one show the enormous potential held in the application of technology to energy," says Stephen Panizza, head of renewables at Federation. "I see the energy transition as another industrial revolution, with the potential to bring about huge benefits to our society."

Panizza said Federation was attracted to the project by the proven combination of developer Edify alongside Tesla's technology, as well as it being backed by two power offtake deals, with Shell and EnergyAustralia.

At a time when surging power prices are adding to the cost-of-living pressure on households, Edify's Cole says solutions such as Riverina and Darlington Point are the only way to keep power costs down on a sustainable basis over the long term.

He admits that the energy transition will be bumpy, certainly in the short term: "When we get to the other side of that, we'll find that consumers are benefiting from much lower energy prices - when we're producing electricity where we don't have a fuel cost."

The Labor government last year strengthened the country's climate policy to target a 43 per cent reduction in greenhouse gas emissions by 2030. That should help to underpin renewables investment over the next decade.

"Over the last year-and-a-half in particular we now have really great alignment across all layers of government in terms of the net zero aspirations for the country," Westpac's Miller says.

"We've always had a high level of community engagement on the need to move towards net zero; we've also seen for a long time now private capital very keen and willing to invest in the transition. Now, with those three layers of government aligned, and policy aligned, it's about getting on with it."