Westpac has become the first major bank in Australia to make Apple's Tap to Pay on iPhone feature available to its business customers.

The contactless payment technology allows businesses to accept in-person payments with their compatible iPhone. As well as removing the need for a separate payments device, users can also access a range of other functions to help their business run smoothly in Westpac's EFTPOS Air app.

"Our customers tell us that the ability to take payments on the go in a mobile way is really important for their businesses," Chris de Bruin, Westpac's chief executive, consumer and business banking, said in a Wire interview.

"It's fast, it's convenient, and it's super secure," he added.

De Bruin said the new function will most benefit businesses that take payments on the road or need their staff to be mobile on the shop floor. That includes tradies, delivery drivers, market stall holders, and high street vendors ranging from florists and hairdressers to cafés and restaurants.

Westpac business customers can set up Tap to Pay on iPhone within minutes via the bank's EFTPOS Air app, which is powered by software from Australian payment technology provider Quest Payment Systems.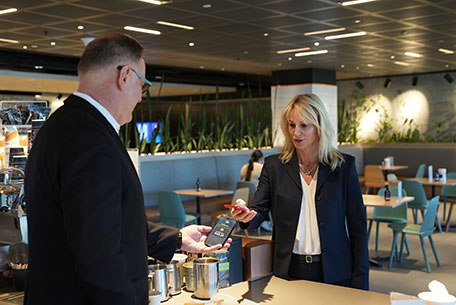 "It's a merchant's one-stop shop, literally in their pocket," said Mandy Rutherford, managing director, cash and transactional banking, at Westpac. "They can see and track their sales, get insights about which products are selling well; they can track refunds, send invoices and eReciepts, and it's all within the phone."

Around 65 per cent of Westpac customers have iPhones, while Android users can already access tap to pay functionality via the EFTPOS Air app.

The technology accepts all forms of contactless payments, including Apple Pay, contactless credit and debit cards and other digital wallets. It also incorporates the iPhone's built-in security features, and when a payment is processed Apple doesn't store card numbers on the device or on its servers.

"This is all about making life easier for our customers," de Bruin said. "They're also saying to us: give me information, give me expert tools that allow me to run my business better. That's the other part we're putting in to this solution."

Visit the Westpac website for more information about Apple's Tap to Pay on iPhone technology.