The Port of Brisbane is gearing up for a period of feverish activity in the run up to the 2032 Olympic and Paralympic Games, and CEO Neil Stephens says it can play a pivotal role in unlocking the economic opportunities that come with hosting the Games.

The port is already one of Australia's most diversified, handling more than 400 different cargoes and commodities, from coal, refined oil and agricultural seeds to motor vehicles and electrical equipment.

It contributed close to $8 billion to the Queensland economy in the 2022 financial year, according to a Deloitte Access Economics report, with that figure expected to rise to $10 billion by 2032.

"It's a really exciting time for Brisbane and for Queensland," Stephens said in an interview. "With the Olympics coming up in nine years' time we know activity is going to increase and we'll be able to cater for all of that.

The Games are set to deliver over $8 billion in direct economic benefits to Queensland, research by KPMG found, driven by new infrastructure such as the Cross River Rail project, Brisbane's first underground rail network, which will connect the main Olympic venues.

"Our role is to make sure we can accommodate what needs to happen," Stephens said. "What we do at the Port of Brisbane is build the infrastructure that supports trade, supply chains and the Queensland economy. So we need to be ready in advance."

The port's location gives it an advantage over other major terminals in Australia in offering significant potential for land reclamation to support its future growth, Stephens said. A 224-hectare expansion area is among the biggest reclamation activities in the southern hemisphere.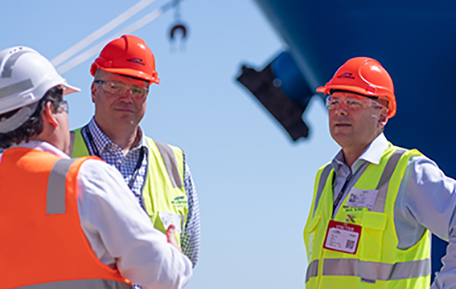 Westpac stands ready to support the port and the wider Queensland economy as they position for a major period of growth ahead, CEO Peter King told Wire in an interview during a visit to the port.

"These ports are critical for bringing in what Australia needs and we're proud to be partnering with the Port of Brisbane and to support it with growth capital," King said.

"All businesses need to grow, and when they're growing they need both equity and debt. We're very happy to provide those banking services."

Climate-related financing was an increasing focus for the port, King added, noting the bank had been working on green loans that tie in with the port's work on emissions and waste reduction, as well as water management.

"We're very conscious of the environment where we operate, and we're continually measuring and watching our impact on that environment," Stephens said. The port has set a target of net zero carbon emissions by 2030, but Stephens said he expects to reach it as soon as next year. Targets also include zero waste to landfill and net zero water usage.

The port is also preparing for a surge in tourism leading up to the Games and beyond. A new international cruise terminal welcomed its first ship last June. Since then, over 100 ships have visited, bringing 430,000 people through the terminal in eight months, Stephens said.

Every cruise ship that calls in contributes close to $1 million to gross state product, according to the Deloitte report.

"It's one of Queensland's tourism success stories, and it's only going to get more and more traffic as we head towards the Olympics," Stephens said.

"It's a huge opportunity for Brisbane and indeed for wider Queensland. We can showcase what we have to offer here and I think the rest of the world is going to start to understand what we know here, which is it's a great place to live, it's a great place to invest and it's a great place to visit."