The Westpac Melbourne Institute Consumer Sentiment Index tumbled by 6.9 per cent in November as confidence buckled under the pressure of rising inflation and interest rates.

The index dropped to 78.0, from 83.7 in October. It's now below the worst level seen during the global financial crisis, and you have to go all the way back to the deep recession of the late 80s/early 90s to get consistent reads below that 78 level.

Inflation continues to be the key factor draining confidence. It rose from 6.1 per cent in the year to June to 7.3 per cent in the year to September and official forecasts point to it going even higher in the year to December to around 8 per cent.

The government is also forecasting that electricity prices will rise by 56 per cent over the next two years.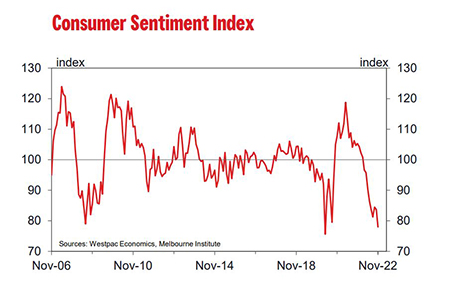 The October budget was a further drag on sentiment, with 35 per cent of survey respondents saying it was likely to see their finances deteriorate. That's the highest proportion we've seen since the newly elected Coalition government's 'horror' budget of 2014 when the score was 56 per cent.

Added to that, interest rates continue to rise: the RBA lifted the official cash rate by a further 0.25 basis points at its November meeting, the announcement coming mid-way through the survey week.

Sentiment amongst those surveyed before the decision showed a steady 83.1 index reading, but that dropped sharply to 75.6 among those questioned afterwards. Given that the move was widely anticipated, the negative response likely reflects the Governor's clear signal that further increases can be expected.

The November sentiment result doesn't bode well for spending over Christmas.

Nearly 40 per cent of consumers expect to spend less on gifts this year, the survey showed. That's the highest number planning cutbacks since we started asking the question in 2009, the average being 33 per cent.

The index components showed particularly big falls in the near-term outlook for family finances and expectations for the economy.

We also saw some deterioration in the outlook for the labour market. While the unemployment expectations index remains well below its long-term average, it has jumped by 17.8 per cent over the last two months which is consistent with labour markets nearing a turning point.

The outlook for house prices dropped 8 per cent to an index level around 91, which is only just above the low point we saw in 2018/19, and the momentum suggests that confidence around the property market still has further to fall.

For the full report, visit WestpacIQ.