Westpac customers will be able to use Australia Post's Bank@Post service for at least the next decade, after the bank unveiled a partnership extension out to 2032.

The partnership, initially struck in 2015, enables Westpac customers to do their banking, such as making withdrawals and deposits, at more than 3,500 post offices across the country. Around 1,800 of these are located in regional and remote communities, of which more than 1,600 have no other banking presence.

Westpac is among around 80 financial institutions to be part of the growing Bank@Post network and joins other majors Commonwealth Bank and NAB in locking in 10-year deals.

These long-term agreements enable Australia Post to lift investment in the service, said Australia Post executive general manager Gary Starr, speaking at an event to mark the partnership extension.

"It means we can continue to provide banking services across the country, but also continue to invest in the service and in our licence post offices across the country," Mr Starr said.

Chris de Bruin, Westpac's consumer and business banking chief executive, said the partnership would be of particular benefit for customers in rural and regional areas.

"Our ongoing investment means we can continue to provide over-the-counter banking assistance for customers, while also investing in enhancing Bank@Post technology and services," Mr de Bruin said.

Boosting investment in Bank@Post's services was called out last month as one of seven recommendations by the government's Regional Banking Taskforce to help maintain and improve bank services in regional Australia as these services transition from branches to alternative delivery platforms.

The report says this transition has been driven by a variety of factors, including technological developments and shifts in consumer demand and demographics, which have led to banks consolidating their branch networks, the number of branches falling nationally from around 5,800 to 4,500 during the four years to June 2021. In the same period, Bank@Post numbers remained steady.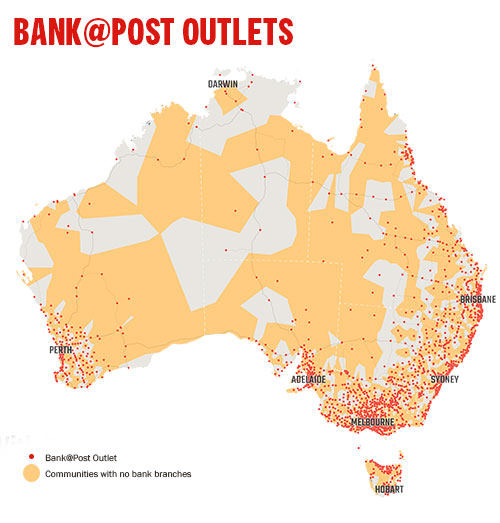 Source: Australia Post
Like other banks, Westpac has reported a steep rise in the number of digitally active customers, with digital transactions rising 14 per cent during the 2021 reporting period. At the same time, over-the-counter transactions in branches and call centre volumes fell 7 per cent and 11 per cent respectively.

In responding to these changing dynamics, Mr de Bruin said the bank is expanding access to banking services through investments in digital and telephone banking, and a more connected branch network – which means, from early next year, St.George, BankSA or Bank of Melbourne customers will be able to do their cash transactions at any Westpac branch, and vice versa.

"This builds on our ongoing program of co-locations where two Westpac Group branches are brought together under one roof," he said.

"More than 30 branches have been co-located to date – including in Dubbo, Lismore, Wagga Wagga and Stirling – enabling us to make a long-term commitment to providing employment and banking services in these communities – and more co-locations planned in the next 18 months."

He said Westpac's renewed Bank@Post partnership would ensure customers will be able to access services in communities across Australia for years to come.

"We see this partnership with Australia Post as a win for the community, for the entrepreneurs in the community, for us and for the Post; it's a win for everybody," Mr de Bruin said.