The Westpac Melbourne Institute Index of Consumer Sentiment fell by 0.9 per cent in October, showing that deep pessimism remains, although a smaller than expected rate rise from the Reserve Bank spared it from an even bigger decline.

The index dropped to 83.7, from 84.4 in September, staying close to lows seen during the pandemic and the Global Financial Crisis.

In the past, concerns around inflation have driven down confidence, but this survey showed that interest rates are playing a much more important role.

Just under two-thirds of the 1,200 survey responses came after the RBA's move to lift the cash rate by 25 basis points, and their confidence levels were significantly higher than the 476 responses received prior to the decision.

Much of the commentary in the market and media predicted a fifth consecutive 50bps increase, so the smaller move would have been welcomed by mortgage holders. As a result, a sentiment level of around 77 seen prior to the RBA meeting lifted to near 88 after the later responses were included, so it clearly had a big impact.

The effect was even sharper on the housing components of the survey, with a 27 per cent jump in house price expectations seen in the post-RBA responses, although that sub-index was still down 1.5 per cent on the prior month overall.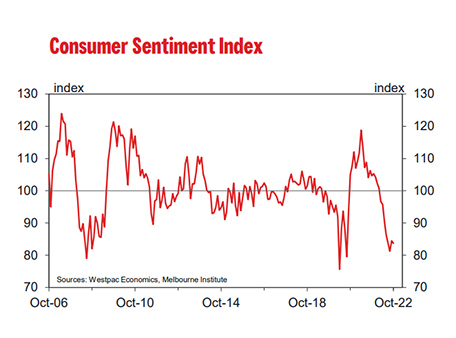 There was a surprising deterioration in the outlook for the labour market, with the unemployment expectations index rising by 11.7 per cent. While this indicates more people expect unemployment to rise over the next twelve months, the index is coming off a near record low in September so it's too early to view this as the start of a sustained move.

Even so, it adds to the broader sense of pessimism, with views on the economic outlook also notably softer in October. The sub-index on economic conditions for the next 12 months fell 4.2 per cent, with the five-years' sub-index down 2.1 per cent, likely reflecting rising concerns in the media and elsewhere that Australia and other developed economies may be headed for recession.

Despite the RBA's smaller hike, 54 per cent of respondents still expect rates to go up by a further 1 per cent this cycle. That coincides with our view that the RBA will continue to lift the cash rate in 25bps increments to a terminal rate of 3.6 per cent in March next year. As such, we can't really expect to see much improvement in these deeply pessimistic numbers for quite some time.

For the full report, visit WestpacIQ.