The Westpac-Melbourne Institute Index of Consumer Sentiment rose by 3.9 per cent in September to 84.4, from 81.2 in August.

This was the first rise in the index since November 2021 and is a little surprising given the continued sharp rise in the cost of living and the Reserve Bank of Australia's decision to lift the official cash rate by another 50 basis points.

Despite the increase, confidence remains weak, with pessimists still greatly outnumbering optimists.

We've really only seen index readings fall below these low levels in the 80-85 range during periods of deep recession in the early 1990s and the short sharp recession of the early 1980s.

At those times confidence around the labour market was very different to what it is today. Now, confidence in the labour market is 60 per cent higher than it was in those periods, when unemployment was tracking close to 11 per cent.

So, I can understand why the index hasn't fallen any further, but I don't think we should see this as the beginning of a rebound.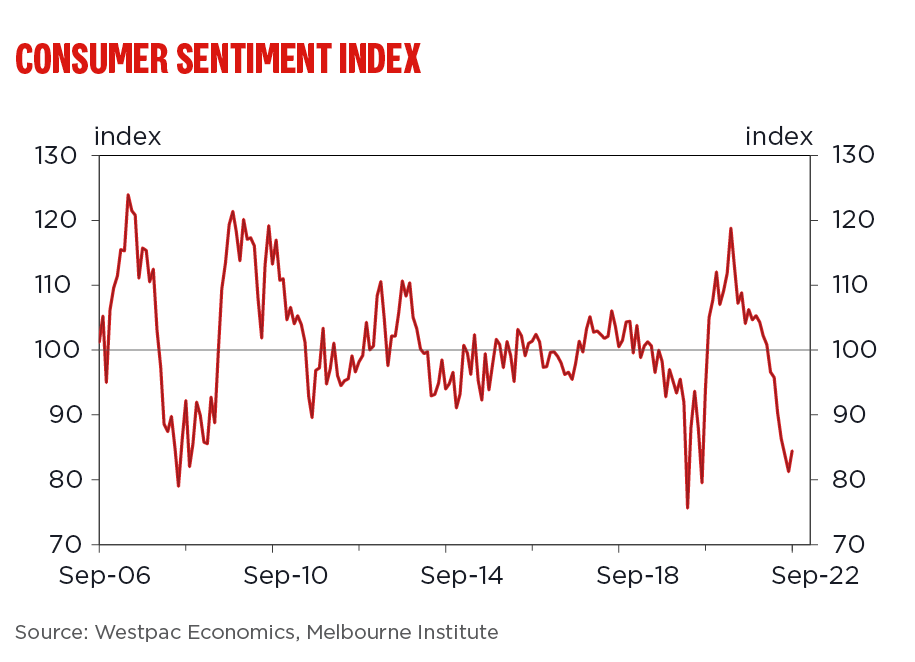 An interesting aspect of the latest report was the improvement in confidence about the housing market. The question of whether now is a good time to buy a dwelling lifted by 2.3 per cent and the outlook for house prices rose by 3.6 per cent after having fallen for the previous six months. It's now a little bit above the 100 level, so at the national level that's indicating people are more optimistic than pessimistic about the outlook for prices.

If we drill a bit deeper, we see that in New South Wales, among the states most badly affected by the price correction, confidence was up 6 per cent, and in Victoria it rose 33 per cent. In Queensland and South Australia, that have so far had a mild price correction, confidence fell by 13 per cent in each case.

Similarly, the Reserve Bank's September interest rate rise also looks to have been less unnerving for consumers than may have been expected. That may have been because the 50bp hike was widely expected and there were some concerns the increase might have been larger. There may also be some expectation that the Reserve Bank may start to move in smaller monthly steps. Still, 57 per cent of consumers expect further increases on this front over the next 12 months of at least 1 per cent.

The Westpac Economics team expects that, although the pace of increases will slow, another rate rise of 25 bps will be delivered in October, followed by 25 bps increases at each meeting through to February, at which point we expect the cash rate to peak at 3.35 per cent.

Our full report is at Westpac IQ.