Tourists are returning to Fiji in their droves, helping to lift the economic gloom that has hung over the South Pacific nation since the pandemic shut down international borders in 2020.

Westpac economists expect the economy to grow 12.9 per cent in 2022, ending three years of economic contraction, followed by a further 9.5 per cent in 2023 before moderating to 5 per cent growth in 2024, while they also acknowledge challenges to the improving outlook.

"The strength of demand we've seen since the borders opened up has been through the roof," said Javed Shameem, director of sales for Fiji and Samoa at Marriott International Resorts, which has five hotels in Fiji. "For some of our big resorts, we're looking at them finishing the year off relatively close to, or a little higher, than 2019 numbers."

Fiji has welcomed nearly a quarter of a million international travellers since reopening its borders last December, with arrivals expected to accelerate in coming months. That's a huge boon to the local economy, where tourism typically accounts for about 38 per cent of gross domestic product.

"The recovery in the tourism industry is playing a crucial role in upbeat economic activity so far this year despite the ongoing challenges of the pandemic," said Krishal Prasad, senior economist at Westpac Fiji in Suva.

Based on current trends, he expects visitor arrivals to have recovered to over 50 per cent of pre-pandemic levels by the end of 2022. The sector's recovery is having a positive knock-on effect in other parts of the economy too, including transport and storage, accommodation and food services, manufacturing, finance and insurance, he added.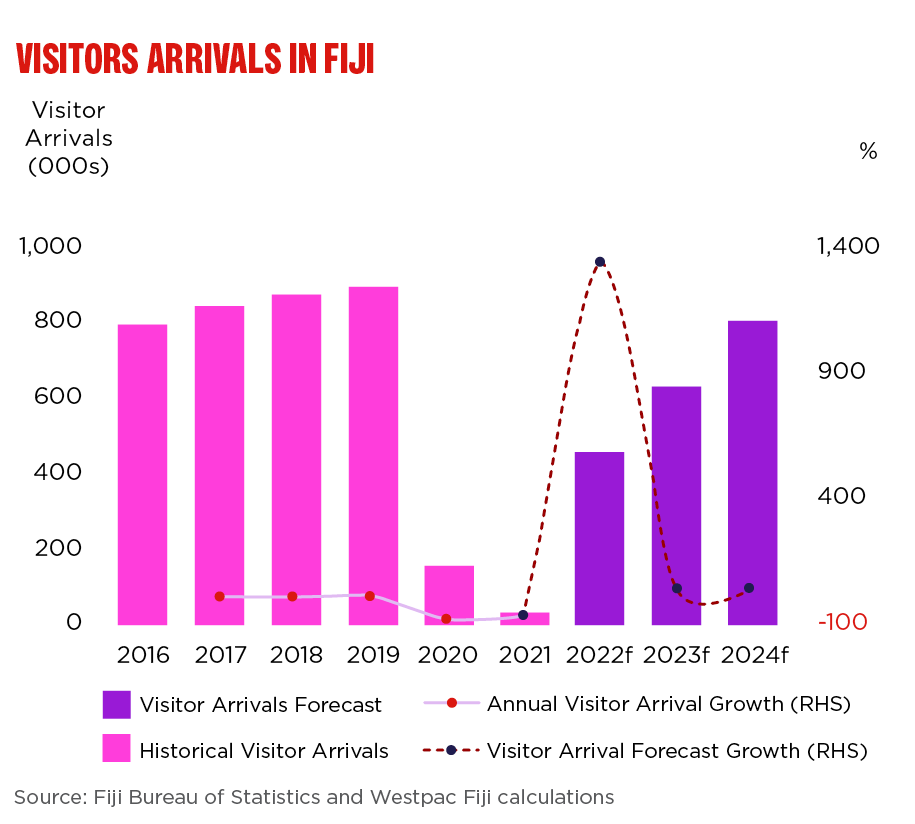 Australians are leading the charge to enjoy Fiji's tropical coastline and famously laid-back vibe, accounting for more than half of all arrivals. Tourists from other key markets including New Zealand and the United States are also starting to return in greater numbers. And guests are staying longer - more than four nights on average - Shameem said, giving them more time to spend on food and drink, leisure activities and excursions.

However, the pick-up has brought with it challenges. Shameem cited a lack of flight capacity, with many international carriers struggling to meet surging demand due to chronic labour shortages.

"Most of the flights are full. It's becoming really challenging for people to find the flights to match the dates they want to come and stay at our hotels."

Inflationary pressures are another headwind, particularly for food and beverages that need to be imported, with hotels forced to pass on some of the higher cost of business on to their guests, Shameem said. Operators were looking to address that by sourcing more produce locally, he added.

And Fiji is not immune to the worker shortages seen across the hospitality industry globally, with workers who left the industry during the pandemic either slow to come back due to health concerns, or pursuing alternative career paths.

Westpac's Prasad is wary of the risks to the broader economic recovery, citing potential for further surges in COVID-19 in the community, ongoing inflationary pressures, and the ever-present threat of natural disasters – the country's tropical cyclone season typically runs from November to April. Fiji will hold a general election later this year, which brings with it the risk of political instability.

"A smooth election and transition of government, if the case, will uplift Fiji's investment environment and rebuild much-needed confidence in the economy," said Prasad.

For Prasad's latest report on Fiji's economy, visit WestpacIQ.