Shane Smith chuckles as he recalls the day he first walked through the doors of Westpac's branch in the Fijian capital of Suva to start as a customer service officer, 37 years ago.

"It was a bit overwhelming," says Smith, speaking from the boardroom of the very same historic building, after taking the helm of Westpac Fiji as chief executive earlier this month.

"You know, it was my first job and also my first time in the bank," reminisces the Suva local, born in Levuka on neighbouring Ovalau island.

"And being a customer service officer in those days meant a lot of things – even burning old statements out the back. There was a lot to learn."

His banking debut also aligned with the computing revolution of the 80s. So, while there are "still a few of the same faces around from those early days", Smith says technology has changed almost every other aspect of Westpac Fiji, one of the island nation's largest banks with a heritage dating back to 1901.

It's a wave he feels fortunate to have ridden, crediting the tech boom for opening career doors.

After a short stint as a teller, he was swiftly promoted as a "computer operator", working the bank's newly minted technology systems, then worked his way up to head up the bank's data centres.

This gave him a runway into senior roles in IT and operations across Papua New Guinea, Tonga, Cook Islands, Solomon Islands, Vanuatu, Samoa and Australia (and a year out in between to complete an MBA) – before returning to Westpac Fiji in 2012 as chief information officer. He stepped up as chief operating officer in 2017, before taking over the reins from Kip Hanna as CEO and becoming the first Fijian appointed to the role.

Smith's rise to the top job comes at a remarkable time for the bank.

Aside from helping to buttress Fiji's economy as it emerges from its once-in-a-lifetime pandemic battering, the bank's doors are also open to potential new owners following Westpac Group's 2020 decision to sell its remaining Pacific businesses – in Fiji and Papua New Guinea – as part of its strategy to simplify and refocus on its home markets of Australia and New Zealand.

On both fronts, Smith is approaching the challenges with "a glass half full".

"It was quite momentous," he says of the opening of Fiji's borders to international flights from December 1, almost two years since the pandemic lockdowns caused the tourism-reliant economy to be one of the hardest hit in the world.

No international arrivals effectively shut down an industry that represented almost 40 per cent of the much-loved island nation's pre-pandemic GDP and around 36 per cent of total employment among the population of almost 900,000.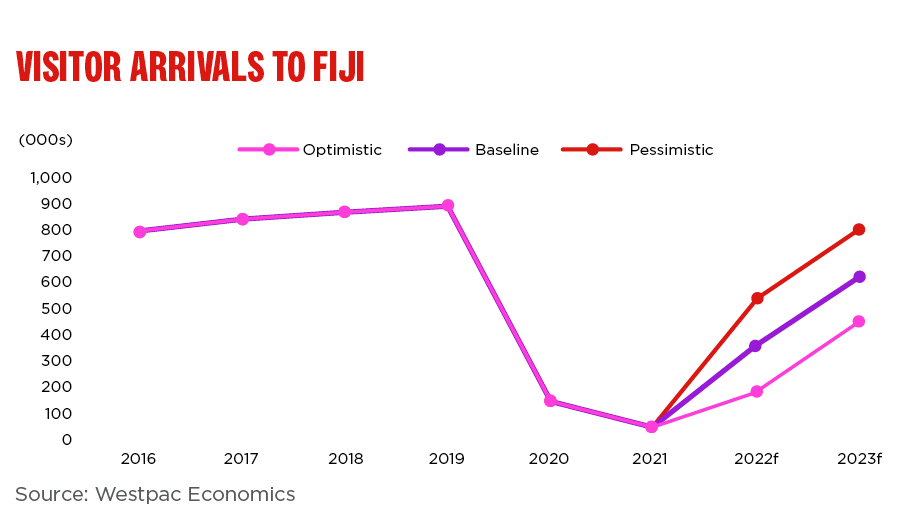 "As terrible as the pandemic's been, it's really tested our resilience and it's great to see people bounce back and businesses diversify," he says.

"Families ended up spending more time together and appreciating each other. I think that just makes us better as a country, also as individuals."

Smith says you can "feel the optimism returning" since tourism has started to kick back in.

"Everybody you know to a certain degree was impacted one way or the other," he says.

"For most of our people in the Western Division (one of Fiji's four administrative zones), which is pretty much the hub of the tourism industry, really bore the brunt of the pandemic. They went through a very difficult period.

"In Suva, it wasn't as significant… (but) there were job losses, so definitely there were elements of suffering.

"It's been pretty sad, but, you know, Fiji still remains a strong communal society. People help each other, family bonds are still strong. So that's a great thing about Fiji: the strength of community."

The government's strategy to shut international borders successfully kept COVID-19 cases at bay for the first year, although since the Delta and Omicron variants arrived, cases have exceeded 63,000, with more than 820 deaths, according to Fiji's Ministry of Health.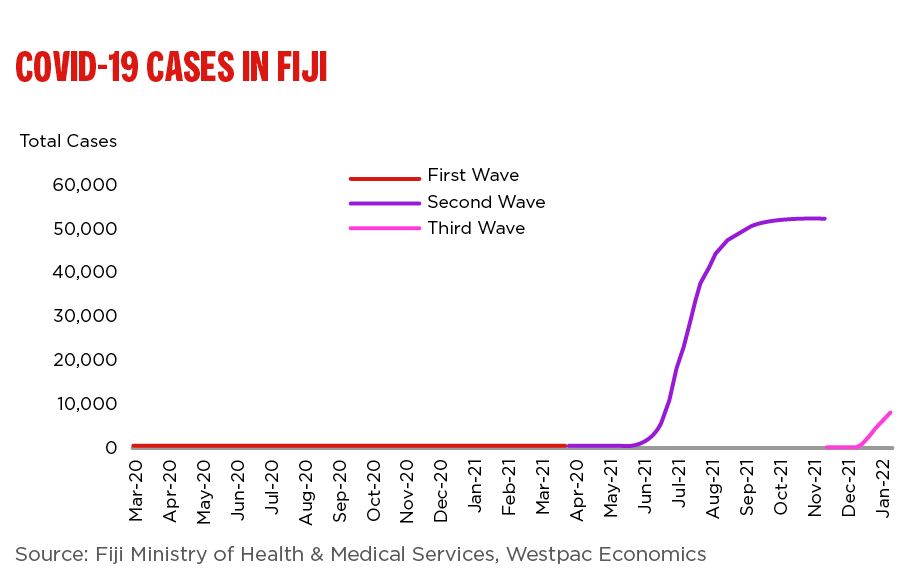 "We've had strong (tourist) numbers since December, (and) the forward bookings beyond are very, very strong," he says, noting visitor arrivals are expected to swell to around 40 per cent of pre-pandemic levels this year, all going well.

"You can see it in Suva, you can see a bit of it in the West, there's a lot more movement. You talk to taxi drivers or small businesses, they're starting to see activity come back. So, it's pretty promising."

Indeed, despite the recent set-back of a third wave of COVID-19, Westpac Fiji's senior economist Krishal Prasad remains confident the economy will rebound this year, forecasting baseline real GDP growth of 8.5 per cent – a turnaround from three straight years of decline.

"On the upside," Prasad adds in his recent quarterly update, "if Fiji is able to sustain momentum of tourism activity and the third wave of COVID-19 is contained, we anticipate a rebound of 11.5 per cent for 2022."

He attributes the recovery to Fiji's successful vaccination strategy – leading to more than 93 per cent of Fijian adults having had at least two doses, according to the Ministry of Health – coupled with policy and bank support. The government has reportedly provided more than $430 million in direct income support to affected Fijians since the pandemic began.

Smith says Westpac Fiji also stepped up, offering COVID relief packages to around 40 per cent of customers at the peak of the uncertainty, a number that is happily trending down as businesses bounce back.

"All customers should be coming back to normal arrangements hopefully by the middle of this year," he says.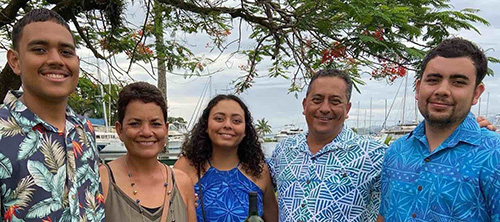 Smith is refreshingly frank as he reflects on his career about the many times he was "scared" of taking on new opportunities, even contemplating leaving the bank because of his "fear of the unknown".

"But when you look back, it's those uncomfortable decisions that are the ones that will actually influence your future. I almost bailed out, to be honest. I'm glad I stayed the course."

He puts his endurance down to a combination of factors, including the "incredibly strong" work ethic inspired by his family, along with the support of several influential mentors.

As one of eight children, he grew up with his family on a copra plantation in Northern Lau, a group of islands south-east of Suva. Along with his siblings, he began learning English when he started school aged six, a second language to his Indigenous Fijian. His parents also sent him back to the town of his birth, Levuka, to spend two years in a disciplinarian boarding school, a time he emotionally described as "tough", "very formative" and "character building".

On the sidelines of school and work, he also played competitive hockey, reaching Club District level and representing his country. It was through his hockey community that he met his wife, champion swimmer Sharon Pickering-Smith, who has represented Fiji in three Olympics and coached the national squad most recently at the Tokyo Games. They have three children.

"Sport and work sometimes do correlate," Smiths says.

"Especially around pushing boundaries – if you really want something, you work hard at it. That notion was always installed from a young age from my mum. You never got anything free. You actually have to earn it."

As Westpac Fiji chief executive, Smith says his priority is to "get out there" – to connect with and understand the changing needs of customers and employees as the country emerges from the pandemic, and to continue to build on the legacy of the bank's brand and place in the Fijian community.

"Sometimes you underestimate the brand," he says.

"People are still opening accounts even though they know the Group is looking to find new owners for our business. Customers haven't left. And it's to do with the fact that it's such a strong brand. There's trust and we have a lot of people that care for customers and the brand. I'm doing a lot to try to protect that."

When asked what he'd like to be his legacy, he doesn't hesitate.

"Leaving the business in a better place than when I applied, building on the legacies of my predecessors. Being proud of our financial performance, community obligations and also how we look after each other. That's what's important."

It's a view he's held since receiving a lasting piece of advice from a treasured mentor, when he was appointed to lead Westpac in Samoa.

"He pulled me aside and said, 'Listen Smithy, fantastic, well done. But one thing I'll tell you is, you're going to these countries and you'll make lots of money for Westpac, but no-one remembers that. What people remember is the difference you made to their lives'.

"If I can achieve that I'll be very happy," he says.