Smashing the stigma of 'outfit repeat'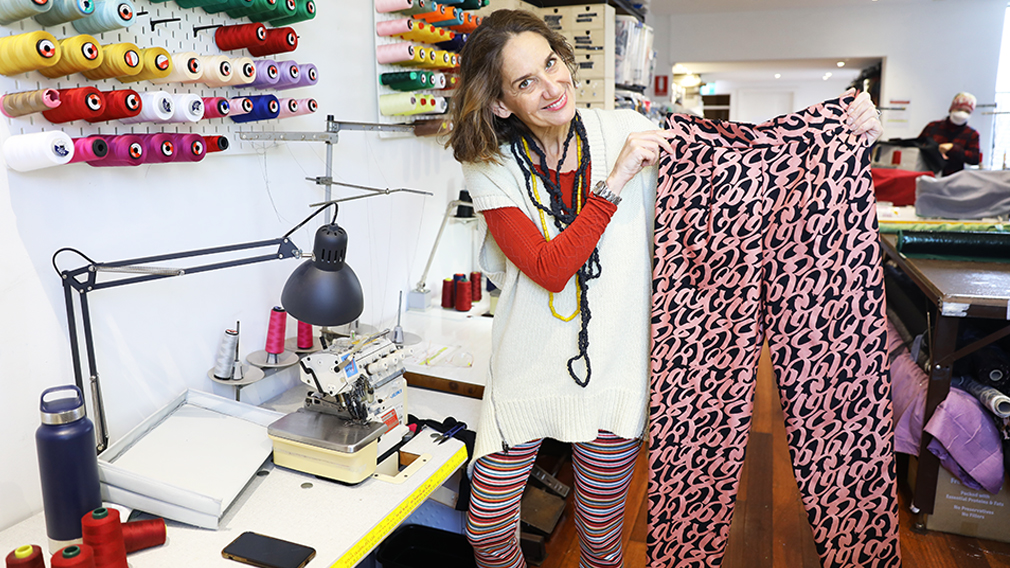 Like most of the items in her modest wardrobe, Camilla Schippa knows a lot about the origins of her most recently purchased garment, a pair of black straight-legged pants covered in bold copper-coloured swirls.

"A lady called Sejal painted these curls as part of a bigger project in one of the art workshops we ran in Western Sydney," says the chief executive of fashion based social enterprise, The Social Outfit, where the pants are part of the current collection.

"We turned the curls into a repeat pattern, had it screen printed onto some donated black excess fabric and they were cut and sewn right here," she says referring to the enterprise's studio above the retail shop in Sydney's Newtown.

"They are so original, and I love how they fit. But they're going to make this year's styling challenge very tricky for me!"

The challenge Schippa mentions is 'Wear the Change', an annual fundraiser, in its third year, run by The Social Outfit in which participants wear one ethically made garment, styled in a different way on each of the five days of Refugee Week from June 20.

While it's mainly a fun way to raise funds to help Schippa's social enterprise meet its ambitious goals around job-creation for refugees and new migrants, she says it also helps shine a spotlight on some bigger issues.

"On one hand, it creates an opportunity to celebrate the contribution of refugees in Australia which, in the case of The Social Outfit, is the skills and abilities of the incredible women who work here, creating beautiful and ethical fashion," she says.

"At the same time, it helps us bring up the discussion around the importance of ethical fashion and what that actually means, and also to help really break that stigma around 'outfit repeat'."

These issues are central to the mission of The Social Outfit.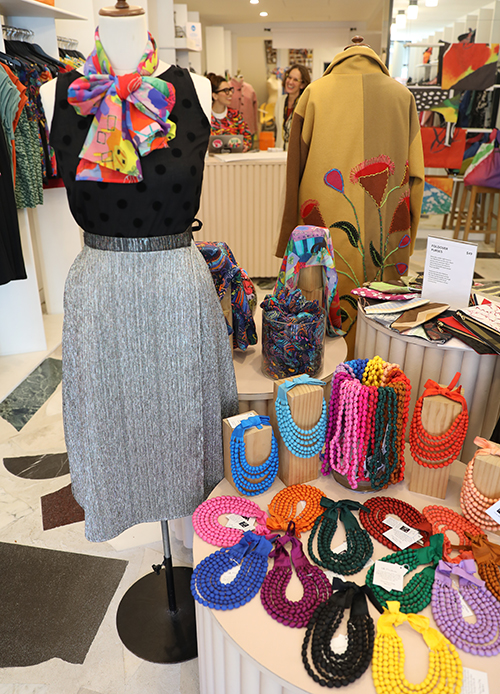 Founded in 2014, the purpose-driven business employs refugee or new migrant women who use their sewing skills to design and make unique garments. To date, 67 women have been employed – earning more than $1 million in wages. Schippa has a goal to lift that number to 100 by 2024.

"Most of our sewers are from Afghanistan, Iran, Iraq, Syria and Burma – some come from African countries, and China," says Schippa, who took over as chief executive in 2019 from founder Jackie Ruddock, following a decade as a Sydney-based Director of the Institute of Economics and Peace and 15 years with the United Nations in New York.

She says the enterprise also offers community programs, such as sewing classes and textile print development workshops, which have had more than 600 participants to date, along with a paid training program that has nurtured the retail industry skills of almost 30 young women.

"We bring the women together, to get to know each other, share their creativity, support each other, and to have a better chance of becoming part of the Australian community," says Schippa, highlighting research that shows refugee women face the highest barries to employment than any other cohort in Australia.

"Our goal is for them to gain the confidence and skills to transition into other paid jobs in fashion or retail."

Schippa says The Social Outfit is also committed to minimising its environmental impact, mindful of the garment industry's unenviable position as one of the most unsustainable sectors in the world, mainly due to the rise of so-called "fast fashion".

Australians are in fact the second-highest consumers of textiles in the world, with the average Australian consuming around 27kg of new clothing per year and disposing 23kg to landfill each year, according to the Department of Agriculture, Water, and the Environment.

Schippa's enterprise "rescues" excess fabrics and trims – sometimes called "deadstock" – from collaborating Australian fashion houses, such as Bianca Spender, Cue, Seafolly, Romance Was Born and Camilla + Marc, keeping it out of landfill and giving it new life.

"On average, 80 per cent of the textiles used in our collections are 'waste' fabrics, and we've saved more than 9.5 tonnes of fabric from landfill so far," she says.

The Wear the Change fundraiser is a way to challenge the "fast-fashion-fix", says Schippa who knows from experience the pressure often placed on women in particular to always wear new outfits, creating a stigma around 'outfit repeating'.

"Through the challenge we're essentially saying, buy ethical – which can be more expensive – but reduce the amount you buy, and it's ok to wear the same garment over and over and be creative about styling it," she says.

It's a movement that's gathering pace globally, the European Commission recently announcing a wide-ranging plan to end fast fashion by 2030, noting that "textiles placed on the EU market should be long-lived and recyclable, made to a large extent of recycled fibres".

"You need to love your garments and use them a lot," says Schippa. "And you also need to know where they come from. Yes, ask 'What material it is?' and 'Where is it from?', but also 'Who made it and how were they paid?'"

The funds raised through the #WearTheChange2022 challenge will help Schippa set up a second site, upstairs from fellow ethical fashion brand Citizen Wolf in nearby Marrickville, to house The Social Outfit's manufacturing operations which have outgrown the space at Newtown.

"The support from the challenge this year will help us strengthen our capacity to produce in the new site, which also helps to employ more refugee women," she says.

The Social Outfit has received financial and non-financial support from Westpac Foundation, most recently via a Social Enterprise Grant.

Don't miss
By Ben Young
Head of Fraud and Financial Crime Insights