Consumers frock to social good
When you stroll down Sydney's famous bohemian shopping strip along King Street, Newtown, it's hard not to notice "for lease" signs hanging in some windows where racks of clothes used to be.

But nestled among these likely casualties of challenging retail conditions is one fashion outlet whose unique business model has attracted a loyal following – from fashion icons like Carla Zampatti, Ken Done and Bianca Spender to local "conscious" consumers – that has helped keep its doors firmly open.

"We've felt the impact of the retail downturn, but maybe not as much as others because our story is so compelling," says chief executive of The Social Outfit, Camilla Schippa.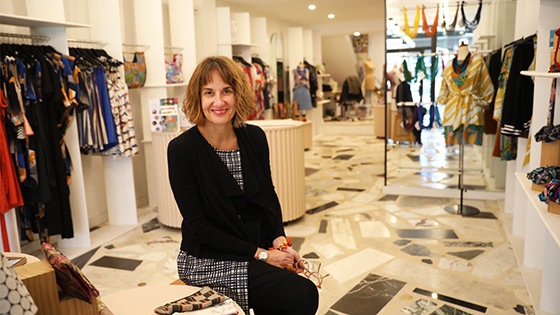 While her colourful clothing store may look like any other, a peek behind the garments reveals a fashion based social enterprise created in 2014 to provide employment and training to women from refugee and new migrant communities.

Schippa was a customer long before she took over the reins from founder Jackie Ruddock in March, following a decade as a Sydney-based Director of the Institute of Economics and Peace, and 15 years with the United Nations in New York. She recalls being "intrigued" by the slogan on the window: "good to wear, made for good".

"When they told me what they were doing, I'm not a big shopper but I felt compelled to buy something," she says.

"It became the place I'd always come to buy gifts because they were gifts I was proud to give, that tell a story. Many of our loyal customers do the same – they tend to be working women with a strong social conscience and very ethically aware."

Refugee or migrant women with sewing skills are employed by The Social Outfit, as their first job in Australia, to design and sew unique garments in the studio above the retail space, enabling them to meet customers face-to-face.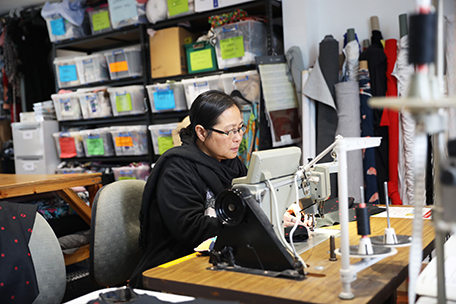 "We have sewers from Burma, Afghanistan, Syria and Iran, and we've had quite a few in the past from African countries such as Sierra Leone," says Schippa.

"We bring the women together, to get to know each other, share their creativity, support each other and build cohesion, and to have a better chance of becoming part of the Australian community. They also learn about things we may take for granted, like how superannuation works, and our goal is for them to gain the confidence to transition into other paid jobs in the fashion industry."

Big name Australian fashion houses have come behind the social enterprise including ambassador Carla Zampatti, Romance was Born, Bianca Spender, Cue and Seafolly, many donating excess fabric (known in the industry as "deadstock") which may otherwise have gone to landfill. Indeed, Schippa calculates The Social Outfit has saved around 5 tonnes of fabric from landfill so far.

"And contrary to most fashion brands, we don't make 10 dresses in one size," says Schippa. "We make one and if we sell it, we make another one. We only produce what we sell, to reduce our own waste."

Bianca Spender's relationship with The Social Outfit took off in early 2018 through a collaborative project for Fashion Revolution Week, a flagship event for ethical fashion, for which she donated all her deadstock along with signature designs to The Social Outfit sewers to create and sell garments at department store David Jones.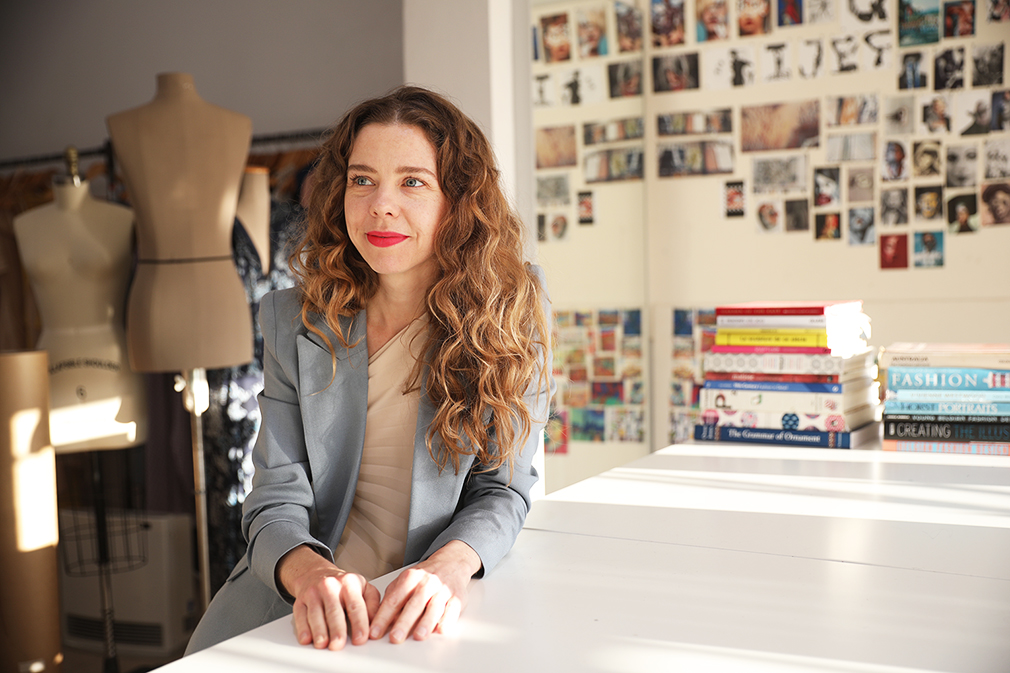 "I was trying to touch on every level – to highlight the great work they do, to use deadstock fabric, to use their incredible expertise, and to donate the sale proceeds. It was a really exciting project," says Spender, who hopes donations can enable The Social Outfit to reduce fabric costs to zero, so resources can be directed towards employment and training projects.

Along with providing sewing jobs, The Social Outfit runs TAFE certified sewing classes for women to gain skills and recognised qualifications. Special "digital print projects" are also held where small groups of new Australians in Western Sydney come together over ten weeks to create collaborative artworks that are printed on fabric used by the sewers. A retail training program has recently been added, where young women are paid to work in the Newtown shop to gain the skills, confidence and the first job on their resume to transition into other retail jobs.

Over five years, around 300 new Australians have participated in the print projects and sewing courses run by The Social Outfit, and 23 have been employed and supported into other jobs.

Bianca Spender believes The Social Outfit's ethical and sustainable practices set a good example for the fashion industry given consumers' changing expectations. In addition to growing margin pressures brought by mounting demands for zero online delivery charges and fast clothing returns, and a pervasive "discounting mentality", she says retailers are also judged more than ever on their environmental and social sustainability.

"People are looking for things they can feel good about," says Spender, whose collections are 100 per cent Australian-made and 50 per cent of fabrics sourced from deadstock.

"There's this push back to smaller, more intimate stories – whether it's that you make in Australia, whether you're supporting a group of artisans, supporting the refugee population, whether you're using deadstock. And with The Social Outfit…they're doing all of those. That's fashion at its best."

Steady sales growth is helping reduce The Social Outfit's reliance on philanthropy according to Schippa although, like many other social enterprises creating jobs for those facing the highest employment barriers, additional funding would help expand production to create greater social impact.

"I want to see it grow because I want to be able to hire many more women. I know they're out there; I know we can provide them with jobs," she says. "If every business woman in Australia knew about The Social Outfit they'd want to buy at least one item a year from us. It's such a beautiful model, it has to grow."

The Social Outfit has received financial and non-financial support from Westpac Foundation.