BILL'S BITES: Sentiment hit by inflation worries
The Westpac-Melbourne Institute Index of Consumer Sentiment tumbled by 4.5 percent in June to 86.4, a much bigger fall than the Westpac Economics team had expected.

The level is comparable with some of the big periods of economic dislocation that we've seen going back to the early 1980s. That includes the Covid pandemic, the global financial crisis, the deep recession of the early nineties, the slowdown in the mid-eighties and the recession of the early eighties.

The main factor behind the slowdown in confidence is inflation. In the survey, 60 per cent of respondents talked about inflation, compared to 12 per cent normally. Not surprisingly, 85 per cent spoke about it unfavourably. Other aspects that affected thinking were interest rates, the domestic economy and the international economy.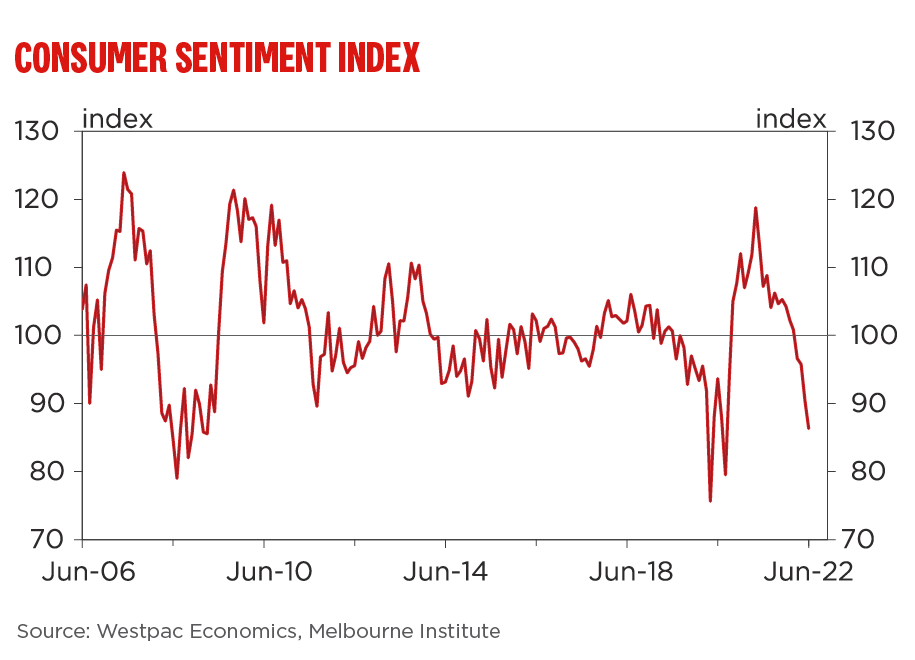 The labour market still looks strong. Our index for labour market confidence was up a little and is now 16 per cent better than its long-term average. But the story on housing was very depressing. There was a 3.1 per cent drop in our index for now being a good time to buy a home and an 8.4 per cent fall in the question about the outlook for house prices. That index is still above the level at which we have more optimists and pessimists, but it's certainly falling and it's falling faster in the key markets of New South Wales and Victoria.

We expect the Reserve Bank to raise interest rates by half a percent in July and we expect further increases over the course of this year. But the most important point is what happens to inflation next year.

We see inflation at 6.6 per cent by the end of this year, but by the end of next year it will have eased to around 3 per cent. The key factors behind that will be a fall in petrol prices, much weaker growth in electricity prices and the cost of building materials, and lower growth in food prices. These are all supply shocks and, as the economy slows down, we would expect those inflation pressures to ease.

Still, next year will be a weak one for the economy. Westpac Economics expects only about 2 per cent growth in 2023 compared to 4 per cent this year.