New Zealanders face a tough period ahead, with interest rates set to rise sharply, sending house prices lower, as the central bank tries to engineer a soft landing away from its long-standing easy monetary policy.

Westpac's NZ economics team has become more bearish on the economic outlook, seeing slower growth and a bigger retreat in house prices, in revised forecasts published this week. It now expects the Reserve Bank to lift the official cash rate to 3.5 per cent by the end of 2022, up from 3 per cent seen previously.

"The challenge the Reserve Bank now faces is in applying the right amount of pressure," said Michael Gordon, Westpac's acting chief economist for New Zealand. "Too much, and it could inflict significant pain on household budgets and risk tipping the economy into recession. Too little, and inflationary forces could get out of hand, requiring an even more painful adjustment in the future."

Inflation lies at the heart of the RBNZ's dilemma, running at three-decade highs close to 7 per cent. The price of imported goods has surged amid supply chain disruptions caused by the pandemic and the war in Ukraine. At the same time, strong demand and a shortage of workers are driving price rises within the local economy.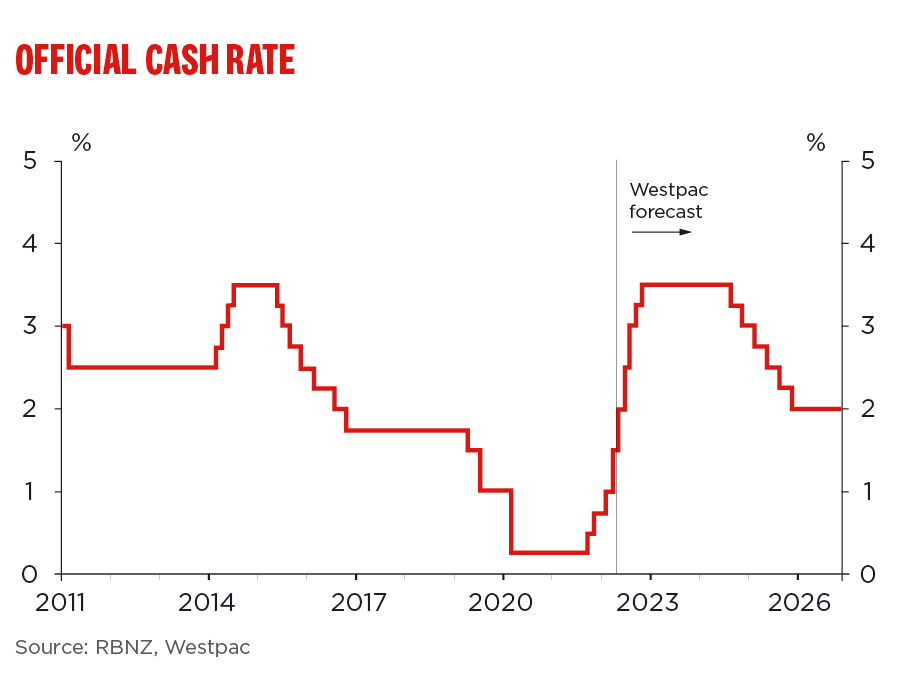 "A period of slower growth is certainly on the cards. In fact, that is what is needed to dampen the demand-related domestic inflation pressures that are currently bubbling over," Gordon's team said in a report. "Many households are already feeling the pinch on their finances, and that pressure will become more intense over the next few years."

The pressure will be felt most keenly in the property sector, where real estate prices have already fallen 5 per cent since November in anticipation of rising mortgage costs. Westpac now expects them to decline 10 per cent over 2022 and a further 5 per cent in 2023. Still, that would only take them back to levels seen at the start of 2021, underlining just how strong the market has been in the period of ultra-low interest rates.

New Zealand is starting to welcome back overseas visitors to give a much-needed boost to the struggling tourism industry, but it will take a long time for numbers to return to pre-Covid levels. Migration is also expected to pick up, though probably not enough to address labour shortages across several sectors..

The one bright spot is the export sector, with agriculture enjoying a stellar year. Westpac expects the meat and dairy industries to generate record returns in 2022.

"New Zealand farmers have benefitted from the squeeze on production costs relative to our competitors," the report said. "Farmers have limited exposure to grain feed prices, so have been able to pocket more of the surge in farmgate meat and dairy prices."

Overall, Westpac expects the New Zealand economy to grow by 2.7 per cent this year, well down on 5.6 per cent last year, with a pick up to 3.3 per cent growth forecast for 2023.

The team thinks the RBNZ will follow up April's 0.5 per cent OCR increase with moves of the same magnitude at its next three reviews, in May, July and August.

"We acknowledge that four in a row would be virtually unprecedented in the era of inflation targeting – but then, so is much of what central banks are facing today."

For the full report, visit Westpac IQ.