Australia's housing market has hit a phenomenal milestone, the total value of dwelling stock surpassing $10 trillion in December, after rising around half a trillion dollars a quarter through 2021, or $2.3tn over 12 months.

It was an extraordinary year of growth, at the fastest pace in more than three decades.

These gains mean the housing market has further increased its lead as the largest store of wealth in Australia. Its value is nearly four times that of the Australian sharemarket, currently sitting at $2.6tn, while nearly three times the value of Australians' super holdings ($3.9tn).

For another interesting perspective, a look back over the past few decades shows that the total value of dwellings essentially doubled in the past seven years. But if you compare that with the previous seven-year period, the gain was closer to just 30 per cent.

Some of the steep rise in the past seven years can be attributed to the effect of additional dwellings, well over a million new homes having been built in Australia over that period, the value of the existing housing stock also boosted by upgrades and renovations.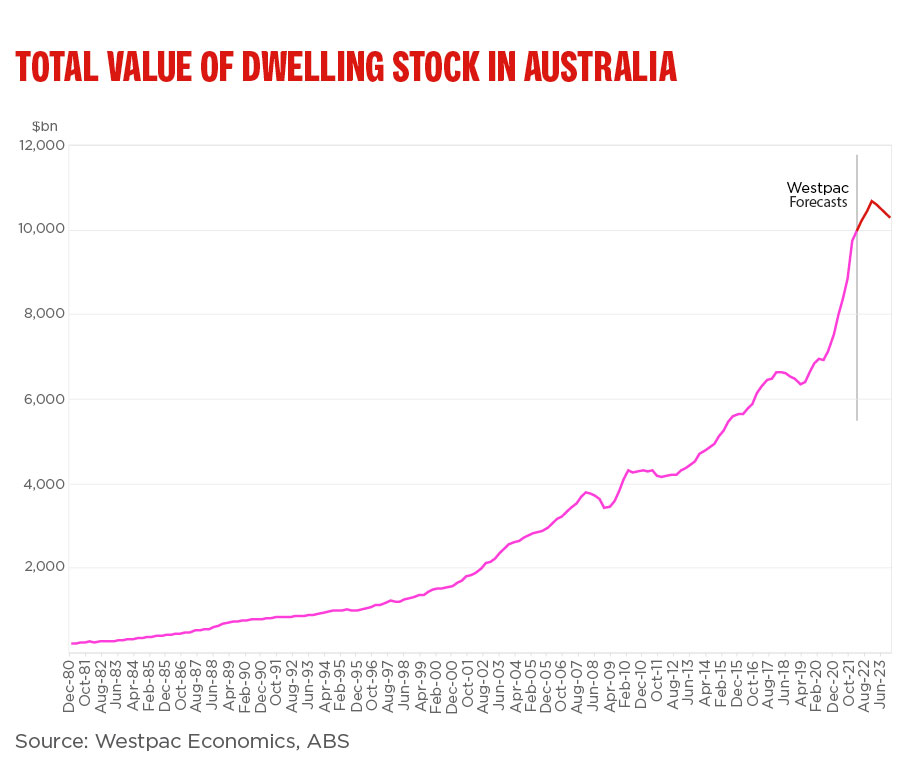 In recent years, the market has seen an extra lift from strong demand amid a period of ultra-low interest rates, while stock on market has been generally low. Although listings have been low, Corelogic estimates the total number of home sales in 2021 was around 40 per cent above the decade average, and the highest number of annual sales on record, at approximately 653,000 house and unit settlements.

The big question on many Australians lips is, how much higher can valuations go?

Although we believe there is some further growth to come, all indicators show the pace is set to slow as we get closer to a peak in the cycle, and total values level out.

Key factors at play here are around the challenges of affordability – which will weigh on housing demand over the year ahead – and the shifting situation in policy settings, particularly from the Reserve Bank of Australia.

Despite commentary to date from the central bank suggesting the cash rate won't lift until 2023, expectations are firming in the market – and among consumers – that rises will be brought forward to this year.

The Westpac economics team now expect one rate hike of 15 basis points in August this year, followed by a further hike of 25 basis points in October and further increases carrying through most of 2023 and 2024, as we announced last week.

And our most recent Westpac-Melbourne Institute consumer sentiment survey showed 55 per cent of consumers, too, think rates will rise this year. This is the highest proportion expecting interest rate rises since February 2018.

These expectations may be starting to impact consumers' assessments of the housing market outlook, as they become less bullish on the outlook for house prices. That said, most Australians still expect prices to rise this year rather than fall.

Today, we also saw headline inflation spike to 3.5 per cent in the year to December 31, while underlying inflation hit 2.6 per cent. Core inflation is now above the mid-point of the RBA's inflation target, not something the central bank was expecting this early, nor of this magnitude.

All of this spells a very different period ahead for the housing market.

The days of half a trillion a quarter value gains in the dwelling stock look to be behind us now.