BILL'S BITES: House price boom has further to run
Australia's housing markets are again outperforming expectations.

Despite recent extended lockdowns, prices have continued to post strong gains with even the most affected markets of Sydney, Melbourne and Canberra sustaining a strong double-digit annual pace of growth.

With reopening in sight, the dampening effects of lockdowns will drop out of the picture and offset any initial drags from recently announced macro-prudential measures, pointing to a very strong 22 per cent gain for the full calendar year, up from our prior forecast of 18 per cent.

Prices across the major capital cities are already up 17 per cent over the year to September and are tracking for a 1.5 per cent gain in October.

As for 2022, the strong momentum will continue but the pace of gains is expected to slow, levelling out over the course of next year before moving into a correction phase in 2023. We expect price growth to slow to 8 per cent in 2022, up from our previous forecast of 5 per cent), with most of that increase loaded into the first half of the year.

We stick with our previous views that markets will move into the first year of a correction phase in 2023 as official interest rates rise, with prices forecast to retrace by 5 per cent.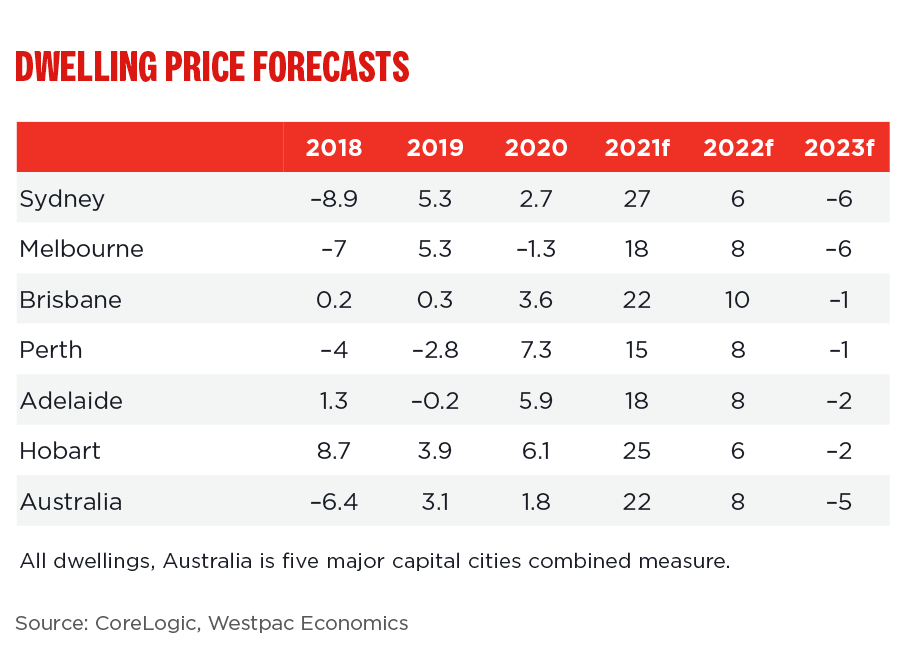 As always, there are many moving parts to the price outlook as the boom enters trickier territory.

The main ones relate to affordability – which is becoming stretched – and policy tightening by both the Australian Prudential Regulatory Authority and the Reserve Bank.

The wild cards are around investor activity and potential impacts from an extended period of slow population growth.

But for now, the market has weathered the latest COVID disruptions very well and price momentum has held, prompting us to revise up the near-term outlook for prices before a correction phase begins in 2023 and likely extends into 2024.


The information in this article is general information only, it does not constitute any recommendation or advice; it has been prepared without taking into account your personal objectives, financial situation or needs and you should consider its appropriateness with regard to these factors before acting on it. Any taxation position described is a general statement and should only be used as a guide. It does not constitute tax advice and is based on current tax laws and our interpretation. Your individual situation may differ and you should seek independent professional tax advice. You should also consider obtaining personalised advice from a professional financial adviser before making any financial decisions in relation to the matters discussed.