Westpac opens rapid COVID testing, vax hubs for staff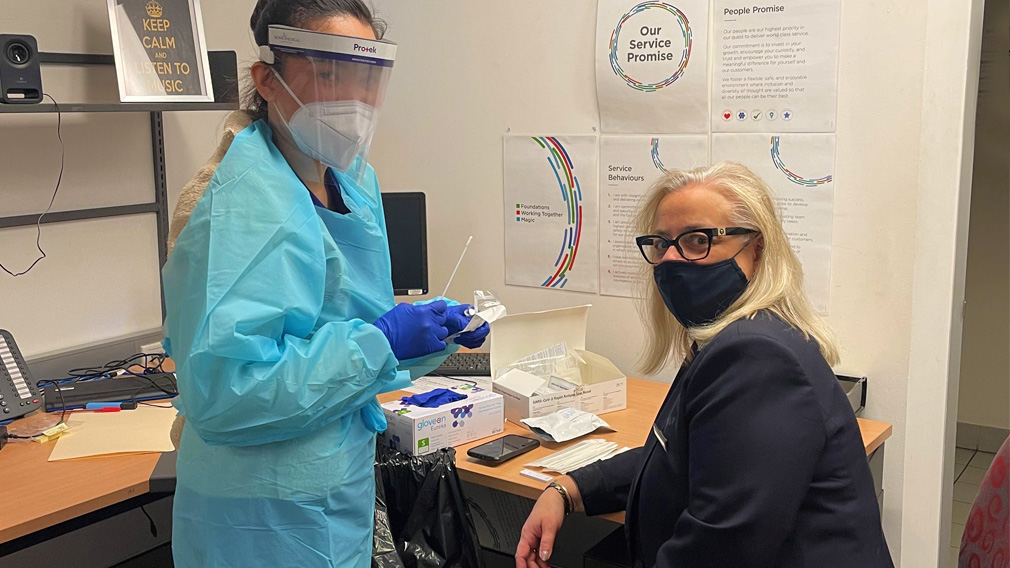 As the spread of COVID-19 accelerates, Westpac is the latest Australian employer to offer voluntary rapid antigen testing and vaccinations for staff in workplaces in Sydney's COVID hotspots.

Kicking off this week, chief executive Peter King said the initiatives aimed to help employees through the challenges of the pandemic by making it easier and quicker to get tested and vaccinated, starting with those in areas most impacted by the fast-spreading Delta variant of the virus.

"We have more than 10,000 employees living in Sydney's most impacted LGAs, with many continuing to support customers in branches with essential banking needs. Rapid testing gives our people the chance to get tested quickly and simply on our premises," Mr King said.

He also said having access to vaccination hubs makes it easier for employees "to balance the demands of work, home life and being in lockdown, while prioritising their health and getting vaccinated".

Malamo Konidaris, a teller in Westpac's Revesby branch, was among the first to line up for the bank's rapid antigen testing, a screening tool to help detect COVID-19 in people without any symptoms, within around 15 minutes.

"Considering we're in a hotspot it's a good feeling to know I can go home and say I'm clear, that everything is OK and my family is safe," said Ms Konidaris, who has been with the bank since 1999 and, given her essential service role, has continued to serve in the branch since the pandemic began.

"I was pretty fearful at first, thinking 'What if it comes up with a positive reading? Then what do I do?' But it's better to know and because it's so easy to do, I'll probably do it every week now for that peace of mind," she said.

Rapid antigen tests, which have been used internationally for some time and are being adopted in a growing number of industries in Australia such as aged care, will detect most cases of COVID-19 according to NSW Health, although are not as accurate as the highly sensitive standard polymerase chain reaction tests used at testing clinics. If a person's rapid antigen test is positive, a standard test will confirm the result.

Mr King said the testing program would be made available to staff in more Westpac workplaces following an initial two-week trial from this week in eight branches in Sydney's Canterbury-Bankstown local government area and at the bank's large workplace site at Concord.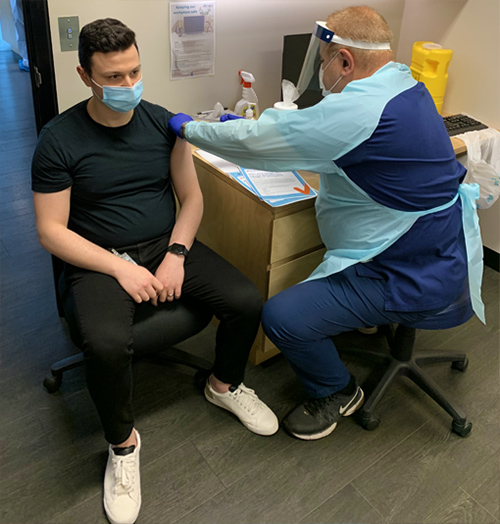 Earlier this week, the bank also opened the first of its pilot COVID vaccination hubs in Kogarah and said others will soon follow in priority areas.

Delivered in partnership with the federal government's Operation COVID Shield Taskforce, and offering AstraZeneca vaccine administered by workplace health provider Vitality Works, the hubs are open to the bank's employees and members of their households.

The aim is to complement national vaccination efforts, which have seen more than 16 million doses administered according to the latest official figures as at August 18. This equates to around 10.4 million people – or 50.2 per cent of the population over 16 – having had a least one dose, and 5.8 million – or 28.2 per cent – now fully vaccinated.

"We know that a vaccinated population is how we will have more freedom, open borders and a more normal way of life," said Mr King, who also confirmed the bank's staff have access to additional paid leave to get their COVID jabs, as well as other special leave provisions to help manage through the challenges of lockdowns and maintain health and wellbeing.

Releasing the bank's third quarter update earier this week, Mr King said the economy is primed for a solid bounce back once COVID restrictions ease.

"We are committed to doing what we can to get more people jabbed and the vaccination rates at the levels they need to be for lockdowns to lift."