The daffodils and roses are starting to bloom but another seasonal feature of our suburban streets won't be sprouting quite the same this spring: gavel-wielding auctioneers going through their theatrical motions in front of a "for sale" placard.

Lockdowns have resulted in physical auctions being currently banned in both Sydney and Melbourne, with buyers only able to bid via the keyboard.

While curious neighbours might be missing out on the drama of a hotly contested "open outcry" auction, buyers aren't deterred by being able to size up their bidding rivals eye to eye.

On the evidence to date, the lockdowns haven't abated the market's animal spirits.

Sydney realtor Ben Collier says the current lockdown "feels nothing like" the initial 2020 national lockdowns, when prices stagnated. This time around, the market has the comfort of knowing that prices quickly recovered after these earlier restrictions were lifted.

Still, lockdowns are changing the manner in which the properties are sold, with more deals executed before, or after, auction. According to CoreLogic, agents are also refining their online or over-the-phone methods of hosting auctions.

"However, it is hard to separate the success of these online formats with the fact that circuit-breaker lockdowns have coincided with periods of much stronger housing market demand," the property research group says in a new report.

REA Group, owner of the realestate.com.au website, reports a 10 per cent fall in new property listings in July, but with search activity from house hunters up 19 per cent year on year.

Collier reckons the timing of this year's lockdown could help to sustain the market, because buyers often set a Christmas deadline to move in.

"Many people want to secure a home before then, so rather than wait they're actually looking and making offers," he wrote in a recent blog on the agency's website.

So, amid a complex tapestry of market influences, what should buyers and sellers expect as the "for sale" shingles slowly appear in largely deserted streets?

The most likely scenario is that prices will continue to rise, but not at the same gravity-defying momentum, while some listings may be pushed out a tad to summer.

Westpac's economics team forecasts national housing prices will increase 18 per cent in the 2021 calendar year. In the first half prices rose an "extraordinary" 25.6 per cent in annualised terms, so the full-year estimate implies some cooling off.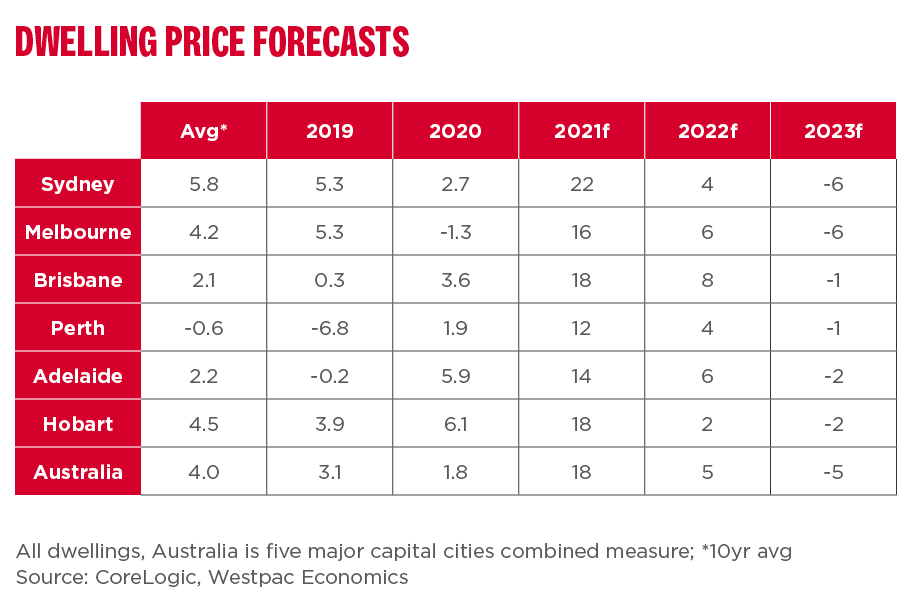 On CoreLogic's measure, as of the end of July the median capital city dwelling was worth $740,475, with values 15 per cent higher on a rolling annual basis. In Sydney, for the first time the median price cracked the seven-figure mark: $1,017,692.

"The broad picture with prices is they are strengthening but the growth rate is slowing," says CoreLogic head of research Eliza Owen.

"It's not pandemic related, but more to do with affordability constraints. Some confidence was knocked out of sellers during COVID but I would expect the price trajectory to continue for the rest of the year."

It's a view broadly shared by Westpac's senior economist Matthew Hassan, who says the market has been immune to "transitory disruptions".

"We have seen markets sail through lockdowns unscathed. You can have a huge disruption to volumes, but price-wise we haven't seen a huge fallout," he says.

Despite emerging signs of affordability constraints, Westpac expects a further 5 per cent price gain in 2022. Then there's a "mild correction" in 2023, when the Reserve Bank of Australia is expected to increase rates for the first time since 2009.

"It's quite a tricky period to read," Hassan says. "We are coming off a major disruption … and a pretty extraordinary boom leading into this latest lockdown."

Hassan says the Sydney market might experience similar "strange" conditions to last year, after the selling season was disrupted by the virus outbreak on the northern beaches leading up to Christmas.

"We might see a re-run where everything goes into hibernation during spring, and then a Christmas-New Year period more active than in the past."

In 2020, CoreLogic claims this dynamic impacted the national numbers, with the spring selling season "pushed back" into the final months due also to Victoria's second wave outbreak. New listing volumes through December trended an average 40.4 per cent higher than the previous five-year average.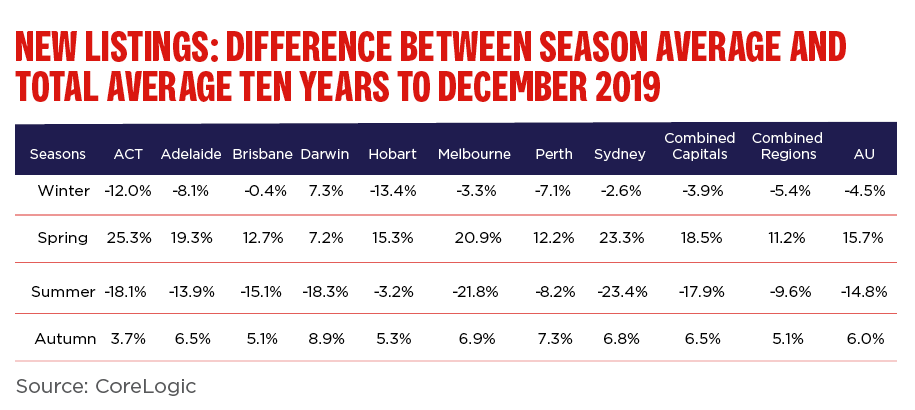 "Despite the current slowdown in transaction activity, previous lockdown conditions have seen a robust recovery in sales volumes and vendor activity," CoreLogic says, adding conditions are ripe for this to play out again.

Hassan says that if listings are thin in coming months but buyers are keen, this may skew the pricing picture.

"You could have an acute imbalance," he says. "It's going to be a fluid situation."

For those feeling priced out of the glittering Sydney and Melbourne markets, "going bush" is not the bargain it once was. The CoreLogic data shows a 34 per cent differential between capital city and regional values, compared with 43 per cent five years ago.

The median price for a regional home is now $486,591.

The regional boom is reflected in locales such as Coffs Harbour/Grafton on the NSW coast, which has seen valuations bound 26 per cent over 12 months. Other price outperformers are the Gold Coast (up 22 per cent) and the former rustbelt town of Geelong (19 per cent).

But by far the best regional performer is NSW's northern Richmond-Tweed district, where prices have zoomed 28 per cent to a median $789,089. Yep – that's more than the combined capital city average.

With COVID restrictions continuing but varying around the country, spring 2021 looks set to be a memorable one indeed for keen property hunters.


The views expressed are those of the author and people interviewed, and do not necessarily reflect those of the Westpac Group.

The information in this article is general information only, it does not constitute any recommendation or advice; it has been prepared without taking into account your personal objectives, financial situation or needs and you should consider its appropriateness with regard to these factors before acting on it. Any taxation position described is a general statement and should only be used as a guide. It does not constitute tax advice and is based on current tax laws and our interpretation. Your individual situation may differ and you should seek independent professional tax advice. You should also consider obtaining personalised advice from a professional financial adviser before making any financial decisions in relation to the matters discussed.