There's a lot going right for the housing market.

Record low interest rates, low supply for sale, government incentives, people deciding they want an office or a bigger backyard, FOMO…

As today's monthly figures from CoreLogic show, house prices jumped a whopping 2.8 per cent in March alone, the largest move in 32 years.

But real estate agents say there's a less discussed factor at play, particularly in the higher priced parts of Sydney of Melbourne: the tidal wave of expatriate professionals returning home amid COVID-19.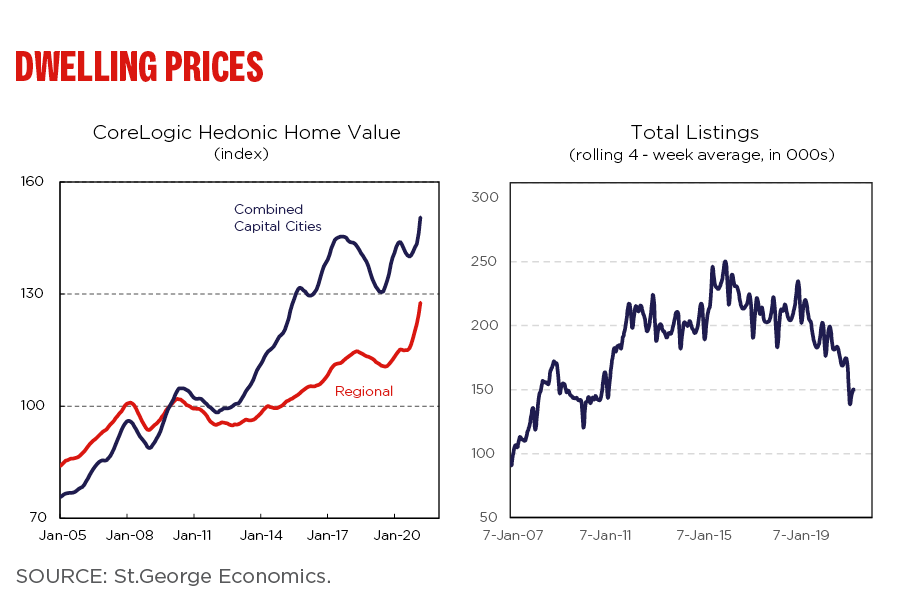 We might grumble about the pace of the vaccine rollout, but Australia's relatively solid performance through the pandemic is seemingly enticing many expats home. Since March last year, more than 446,000 Australians have returned home, the Department of Foreign Affairs said in January.

Of course, they aren't all property buyers, but enough are to be making a difference to prices.

"Sydney looks very appealing right now, with a very low, even negligible coronavirus caseload and relatively normal economic conditions," eastern suburbs agent Ben Collier recently noted in a blog, adding overseas buyers were the "dominant force" in the pricey area at the moment.

"Most of the expat buyers we see are living and working in Asia, the UK, Europe or US, across a range of industries, from entrepreneurs and business owners to finance and entertainment. The COVID-19 pandemic may have accelerated their plans to move home or buy a bolt hole in Sydney."

He added that they tend to divide into three categories: expats who have already returned home; expats who are still overseas but plan to move home; and Eepats looking to invest.

"It's all expats," Robert Simeon, a Sydney agent whose patch includes Mosman, said of the buying coming from overseas, adding that stories about heavy buying by mainland Chinese just aren't correct based on what he's seeing.

Melbourne agent Tim Heavyside, who covers desirable inner eastern suburbs like Camberwell and Canterbury, said that although expats represent "only 5 to 10 percent of potential buyers" their impact is more marked because they have more money to spend.

"A lot of it is the perception of relative value," he said.

"Melbourne might look expensive to people in Launceston but it looks appealing to people in Sydney, and meanwhile Sydney looks cheap to people in Hong Kong."

Today's monthly dwelling price update from Corelogic for March reported that Sydney rose a solid 3.7 per cent and Melbourne 2.4 per cent, which sees the larger capitals start to "outpace many of the smaller cities that were previously leading the charge in growth". Westpac Economics analysis shows access to credit isn't an issue for most, new lending for housing popping a "staggering" 76 per cent over the eight months from May to January 2021 to be 44 per cent above levels a year ago.

"It's not an April Fool's Day joke. Population is growing at its slowest rate in more than a century, immigration is at a standstill and the housing market is red hot," St.George chief economist Besa Deda said. "Dwelling price gains this year of around 10 per cent are likely but if gains continue at the sort of frantic pace registered in recent months, (that) could prove to be conservative."

Sydney agent Justin Ferguson, who works the lower North Shore, said FOMO, or fear of missing out, was a major factor at work at the moment.

"The big lift in the Melbourne market came in November with the COVID restrictions easing up," said Mr Heavyside, adding that until then, even local relatives of expats could not readily visit houses for sale.

A few months on, it couldn't be more different as buyers rush home inspections and auctions.

For the returning Aussies who have managed to get into the market, the gains in prices expected to come are looking like a nice homecoming present.


The views expressed are those of the author and do not necessarily reflect those of the Westpac Group.

The information in this article is general information only, it does not constitute any recommendation or advice; it has been prepared without taking into account your personal objectives, financial situation or needs and you should consider its appropriateness with regard to these factors before acting on it. Any taxation position described is a general statement and should only be used as a guide. It does not constitute tax advice and is based on current tax laws and our interpretation. Your individual situation may differ and you should seek independent professional tax advice. You should also consider obtaining personalised advice from a professional financial adviser before making any financial decisions in relation to the matters discussed.