The COVID-inspired drift of people away from Australia's capital cities in favour of life in the regions looks set to continue, a new survey finding among those planning to change their housing situation, a quarter are keen to move to a regional area.

Among those is Marius Petroaie who, after living close to Sydney's CBD for 11 years, has decided to up-stumps and move his young family to a coastal suburb just north of the New South Wales/Queensland border.

"I've always justified staying in Sydney because of my work," said the chief technology officer of a fast-growing online start-up.

"I've needed to be close to the office, but since the pandemic started, we've become a fully remote company – we don't even have an office anymore – so I can work from anywhere."

According to the survey of around 2000 people last month, commissioned by Westpac, the pandemic has accelerated the longer-term housing plans of more than a third of Australians, three quarters of those planning some kind of change in the next five years.

Many are in a similar boat: a third of those who planned a regional move saying it was because they no longer had any reason to be so close to the city. More than 43 per cent said they wanted to live somewhere less populated and 37 per cent were looking for a lower cost of living.

Desired locations include Byron Bay and Coffs Harbour in New South Wales, Frankston and coastal towns like Torquay in Victoria and Bunbury and Busselton in Western Australia.

The trigger for Mr Petroaie and his wife was their "disappointment" at the value of properties near Sydney's beaches, where the Pyrmont-based couple and their young child had been keen to move for the past few years.

"Of course, I understand why it's so expensive to be close to the city and close to a beach, but the value for money of properties near Sydney's beaches is disappointing," said Mr Petroaie, whose wife can also work on her online business from anywhere.

"For the money we were prepared to pay here in Sydney – which is not little – we thought why not pay the same amount somewhere else for much better value."

In the year to September 30, the net number of people moving out of Australia's capital cities reached new highs at more than 36,000, up from 22,000 in same period the previous year, according to the Australian Bureau of Statistics. The September 2020 quarter alone saw a net 11,200 people move out of capital cities, the highest quarter in the 20 years of records.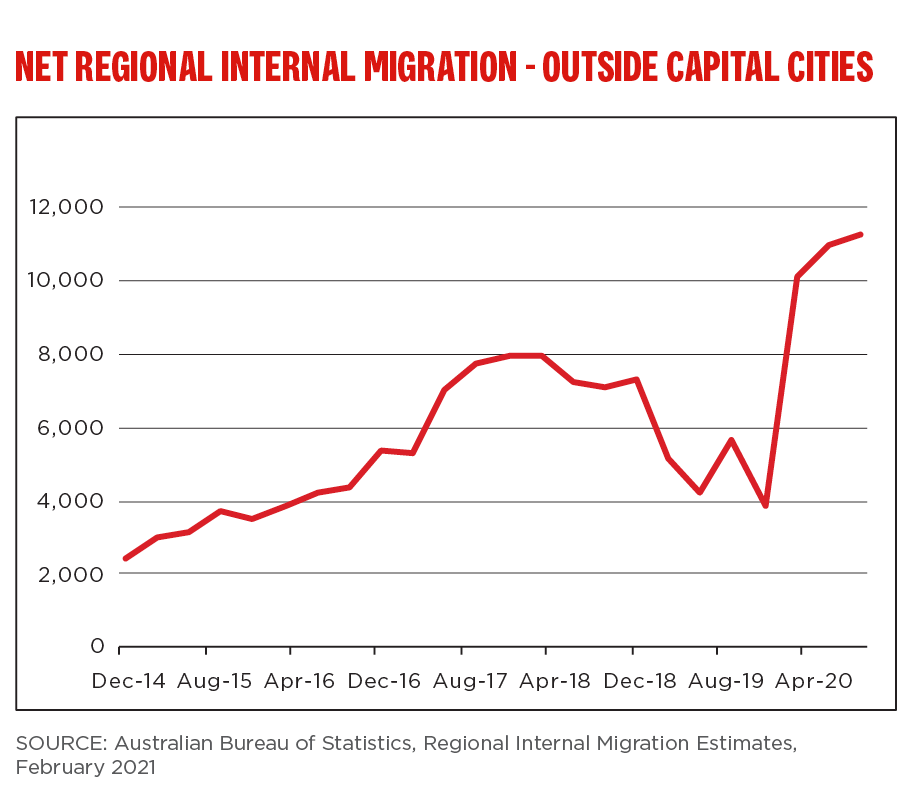 A flow-on effect of this migration has been an uptick in regional house prices, values rising at more than four times the pace across regional centres than capital city markets over the 12 months to January, according to the latest Regional Market Update by CoreLogic. The property intelligence firm's combined regionals index was up 7.9 per cent during the period compared with a 1.7 per cent lift in combined capital city home values.

"As more Australians look for properties outside of the capital cities, an imbalance between demand and supply is placing upwards pressure on housing prices," said CoreLogic's executive director of research, Tim Lawless.

Mr Lawless said while most regional house price commentary had focused on high-profile coastal regions like Byron and Noosa, or semi-rural markets like the wine regions close to major metro regions, CoreLogic's analysis showed 32 of 91 in-land regions had house values tracking at record highs in January 2021. On the flipside, those in 41 of the regions remained at least 10 per cent below their historic highs as they moved out of periods of extended decline, due to either drought or the mining downturn.

Despite the creeping pressure on affordability, Mr Lawless expected the rise in popularity of regional markets to persist.

In fact, it may be bolstered on the back of new regional awareness campaigns, including the multi-million-dollar national campaign by the Regional Australia Institute unveiled last week by the Deputy Prime Minister Michael McCormack encouraging city-dwellers to find their new home in the regions. The campaign was sparked by RAI research that found one in five people living in capital cities was considering a move to regional Australia.

"Regional Australia has been one of the country's best kept secrets but not for much longer," said RAI chief Liz Ritchie.