Offshore investors see life in Aussie offices yet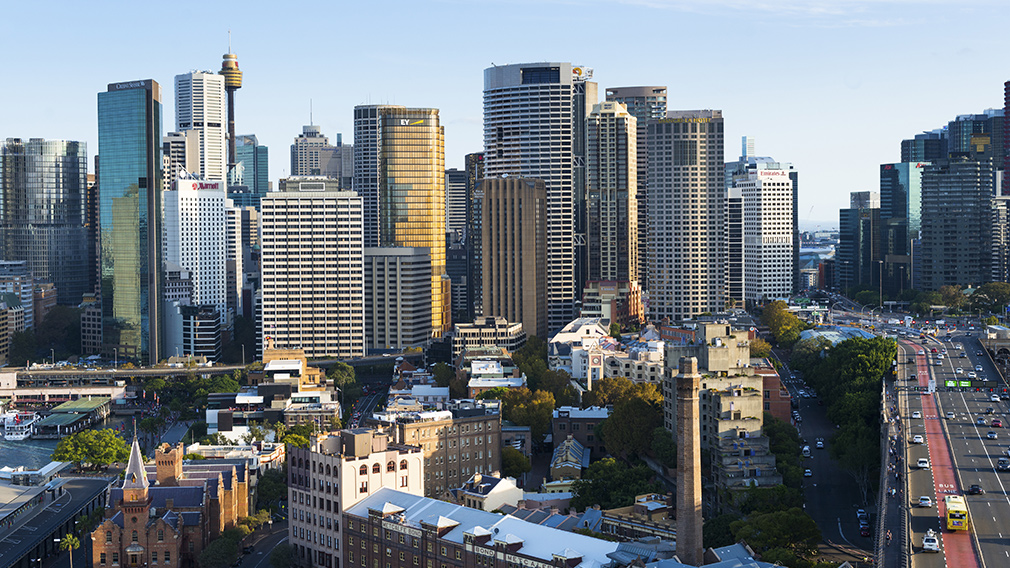 International investors are shrugging off uncertainty over the future of Australia's CBD office towers and planning to invest heavily in the sector over the next two years, new research has found.

Despite the pandemic sparking a spike in working from home and remote working, global investors remain attracted to top-end office buildings, with 84 per cent intending to deploy large licks of capital in the region, according to a new survey published by the Asian Association for Investors for Non-Listed Real Estate Vehicles (ANREV).

Sydney and Melbourne held their position as the two top investment destinations in Asia.

"We thought it very reassuring that COVID has failed to dampen investor appetite," said Amélie Delaunay, ANREV's director of research.

The findings come as new data from the Property Council of Australia showed office workers continue their gradual return to CBDs last month, led by a sharp jump in Melbourne to 31 per cent occupancy in the week after Australia Day. Despite the Northern Beaches lockdown, Sydney also improved on pre-Christmas occupancy levels to 45 per cent in January. Hobart and Darwin led at 80 per cent.

Property Council chief Ken Morrison said many observers were underestimating the speed and extent to which people will return to work in offices as the pandemic subsides.

He pointed out that occupancy rates in Perth rose to 77 per cent in December, prior to its recent snap five-day lockdown following the first case of community transmission in 10 months. "There is no reason why Sydney, Melbourne and Brisbane can't get to those levels. You would expect them to zoom through them and beyond," he said.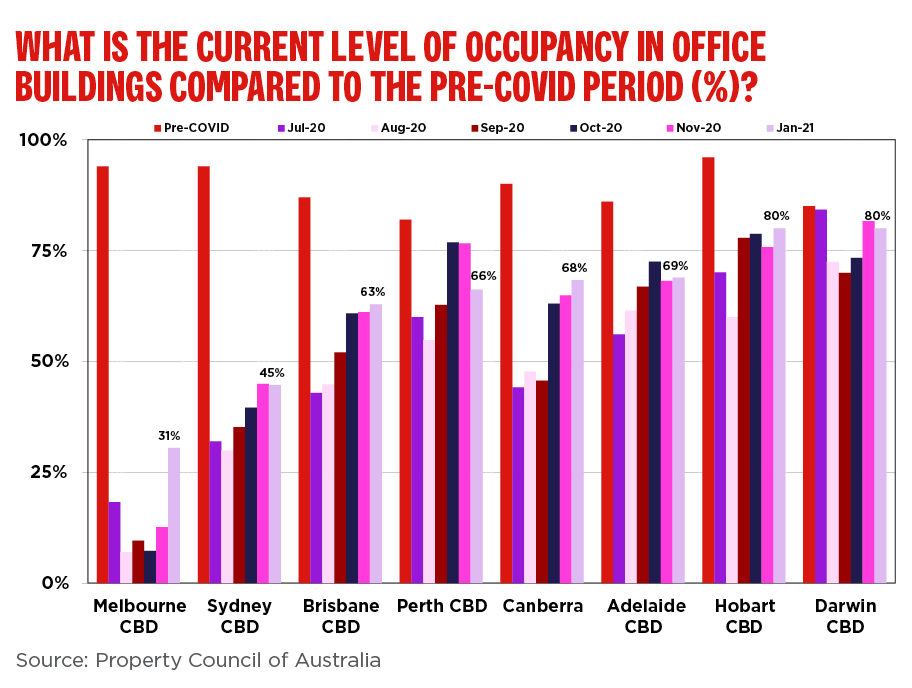 For the time being though, the pandemic's impact is being felt by some landlords, with the Property Council's latest office market report showing that Sydney's CBD office vacancy rate rose to 8.6 per cent in the six months to January, up from 5.6 per cent at the end of July.

Mr Morrison, however, said the increase wasn't as bad as feared and related to increased supply, not "negative net absorption". He confirmed that demand for office space and sentiment about the office market had improved in early 2021 amid a drive from governments for people to return to CBDs.

Mark Curtain, CBRE's head of office leasing Pacific, said many firms are also actively campaigning to get people back to the office, albeit with greater flexibility. He believes things will go back to "normal" towards the middle of the year.

"Maybe we won't get right back to where we were because of that flexibility, which is not a new thing but now more front-of-mind," he said.

Mr Curtain added that while not everyone wanted to work from home, the ease at which people had worked at home during COVID had shown that offices had become a bit "stagnant" and employees wanted more from them. He predicts that office demand is unlikely to fall in 2021, but sees Sydney rents dropping another 3 per cent and Melbourne another 5 per cent, on top of double digit falls since COVID.

"(People) want the office experience to be more like a hotel experience. They want coffee brought to their desk, fitness classes, dry cleaning services," he stated. "For owners, landlords, agents and tenants, it's almost like our 'Uber' moment with customers demanding to shake up the office experience."

So, will the long-awaited vaccine accelerate the move back to the office, or will it be more of a trickle?

A big unknown is how tenants view working remotely and whether they think they can cut costs and floorspace without disrupting workforces, said Frank Allen, a director, property markets, at Westpac Institutional Bank.

"I don't think many of the major organisations know how much space they will need following the working from home exercise," he said.

As for the offshore investors who are swooping in on Aussie space, Mr Allen argued they likely believed the properties have sustainable income streams because they're good quality office buildings that will attract tenants into the future. "They are banking on people returning to offices and rent will continue to be paid," he added.

ANREV's Ms Delaunay added that Australia's commercial office sector held appeal from being very transparent, highly liquid and easy for investors to access, noting around 50 per cent of assets in Sydney and Melbourne were owned by institutions.

"This is unique in the world," she said.

Mr Allen said that because interest rates were so low, even if office rents fall they should be able to support the yields on offer from CBD commercial property. Prime office has been trading at yields of 4-4.5 per cent compared to a 10-year bond rate which trades at around 1 per cent.

"What has been lost at the moment is the ability to lift rents for a while until everyone assesses the impact of WFH," Mr Allen said. "Yet the economy is recovering and jobs are being created, so investors are likely to be considering that while it is uncertain now, that they could add to the yield by lifting rent at some stage over the next 10 years."

Clearly, international investors are betting they can.


The views expressed are those of the author and do not necessarily reflect those of the Westpac Group.

The information in this article is general information only, it does not constitute any recommendation or advice; it has been prepared without taking into account your personal objectives, financial situation or needs and you should consider its appropriateness with regard to these factors before acting on it. Any taxation position described is a general statement and should only be used as a guide. It does not constitute tax advice and is based on current tax laws and our interpretation. Your individual situation may differ and you should seek independent professional tax advice. You should also consider obtaining personalised advice from a professional financial adviser before making any financial decisions in relation to the matters discussed.