As China's growth downgrade reverberated around the world earlier this month, Mark Davidson's mind was focused elsewhere working away at his winery in NSW's Hunter Valley region.

A decade and a half since entering China, Davidson was close to sealing the shipment of 12,000-15,000 cases of wine to China, one of his biggest ever from the Tamburlaine organic winery he led the buyout of in 1985. Far from trade wars and slower GDP targets, Davidson says the winery is likely to again double sales to China in full-year 2019 as relationships strengthen and confidence in its products grows.

"To be at this stage of the year putting together bottlings and shipments of that quantity of wine for a winery of this size is extraordinary …because hardly anybody in the industry talks about, A, being able to double their sales and, B, being able to supply a doubling of their sales," he says.

"I can assure you last year at this time we weren't talking about anything near that (order), so there's been an escalation."

Despite China's growth deceleration, Davidson's confidence is reflected in a new Westpac Australia-China Business Sentiment Survey that shows optimism about the nation holding up reasonably well.

The proportion of businesses upbeat about the next 12 months waned slightly to 71.4 per cent, dragged down by concerns around increased competition, and government policy and market stability in the wake of the trade war with the US. In turn, less businesses, 45 per cent, forecast China revenue to outpace other markets. However, Westpac's regional head of greater China, Paul Lai, said unchanged sentiment about the next five years and flat investment intentions suggested resilience to the recent headwinds.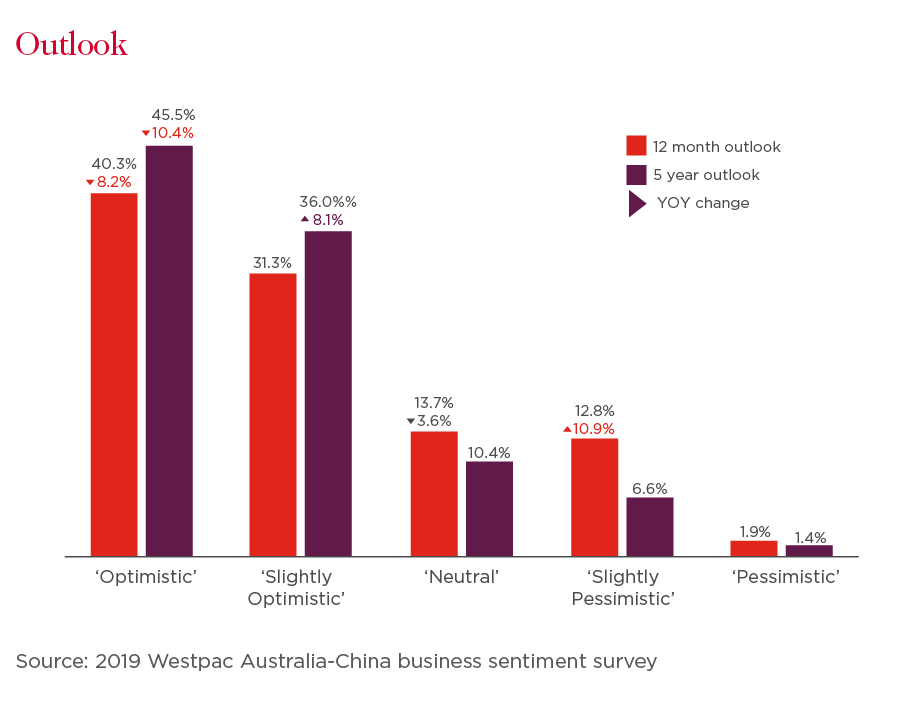 "The fact that Australian businesses are still investing at the same level demonstrates they are not so concerned," he said. "I can totally understand why the short-term sentiment is less upbeat, but in the five-year horizon the fact they continue to think that China is a long game and continue to invest money shows a positive sign."

At China's annual National People's Congress earlier this month, Premier Li Keqiang set its 2019 growth target at 6-6.5 per cent, potentially the lowest in decades and down from last year's "around 6.5 per cent", citing the impact of the US trade war that has seen tariffs slapped on exports by both nations. As high level talks between China and the US to resolve the issues continue, Australian markets have also been shaken by some muted commentary from China-exposed companies, such as vitamins maker Blackmores.

According to the Westpac survey, conducted by the Australian Chamber of Commerce Shanghai, businesses cited the trade war as one of the key macro risks, while 17.3 per cent identified "slow market growth" as their number one risk, up 4.9 per cent from last year's inaugural report. On the flip side, the China-Australia Free Trade Agreement and China's huge Belt & Road Initiative were the top macro opportunities. Three quarters viewed China's regulatory environment as either "transparent" or "not inhibitive to business".

"Despite signs of a slowing economy, we have seen a rise in businesses breaking even, whilst upcoming-year profitability forecasts remained stable," the report said.


Mr Davidson said positive steps by the Chinese and Australian governments to reduce the cost of imports and operating in China had been beneficial. He said time was the biggest challenge given the importance of being on the ground building relationships and understanding the market.

He added that businesses also needed the scale to satisfy Chinese customers' massive demand for volume, citing the struggles of boutique wineries that produce up to 15,000 cases of wine a year to quickly expand and meet large orders.

For Tamburlaine, which produces around 200,000 cases a year, he said it had been "business as usual" in China and that, in the long term, Australia had many advantages, such as the strong trust and desire for its quality produce.

"In our case, our investment is primarily time and face to face travel and how much we can do that is going to be repaid in spades. That is really the limiting factor for us as a medium sized company to take the opportunities," he said.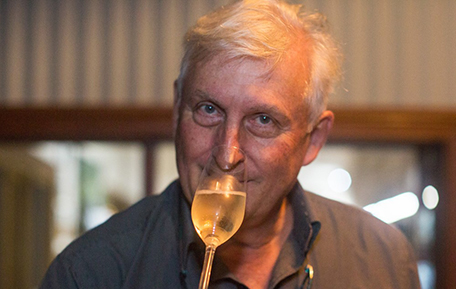 "Most of the world would be thrilled to have 6 per cent growth year on year … the fact it was once 8 or 10 or 12 per cent was extraordinary – (but) to say it's going to be 6 per cent year on year at the stage of development they're at considering the American relationship is pretty amazing."

Mr Lai said China had many tools to support growth including spurring credit and infrastructure spending. He added the trade war hasn't dented demand for Australian products amid an ongoing shift to a more consumption and services-led economy, and the rise of a more health conscious and wealthier middle class. Demand for Australia's commodities also remained strong, he said.

"I believe there will be a (trade) deal at some point… it's hurting both sides to be honest," he said.

"And I believe people are generally quite upbeat in China with respect to Australia. When you have a large population to feed, if you don't buy from the US, you have to buy from somewhere. They are net importers of food and agricultural products..

"And in fact, if you look at some of the customers we have in the agriculture space, they've (China) actually bought more from Australia than before."