Arts precinct's new lease of life
For Marcus Westbury, the Collingwood Arts Precinct 150-year history of being a hub for learning and creativity is about to usher in one of its most notable periods.

And it's a business model that could be rolled out elsewhere, beyond inner city Melbourne.

"By trying to fill a gap…with something that's not for profit but also sufficiently entrepreneurial to be able to cover the cost of what we do, I think it is a really important balance," says Westbury, the CEO of the Social Enterprise Contemporary Arts Precincts, which is leading the transformation of the Collingwood space.

"We're very confident if we can actually get that right, we've got a model that can potentially be replicated by us or by others in other sites across Victoria and potentially around the country."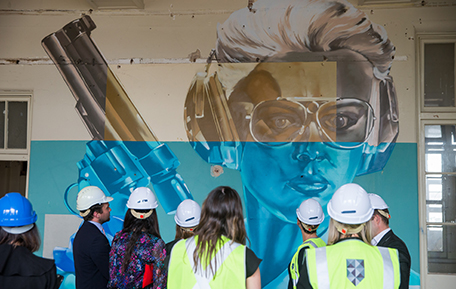 In a fresh boost for the project, the Collingwood Arts Precinct, or CAP, today revealed it had secured a new tailored funding package from Bank of Melbourne, a division of Westpac Group, to help support the overhaul of the 6400 square metre site slated to become the city's newest hub for art, design, music and performance. Bank of Melbourne will also develop a year-long residency program worth $30,000, including rent at CAP, to help up-and-coming artists and creative enterprises, with applications opening in 2019.

The site's history dates back to 1871 when it opened as the Collingwood School of Art and Design, growing over time to more than 3200 students in 1958. The Victorian Government established the project and transferred ownership of the site to Contemporary Arts Precincts this year to oversee it and win support from philanthropists and corporate partners.

Confirmed tenants include PBS106.7FM and the Music Market.

Westbury, who previously founded the Renew Newcastle and Renew Australia projects that reopened more than a hundred vacant properties to creative and community uses, said he hopes to have up to 50 tenants in CAP when up and running next year, across not for profit and commercial pursuits.

"The idea is that we'd be able to embrace a pretty wide and diverse mix of creative activity here that allows us to both support some more commercial activities that can cross subsidise some not for profit or some more emerging activities," he said.

Marcus Westbury is a 2016 Westpac Social Change Fellow.