Flare adds $21m to fuel HR 'at the edge'
For most people, pay days mean money in the bank.

But for Dan Cohen, the chief executive and co-founder of Flare – a human resources and payroll technology platform that today announced it had closed a fresh $21 million funding round – employers' pay cycles are potentially changing the way consumer financial services are delivered as businesses become "almost like virtual banks".

"People come to work generally because they have two needs – for a purpose and for financial security," says Cohen, who co-founded Flare in 2015. "If workplaces can solve employees' financial needs by empowering them to take control of their money at its source, then they'll drive financial wellness and productivity across the entire organisation."

Flare's software enables businesses to automate HR processes, simplify on-boarding of new employees and manage a fully integrated payroll function, enabling employees to manage products such as superannuation and life insurance.

Unlike the HR tech market that has developed in the US through the likes of major players Zenefits and Namely, Cohen says the very manual-heavy function remains one of the last business areas to be automated in Australia, dragging behind the evolution that's happened in accounting software and customer relationship management platforms.

After two previous funding rounds, Flare's new Series B raising was led by Point72 Ventures, the US venture capital firm founded by renowned hedge fund manager Steven Cohen. It marks the New York based firm's first investment in an Australian company. Other investors included BridgeLane, Acorn Capital, Tank Stream Ventures and Reinventure, the venture capital fund backed by Westpac which in 2015 also provided initial seed funding of around $1.5m, and led its $7m Series A round in 2016.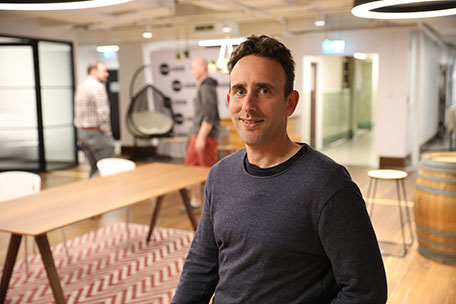 Cohen, who previously worked at investment bank Goldman Sachs before starting up Park Assist – the lighting systems in car parks that show drivers where vacant parking spaces are – says the latest funding will give Flare the "fuel" to grow, improve technology and add staff in its quest to become the dominant platform in small and medium businesses in Australia.

Its customer based more than doubled in the past 12 months to around 100,000 employees in 200 businesses across Australia, including law firms like Corrs Chambers Westgarth, sports clubs like North Melbourne Football club, retailers like Louis Vuitton and hospitality groups like Rockpool.

Cohen says that growth trajectory will be maintained as plans are rolled out to "scale exponentially over the course of the next few years".

"We're building a suite of consumer financial services products to sell on top of our platform, all re-imagining the way pay is done in the workplace that really will disrupt that space. We're excited to do that."

Reinventure's Danny Gilligan describes Flare as "the epitome of a phenomenon called finance at the edge".

"It's about disrupting consumer financial services by having a very smart distribution model and being able to provide personalised financial services to employees, particularly superannuation, as they come on board and join a new employer," he says.

Flare's managing director and co-founder James Windon says a core part of Flare's vision is to help employees become more engaged with superannuation and "financial wellness" through a suite of tools which enable users to compare superannuation products, calculate life insurance, budget, access education seminars and complete financial health checks. The start-up has partnerships with multiple superannuation funds and employees can add any fund of their choice, which Windon says seamlessly integrates into the company's payroll system.

"The spirit of our platform is to give Australian workers the tools to understand the superannuation system [and] the different options available to them, and give them the material in a way that's digestible, making the experience seamless and predictable, and that's what technology can do," Windon says.

"When people have more information and control over their money, particularly their pay, they can make smarter decisions about how to spend it."