#MeToo a spark for businessmen to speak up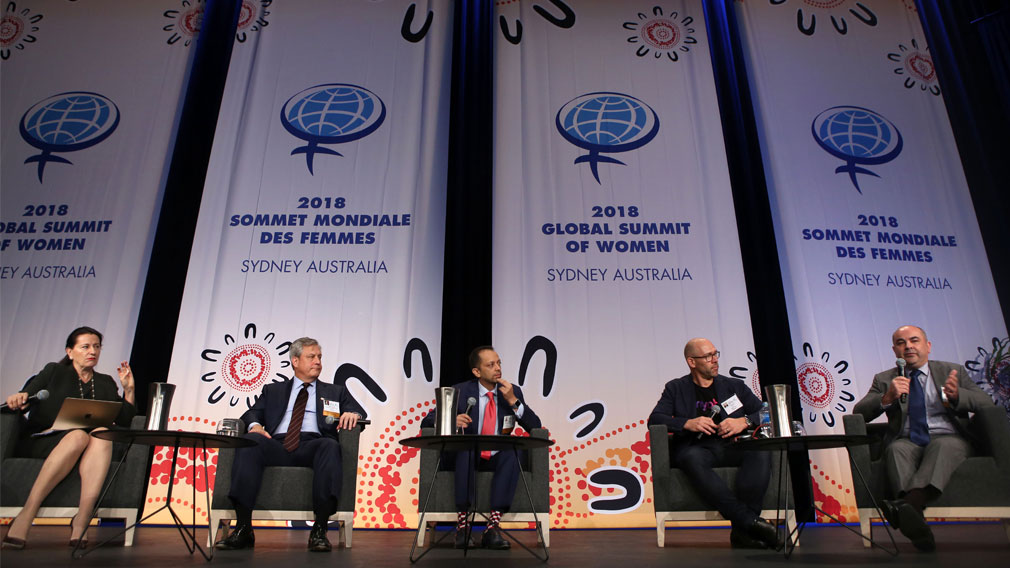 The #MeToo movement could fire up cultural change among businesses as men draw a "stronger line" in calling out casual sexism and leaders demonstrate zero tolerance for unacceptable behaviour, senior leaders say.

On a panel at the Global Summit of Women today, MYOB chief executive Tim Reed said while #MeToo hadn't been a big conversation among employees at the software company after extensive prior work on the related issues, hopefully it resulted in more males speaking up about the "everyday sexism" former Sex Discrimination Commissioner Elizabeth Broderick has dubbed "gender asbestos".

He recalled earlier this year meeting Professor Michael Kimmel, who spoke of how #MeToo would ideally lead to more men in meetings pulling up other men on sexist remarks when there were fewer women in the room who don't always want to be the "enforcer" or "killjoy".

"The positive thing that could come out of this is men actually drawing a stronger line around the behaviour that other men display and that it becomes a movement of men changing other men's behaviour," Mr Reed said, adding MYOB had removed an executive in the past 18 months due to "cultural misalignment", including how he "engaged with women".

Westpac chief executive Brian Hartzer agreed that while #MeToo hadn't led to substantial changes in behaviour after years of focus on diversity and equality, it was important that senior leaders demonstrated through actions that the behaviour exposed wasn't tolerated.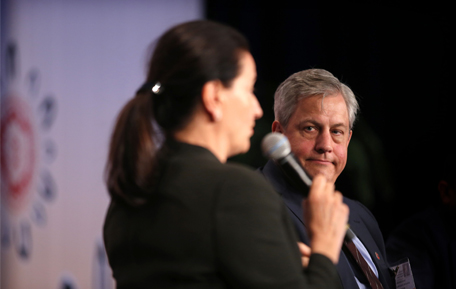 "I think people have to see there are consequences. It's a bit old fashioned but you can say all you like but until you demonstrate 'actually I don't care who that person is, I don't care how long they've been here, I don't care how senior they are, I don't care how much they value they add' – they're gone," he said.

Johnpaul Dimech, the regional chairman Asia Pacific of global services giant Sodexo, said what had been uncovered in Hollywood was "totally unacceptable" for all industries, and encouraged women to constantly "speak up" about changes to make improvement on policies and processes.

Zia Zaman, the Singapore-based CEO of MetLife's innovation centre Lumen Lab, said it had elevated the importance of teaching boys that harassment, bullying and mistreatment of any minorities was unacceptable. "That's perhaps ever more important as parents as we shape the next generation, to get the ethical values right to speak up about any type of discrimination or injustice," said Mr Zaman, who has a son and daughter.

While many companies and policymakers continue to focus on gender equality, progress varies across countries and individual organisations. Last year's World Economic Forum Global Gender Gap report found it would take a further 100 years to close, and an even longer 217 years to close the economic gender gap.

Mr Hartzer said while he personally always competed equally against women when beginning his career in consulting in the US, there were clearly issues for women as they rose through the ranks in large companies with middle management, such as unconscious bias and flexibility. Developing the pipeline and "showing young women that careers in industries like financial services can be very attractive" was also important.

"There's an issue in Australia that I have a bit of a passion about…that when young women are doing really well in school, someone taps them on the shoulder…and says 'gee you're really bright so are you going to be a lawyer or a doctor', and the notion that you could actually have an industry career is not as obvious," he said.

"And people are expected to pick their major at university before they even get to university, which I find completely bizarre, and I think that's an issue. So I've been giving talks at girls' schools, we've been trying to reach out and bring girls in for work experience; we've been running a thing on STEM with Vogue."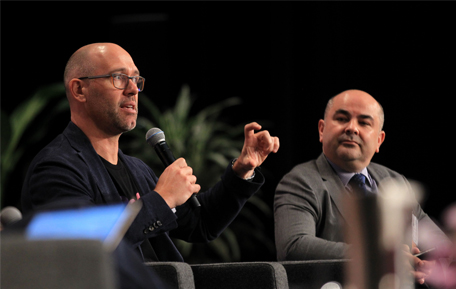 Mr Reed said leaders needed to make the conversation around science, technology, engineering and mathematics a "loud and challenging one", noting Australia lagged other nations. "There's no good reason for that, in fact I think it's shameful on us as a nation," he said.

He cited the challenge for the software industry that only around 17 per cent of computer science graduates in Australia were female as "somewhere in their high school years (they) seem to lose interest in science, drop maths as a subject".

"While it does seem to be the case that in teen years girls have less interest in maths and science, it seems as though that interest picks up again in their 20s," he said, adding MYOB's developHer program paid for internships to get them up to same level as computer science graduates.

Mr Hartzer said Westpac also found some its best talent were "mid-career women" from other professions aged 30 to 35 who were looking for a change, with the bank's equilibrium program providing these opportunities. He said another initiative that despite some pushback had been successful was requiring a female to be shortlisted for all job openings.

Mr Zaman said a big part of diversity was being more inclusive, noting that companies had traditionally viewed customers in narrow segments -- such as the healthy, the working or males – whereas women would make up 60 per cent of Metlife's customers by 2022.