Female leadership parity a 2pc return payback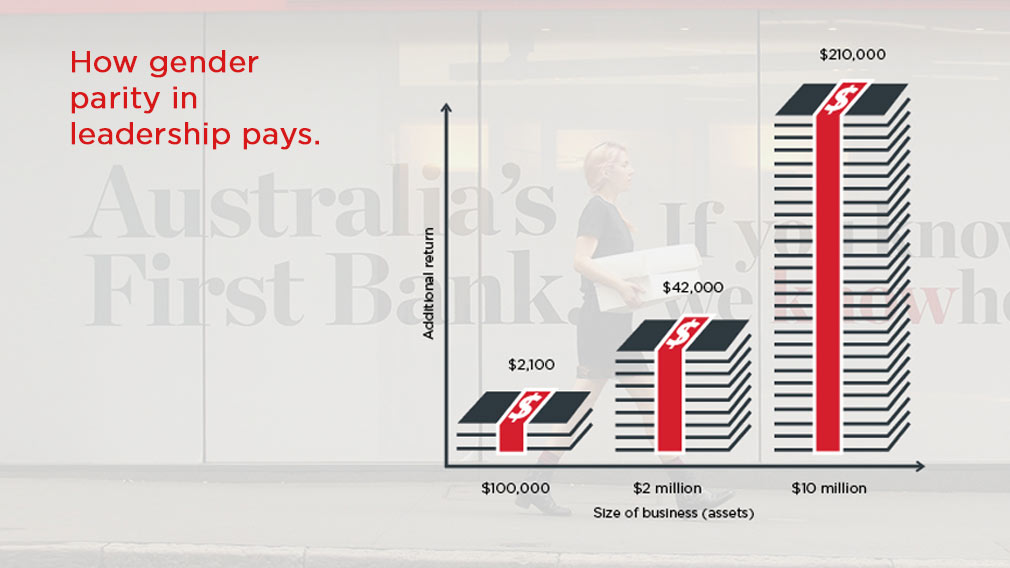 Increasing women in leadership roles to parity with men can boost corporate profitability by more than 2 percentage points on the back of improved teamwork, culture and engagement with stakeholders, a new report has found.

Deloitte Access Economics added that gender parity at "manager level" drove greater female participation in the labour force and could add at least $10.8 billion a year to the Australian economy, the bulk of the kick to gross domestic product coming from more flexible working policies.

"The relationship between these factors can be complex…but these estimates provide a clear indication that having more women in leadership is associated with better economic outcomes," the report states. Economists have long argued that lifting female activity in the workforce could unlock significant potential growth, citing the "three p's" of participation, population and productivity that drive gross domestic product. In the past 40 years, the participation rates – people employed or actively looking for work – of men and women have been converging, the latter lifting to around 60 per cent compared to around 70 percentage points for males.

However, Deloitte's research – commissioned by Westpac – showed challenges remained significant. While more than half of businesses have a gender policy or strategy, 44 per cent don't. Only 6 per cent have dedicated staff time to develop, maintain and execute a diversity and inclusion focus, and just 12 per cent have dedicated budgets.

Around 40 per cent of survey respondents said the availability of female talent was the biggest barrier to achieving gender parity in senior leadership, and 20 per cent of businesses do not expect to hit parity in five years, albeit varying by industry. Large businesses with more than 20,000 employees were less likely than smaller businesses.

"Unlocking these (economic) benefits will take time," Deloitte states.

The report comes as Westpac hits its goal of women making up 50 per cent of its 6000 leadership roles, continuing a journey that began in 2010 with a target of 40 per cent by 2014, which was achieved early. "We made this commitment not simply because it is the right thing to do – it is a business imperative and we want our teams to reflect the communities and customers that we serve," chief executive officer Brian Hartzer said.

According to government body, the Workplace Gender Equality Agency, 34 per cent of senior managers in Australia were women last year, a relatively high figure globally but below the 50.7 per cent of the population and around 47 per cent of all employment positions. While Westpac's proportion on this measure was 39 per cent, the bank has consistently assessed a larger management pool than measured by WGEA, including branch managers and others managing sizeable teams.
Mr Hartzer today said he was proud of the bank's achievements, but conceded there was "more work to be done", including his own direct reports that include four women and seven men. Westpac is also targeting women making up 30 per cent of the board by 2018. "We remain focused on increasing the diversity of our executive team and board," Mr Hartzer said.

The Deloitte survey of 1054 business leaders across states and industries in September found more than a third of businesses with gender policies believed it improved outcomes. At the other end of the spectrum, 21 per cent of businesses without gender parity in leadership considered gender diversity to be "not at all important to business outcomes".

Deloitte's modelling suggested otherwise. In new analysis, it found a 1 percentage point increase in the proportion of women in senior management and above increases a company's return on assets by 0.07 percentage points the following year. It equated to a 2.1 percentage point lift in ROA for the "average" business, a "substantial financial return" considering the average ROA for the dataset was 4.5 per cent. For example, a 2.1 percentage point lift for a business with $50 million in assets would be $1.05 million in one year.

Although noting that ROA was only one measure of profitability and its modelling was based on publically listed companies with more than 100 employees, Deloitte said other studies had also found a link between more women on boards and in leadership with improved financial performance.

"For most businesses, this benefit will be spread over a period of years, and accrue until the business reaches parity," the report states.

It adds that businesses with gender parity in senior management reported "higher levels of teamwork and culture, relative to businesses with fewer than 40 per cent female managers", that sick leave was 3.1 percentage points lower and companies were also more likely to listen to opinions of stakeholders.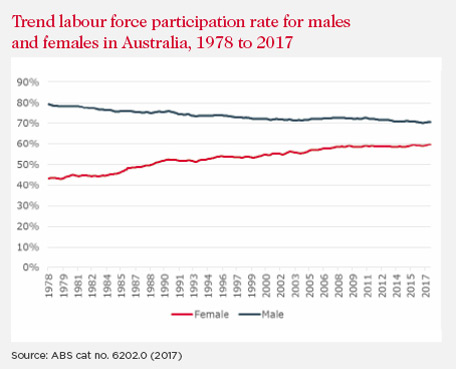 Another issue that equality can help address is the gender pay gap, which the report said was 15.3 per cent in May 2017 for full-time employees, or an average $251 less per week relative to men. It found that while several factors were at play, including industrial and occupational segregation, a "lack of women in senior roles, as well as minimal availability of part-time or flexible senior positions, also contributes". Westpac's policy is "pay equity" across the board.

The Australian Institute of Company Directors last month called on major companies to step up their efforts on gender diversity after finding there were 25.4 per cent female directors across the S&P/ASX 200 – only marginally higher than in December.

Westpac group executive human resources, corporate affairs and sustainability Christine Parker said there was no one initiative that drove the bank to leadership parity, pointing to a range of programs and policies such as unconscious bias training for leaders, flexible working, support for parents and 50:50 graduate intake. She said setting public targets and reporting them was critical.

Deloitte's report suggested a major challenge was the lack of women progressing through the ranks, rather than a lack of available female talent. "Women just aren't progressing through their careers in order to reach senior leadership positions. Whether that may be due to career breaks, maternity leave, part-time work, performance models or discrimination – the proportion of women in managerial positions clearly decreases as seniority increases," it said.

"Government can play a supporting role, but businesses can push forward by changing the culture in the workplace and offering more flexible working arrangements."